Pavement Swing Signs
What are swing signs?
Pavement swinging signs are durable outdoor advertising boards that are designed to alert passersby to your presence and attract customers in from the street.
They featured a hinged sign panel that allows your display to swing slightly in the wind. The slight motion can capture attention more effectively than a stationary sign.
Will swinging pavement signs be damaged by weather?
Our pavement swing signs are built with heavy bases which help to keep them fixed in placed and not blown over by the wind. Unlike an A frame sign, most pavement swingers have their designs printed directly onto the swinging panel. This eliminates the risk of printed posters crinkling or the ink running.
If you do require a swing board sign with integrated poster holder, our Black Pavement Swinger has a magnetic poster sleeve and is available with custom prints.
Do you stock replacement boards for my swinging signs?
Yes, we supply a variety of panels to suit different swing board signs - they're all listed in the "recommended extras" section for each product.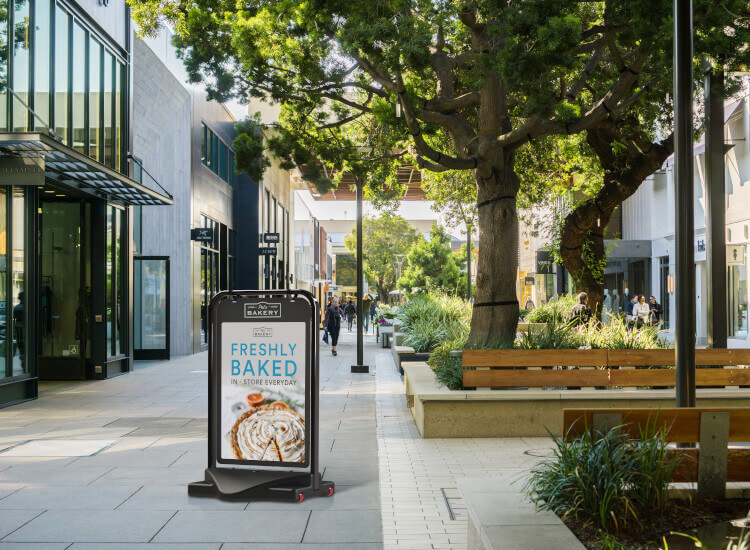 Large pavement swinger sign with wheels
Is it difficult to move the pavement swingers?
While the pavement swing signs do have heavy bases, many feature wheels to make transportation easier. They are all generally light enough to be lifted, but too heavy to be blown over by the wind.
Can I have my pavement swinger sign branded?
Yes, while there is no space on the base or frame of a pavement swing sign to add branding, the swinger panels can all be custom printed to your bespoke requirements. If you order a custom printed item, you will receive an email within an hour with a link to upload your artwork and some handy templates.