How to promote a restaurant with POS displays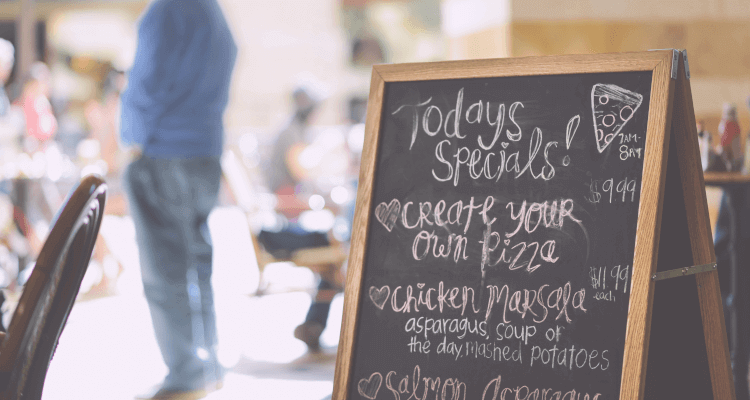 How to attract more customers to your restaurant
Did you know that you could increase your footfall and profit, by tweaking just a few simple things about your menu and your marketing?
The most successful restaurant owners understand that your restaurant advertising and merchandising could make or break your business.
This guide outlines the most effective restaurant marketing strategies. These restaurant marketing ideas will provide insight into how to attract more customers to your restaurant, as well as what they want once they're inside.
Use outdoor restaurant signs
The first step in restaurant marketing is to utilise restaurant outdoor signs, such as outdoor leaflet holders, A boards and pavement signs. These will interrupt the path of pedestrians, prompting them to take in your signage and assess your business.
If your outdoor restaurant signs are tempting enough, they might enter your venue, or plan to return later. Make immediate entry irresistible by advertising trending dishes and offering temporary discounts on your outdoor menu display.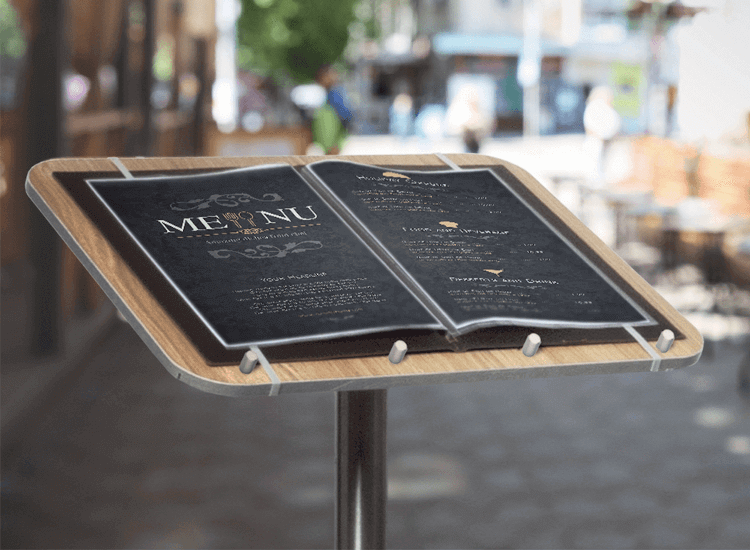 An outdoor menu display makes people much more likely to impulsively enter, as they are able to make an assessment more easily without the pressure of entering the venue first. There are assorted ways to create a professional and attractive outdoor menu display. On dry days, pubs, bars and restaurant can write their offers and menus on A-board chalkboards, which provide a rustic and homely effect.
For shaded streets and dark nights, an LED outdoor menu display can be used, or we stock LED menu covers for inside dimly-lit restaurants and bars. LED menu covers, frames, and stands help make your menu more visible and easy to read, while also creating a more luxurious atmosphere.
Introduce outdoor dining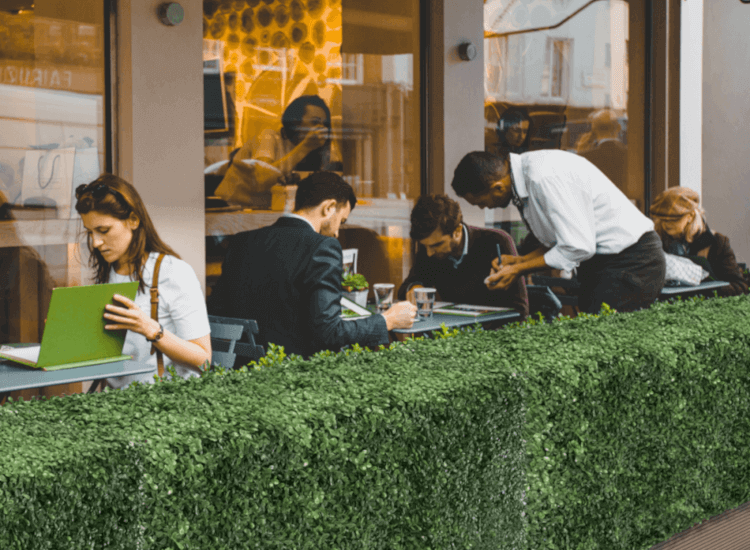 Al fresco dining can have a great influence on passersby, who can instantly get a feel for the atmosphere. They're likely to be exposed to pleasant sensory cues, such as the sounds and smells of cooking, as well as seeing other diners enjoying themselves. Various studies show the relationship between sensory cues and impulsive food buying, proving that these cues can inspire hunger, desire and positive emotions in people [1].
Printed restaurant and café barriers are a great way to increase brand awareness outdoors. Outdoor dining has a casual, festive feel that is particularly loved by 25-34 year olds. One study found that 43% of diners in this age bracket said they "spent more money on alcohol when dining outdoors"[2]. Another survey found that up to 79 percent of respondents would increase their dwell time if table service was al fresco [3].
Indoor restaurant signage
Another key aspect to look at is your indoor restaurant signage. This is most direct way to communicate with your existing guests. Display leaflets with your menu or tabletop signs, and make sure your printed graphics are consistent with online advertising efforts. Chalk menu boards are extremely popular, as they're easy to update and add an attractive rustic aesthetic.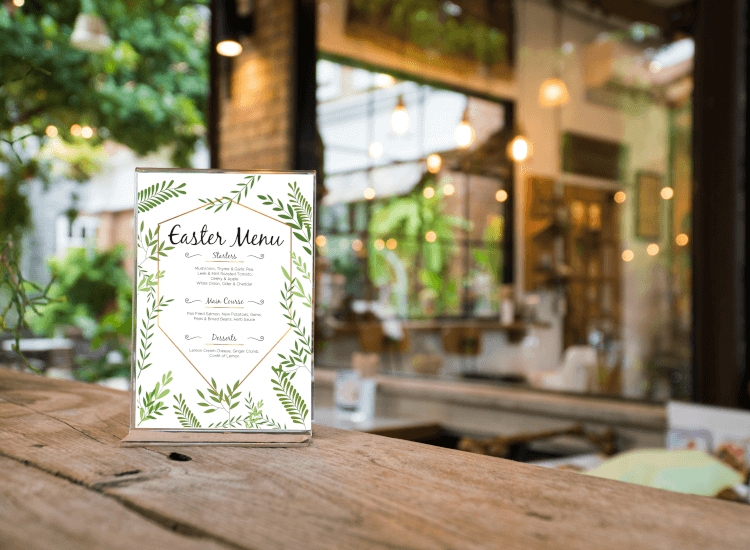 While it's now essential to connect with customers online, plenty of people still prefer to engage with printed materials. Don't misjudge the power of printed matter to persuade and be shared. If a patron particularly enjoys their dining experience, they may pick up a leaflet or menu to pass on to a friend, so make these readily available in leaflet holders.
Generate some creative restaurant promotion ideas. Loyalty schemes are incredibly popular, but less common in hospitality, so this is a quick way to stand out against the competition. 'Happy hour' offers, such as buy-one-get-one-free, are an evergreen option for boosting footfall in bars and restaurants during otherwise-quiet hours. Ensure these are advertised heavily on both social media and outdoor signs to get a broader reach of new customers.
Bear in mind the importance of aligning your online and offline marketing, particularly if you're in a busy area or tourist destination. You will want to be the first to grab the attention of visitors in these areas who are likely to want to plan their meals ahead of time. Incorporate QR codes for added efficiency in your multi-channel strategy.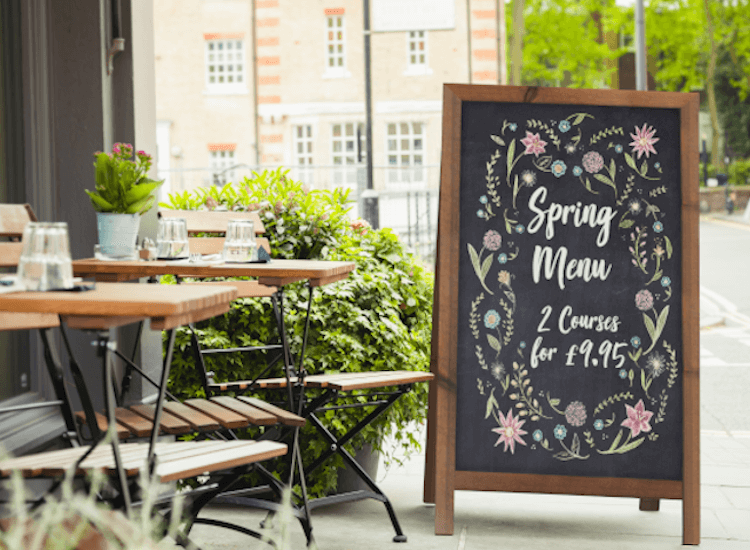 If you're in a town centre or busy high street, it's likely that there is a lot of competition all vying for potential custom. Therefore, your restaurant outdoor signs must draw people in effectively.
A 2002 study investigated what information people search for when selecting a restaurant. It found that highlighting prices in advertisements is a crucial marketing tool for restaurants, as price is often the key deciding factor between two appealing choices. [4].
'To encourage impulse buying, an effective point of sale advertising should include an 'emotional appeal'' - Miao and Mattila (2013) [5]
Sell the self-care appeal of food
One study outlined how impulse buying in restaurant is largely controlled by the concept of indulgence as soothing. The study found that restaurant guests were more likely to impulse buy food when it was posited as a self-indulgent treat, which would help to make them feel better [5].
They suggest that this is because people impulse buy food as a 'mood-booster', as they are more able to justify indulging in a treat (i.e. 'I deserve it' or 'I need it to feel better') than succumbing to greed.
Make sure your restaurant signage has some emotional appeal to guests, so that it speaks to their desire for indulgence and self-soothing behaviours. This will be more likely to inspire positive feelings than if it simply encourages them to "yield to temptation," which could cause guilt instead (Miao and Mattila, p. 463).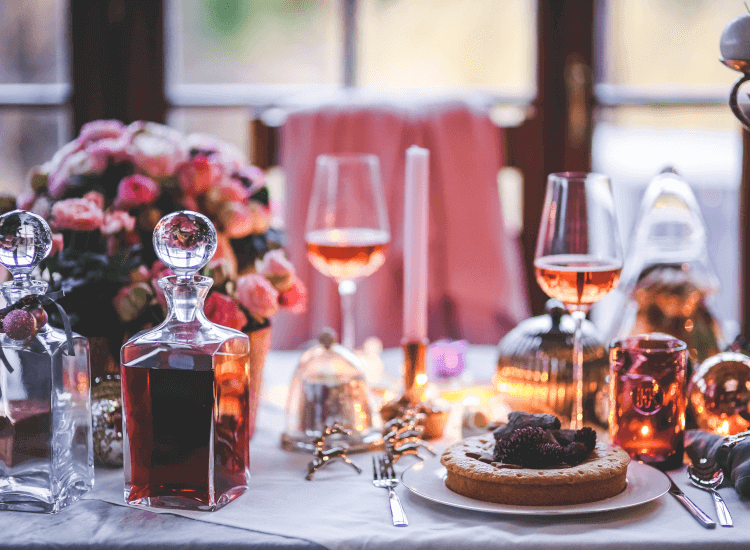 Food impulse buying is a self-care behaviour, focus on this in your restaurant marketing ideas
Tweak your menu wording
Were you aware that the words you use to describe items on your menu can affect the perceived value and spending behaviour from your restaurant guests? A study by Michael McCall and Ann Lynn found that subtle changes to a restaurant's menu design can increase sales by up to 10%' [6]. But what words should restaurateurs be using?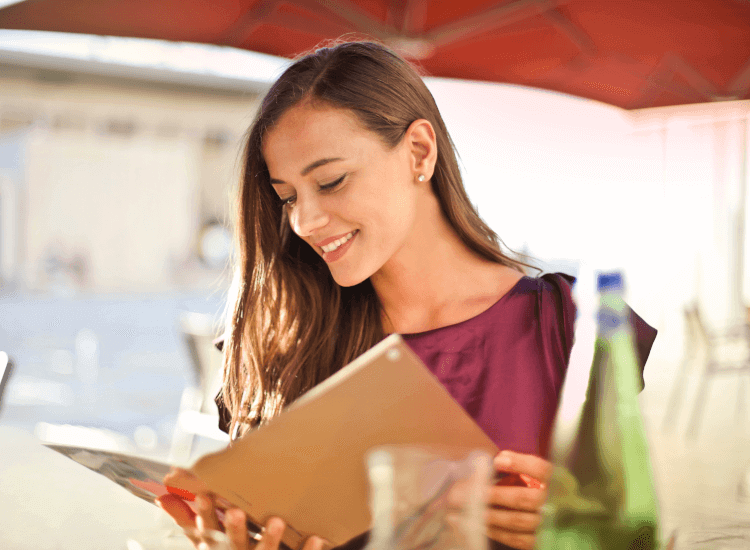 They discovered that increasing the 'descriptive complexity', and emphasising food preparation in the description, would increase the guest's perceived value of those items and positively affect their spending habits (McCall and Lynn, p.444).
These findings are supported by numerous other studies. Tim Dodd PhD reported that wine was often treated as an impulse purchase, in the same way that add-on items are impulsively bought in a retail environment [7].
Studying the impulse buying behaviours around wine, Dodd found that placing wine on the food menu had a significant impact on the sales of wine. This shows that cross-promotion opportunities are important in restaurant food advertising, as well as in retail.
Furthermore, ADDB and MCA carried out an analysis of the UK's top 122 restaurant menus, finding that:
If a restaurant uses more than ten descriptive words including terms such as 'fresh', 'sweet', 'warm' and 'classic', the bill could escalate by almost £10 compared to the use of just one word
Terms which suggest luxury or quality (such as 'recommended', 'finest' and 'matured') can command a higher price point [8].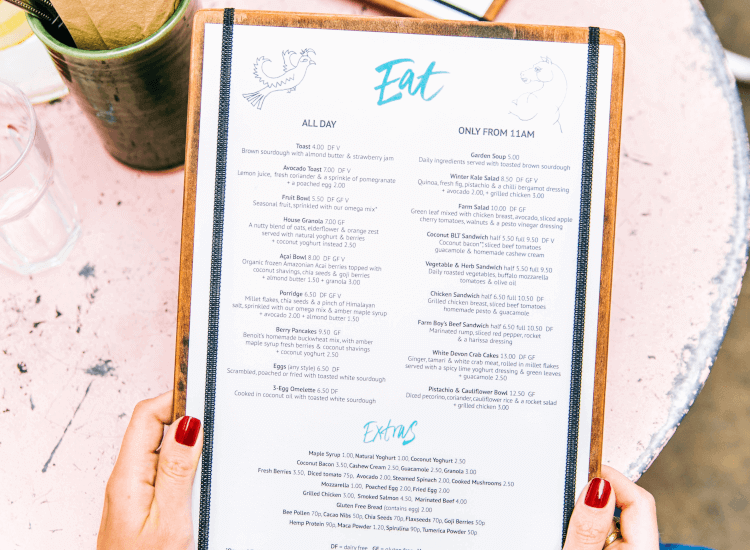 This research suggests that creating your menu and restaurant marketing materials using vivid words which conjure an image of the dishes' taste or texture can help to attract customers and increase spending.
Get free restaurant advertising with user-generated content (UGC) and word of mouth (WOM)
A highly-effective and low-cost method of advertising is to encourage word of mouth (WOM) and user-generated content (UGC), which is basically any relevant content that is shared by consumers online.
Introduce loyalty schemes, competitions and rewards, such as 'get a discount on your next meal when you recommend a friend/leave feedback/review us online'. Print your offers on your receipts as well as on posters, flyers and business cards to display at the bar, bathroom, tabletops and entrances.
Photo competitions are a fantastic way to get customers engaging with your brand online and creating UGC which will inform and impress other potential new customers. Competitions are also a great way to gather useful data on your target market.
Create a unique 'hashtag' that your visitors can mark their text and images with on Instagram or Twitter. This means that anyone who searches for that hashtag will be automatically shown a bunch of unique UGC that relates to your brand.
Attend pop up events and food festivals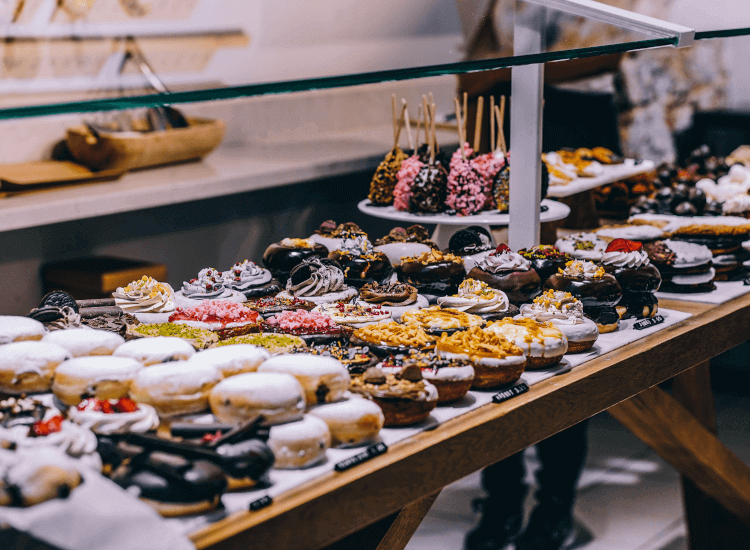 Attending pop up dining events and local food festivals, as well as offering outside catering, is another great way to get your business known. Use the restaurant marketing opportunity to its full extent, offering leaflets, business cards, displaying your restaurant branding on a banner or event flag, and offering free samples.
Give visitors a memorable in-person experience as well as making sure they have something to take away with them, too.
Create unique experiences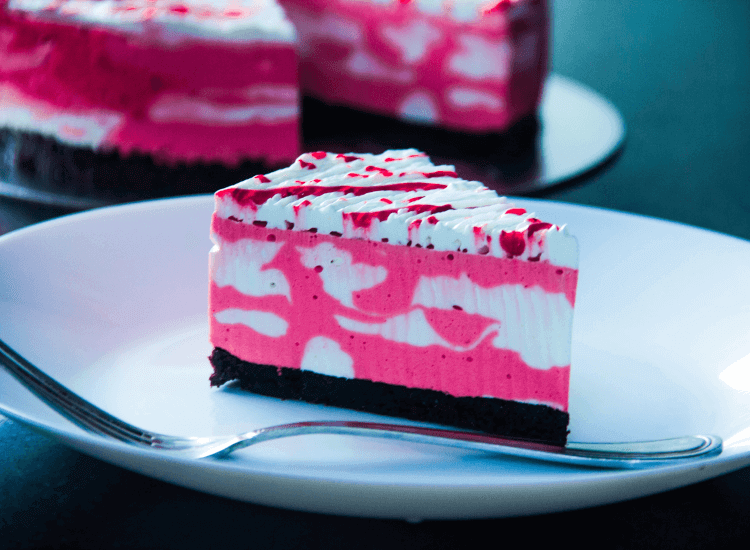 One way to stand out in customer's minds is to include a novelty experience, unique dish or photo opportunity. A selfie booth, or arcade games section is a great choice if you have an extra bar or long table waits.
This is also the easiest way to convert new customers into brand ambassadors for your business, as an 'Instagrammable' backdrop or selfie area will undoubtedly result in visitors wanting to share the images they capture.
Capitalise on seasonal events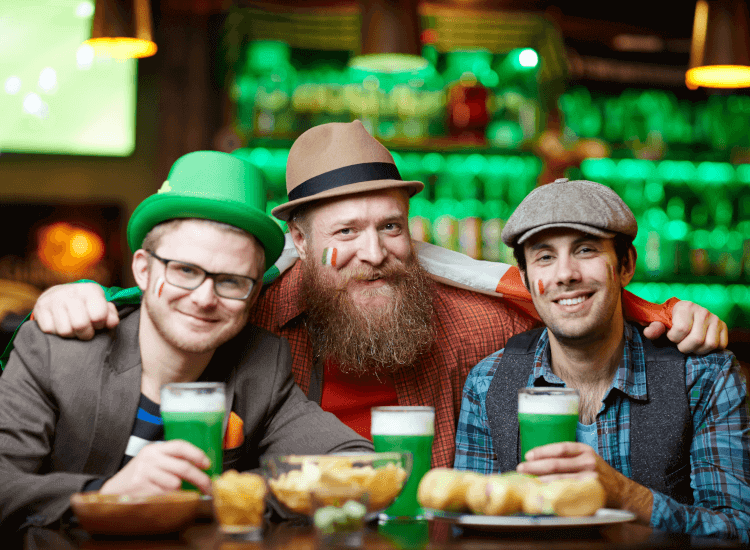 Capitalise on all manner of seasonal events - any excuse for a promotion! Customers love novelty, like special dishes during St Patricks Day or Halloween.
Seasonal events are also a time to cash in on theme and emotional factor. For example, a romantic, high-end restaurant should be advertising themselves as a great Valentine's Day destination, just as a family-friendly venue ought to be advertising deals around Mother's Day, Father's Day and graduation.
Offer freebies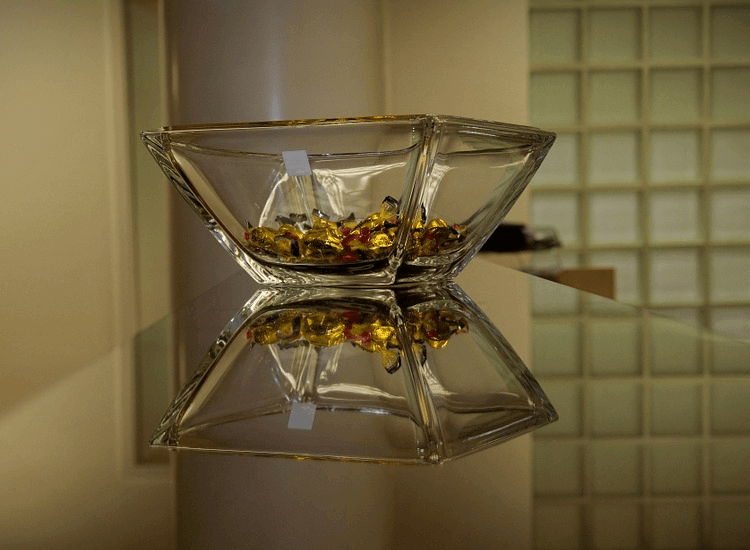 Sometimes the smallest things can stand out and give customers a reason to remember you. Make sure they only remember positive things!
Offer free appetisers on arrival and unexpected gifts at payment. Ideas include complimentary sweets and hand wipes or a fridge magnet with your company logo and contact details. Dessert refill areas are another easy way to get remembered. Kids love having permission to help themselves to colourful heaps of sweets and ice cream!
Advertise your green practices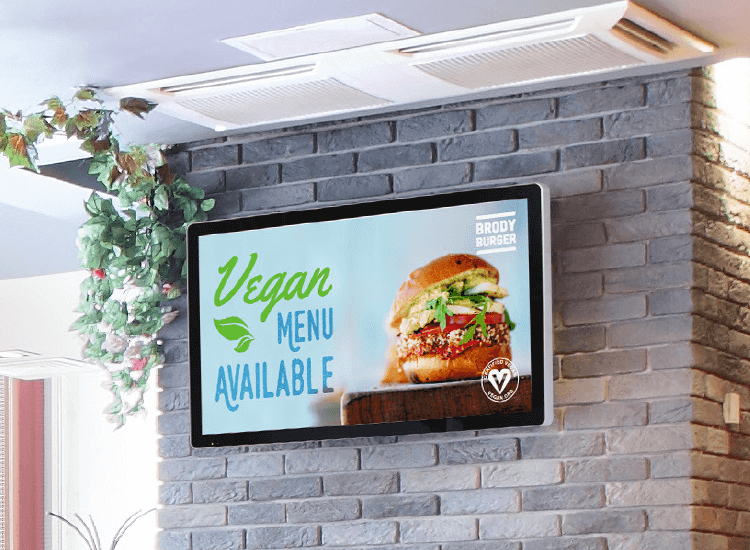 One study found that customers had a greater intention to return when a restaurant advertised their green practices. The author suggests that 'by utilizing the menu to inform customers of green practices [...] the restaurant would see a higher return on their investment without direct advertisement' [9].
Thus, restaurateurs ought to utilise all marketing methods to publicise any green practices, which should influence the return intentions of their guests [10].
If you're looking for a product guide to help you with displays for your bar or pub, check out our guide on how to increase bar sales.
Restaurant promotion supplies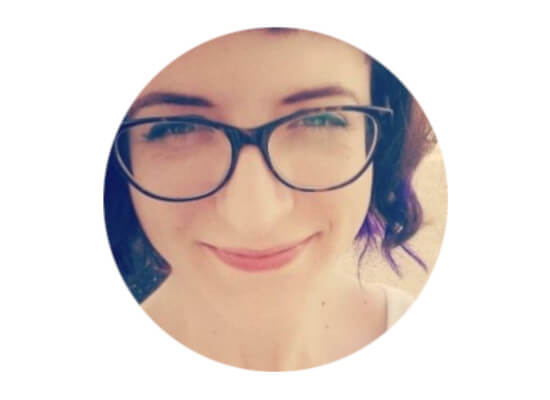 Kira Swales
Kira Swales is a copywriter for UK POS. Kira has over eight years' experience in e-commerce and copywriting, with a background in retail. She enjoys researching topics in depth in order to provide readers with the latest information on point of sale merchandising. Read more of her comprehensive guides in our
Knowledge Hub
.
References
1. Choi, J., 'Consumer impulse buying of food at festivals and events: Understanding the role of sensory cues' (Unpublished doctorate thesis), 2016, Kansas State University, Manhattan, Kansas.
2. Smith, Daniel P., 'An Inside Look at Outdoor Dining', https://www.fsrmagazine.com/inside-look-outdoor-dining [accessed 14 July 2020].
3. Pike, Steven, '10 Tips for Successful Al Fresco Dining' (19 June 2016), https://www.bighospitality.co.uk/Article/2016/06/20/10-tips-for-successful-al-fresco-dining [accessed 14 July 2020].
4. Marta Pedraja Iglesias and Ma Jesus Yagüe Guillén, 'Searching for information when selecting a restaurant', Food Service Technology, Vol1:1 (2012), pp. 35-45.
5. Li Miao and A.S. Mattila, 'Impulse Buying in Restaurant Food Consumption', Journal of Foodservice Business Research, Vol. 16 (2013), pp. 448–467.
6. Michael McCall and Ann Lynn, 'The Effects of Restaurant Menu Item Descriptions on Perceptions of Quality, Price, and Purchase Intention', Journal of Foodservice Business Research, Vol. 11:4 (2008), pp. 439-445.
7. Tim H. Dodd PhD, 'Techniques to Increase Impulse Wine Purchases in a Restaurant Setting', Journal of Restaurant & Foodservice Marketing Vol. 2 (1996), pp. 63-73.
8. MCA Market Insight, 'Menu & Food Trends report' (2019), cited in AHDB Market Intelligence, 'Menu wording adds value to meals' (2019), https://ahdb.org.uk/news/menu-wording-adds-value-to-meals [accessed January 2020].
9. Audrey L. Szuchnicki, 'Examining the Influence of Restaurant Green Practices on Customer Return Intention', UNLV Theses, Dissertations, Professional Papers, and Capstones, 155 (2009), https://digitalscholarship.unlv.edu/thesesdissertations/155 [accessed February 2020].
10. Booi-Chen Tan & Peik-Foong Yeap, 'What Drives Green Restaurant Patronage Intention?', International Journal of Business and Management, Vol. 7, No.2 (Jan 2012), pp. 215-223.