From:

Was: £5,465.32

Special Price £3,800.00

ex. VAT

From:

Was: £745.29

Special Price £550.00

ex. VAT
Digital display screens, media displays and point of sale digital signage
What is point of sale digital signage used for?
Digital advertising screens are vibrant, engaging, eye-catching and represent one of the most effective ways to communicate promotional information to passersby and potential customers.
Whether you work in retail, leisure, hospitality, or are looking to breathe new life into a reception area, a digital signage screen will not only catch attention, but they also impress your target audience and show your brand in a positive light.
Where can I use digital POS, such as digital media screens?
Digital advertising displays can be used in a wide variety of ways. Using a smaller display, such as an iPad on a holder is a great way to present product features and information right next to the product, whereas a large Digital Display Totem or Digital A Board is ideal for attracting attention from a distance.
Digital signage solutions for retail are great for showing advertisements, or may alternatively be used for providing a more informative and interactive experience, such as in a museum or gallery.
Why use power bank chargers in my business?
Nowadays, USB charging points are sought after and seen as a public necessity in the same way that public toilets are. Cafe customers expect to be able to find charging points for their mobile phones and other personal electronic devices. Stay up to date with the latest customer technology to make sure potential customers don't pass you by.
Although not technically a digital display, using a Menu Power Bank is a great way to ensure customers see your products or services, even if they are only popping in to charge their phone. Seeing well presented graphics, such as for drinks promotions, increases their chances of making an extra purchase.
While menu holders with charging points are most commonly used in cafes and bars, they are also highly popular in hairdressers, beauticians, and anywhere customers are likely to be seated.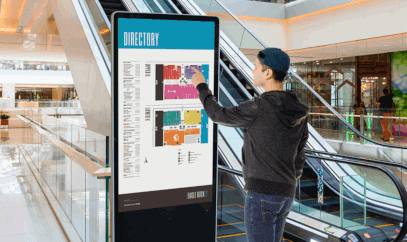 How to create digital signage displays
Learn how to boost revenue with engaging digital displays using our Knowledge Hub guide.
What do electronic signage displays do?
Digital signage displays are used to display images, video or audio and they even have split screen functionality allowing you to display two different advertisements at once on your digital signage.
The latest addition to our range of digital display screens is our Touchscreen Digital Signage with Android Operating System. A touchscreen increases active participation from customers and staff, and can therefore increase your business activity. Our interactive touchscreen is operated by Android which allows users to install their own applications and web pages. This means that the digital display can be customised with unique features by every user.
How can I use a tablet holder in my business?
A iPad holder or tablet holder is an inexpensive way to engage customers or visitors in a wide variety of industries. They can be set up to hold your device anywhere around your business and, when your device is preloaded with your choice of apps or websites, they will encourage interaction from customers and act as a silent salesperson.
Our tablet holders are available in countertop and floor standing varieties, all featuring screw holes in the base for securing to your chosen surface. These can be unscrewed and repositioned, so you are not restricted to keeping the tablet holder in one area.