How to prepare for Black Friday retail and Black Friday marketing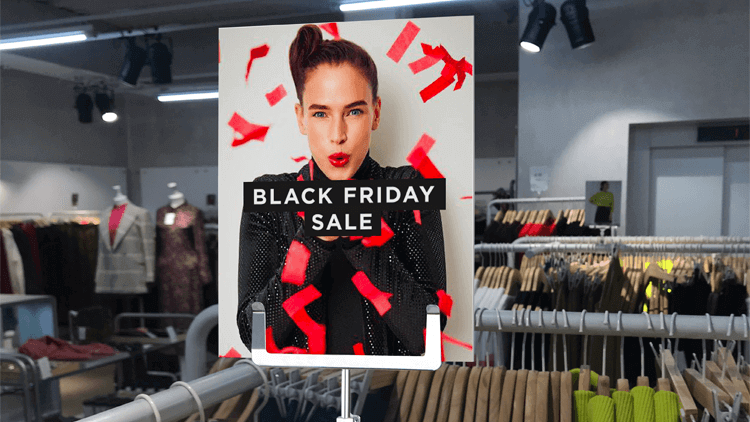 Black Friday is a global phenomenon which grows in both revenue and duration every year. Love it or hate it; this day has now firmly rooted itself in UK culture and your business can boost sales by joining in! Originally an American event taking place the day after Thanksgiving, it has now cemented its place as the biggest UK shopping day of the year, far surpassing Boxing Day sales [1], [2]. Many shoppers will be looking to grab bargains on their Christmas shopping by this time of year, making Black Friday the ideal event for boosting seasonal sales.
With total Black Friday spending equalling 8.6 billion pounds in 2019, it's never too early for retailers to start preparing [3]. Investing in some Black Friday sale signs and Black Friday banners is the first step to getting your point of sale ready for your winter promotions. Read on to find out our top five Black Friday strategies for retailers.
How to prepare for Black Friday retail promotions: our top 5 Black Friday strategies for retailers!
If you're wondering how to prepare for Black Friday sales, here are five ways that retailers can prepare their store so that it's got the best Black Friday merchandising displays to boost your promotions.
1. Start preparing Black Friday sale posters and flyers early
As shops get ready for Black Friday, you will need to create signs and marketing to build suspense around upcoming price drops. Use social media, emails, Black Friday sale signage and in-store leaflets to give customers a sneak peek at what you will be offering.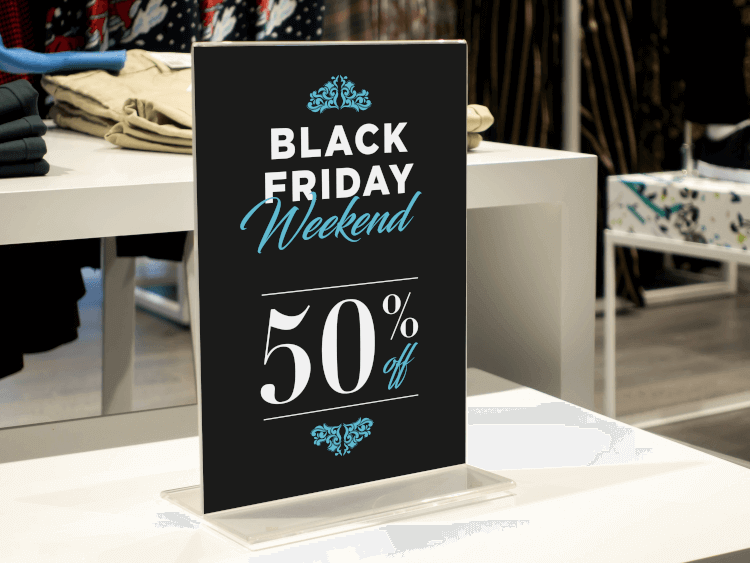 Electronics are typically the best sellers on Black Friday. Learn from previous years and stock up on the most popular items, display them near the front and keep your price competitive.
Don't forget to use plenty of Black Friday signage in your store windows specifically, in order to alert people to your discounts and draw in more footfall. Window posters, cable displays and banners are an ideal way to do this. Place key items in prominent spots, such as on pedestals.
Traditional point of sale materials, such as window displays and pavement signage, are absolutely key to informing passersby about your upcoming retail event. The rise in online shopping means it has never been so important to advertise the offers available in your brick-and-mortar stores to attract new customers.
Studies conducted in 2020 suggest that 56% of Black Friday shoppers plan to buy all their products online, 35% plan to buy both online and in-store, while only 9% of people plan to shop exclusively in-store [4]. This makes it even more important that your window displays and pavement signs are as effective as possible, in order to maximise sales from those people who will pass by your store. Cable display systems can be used to create really impactful floor-to-ceiling window signage.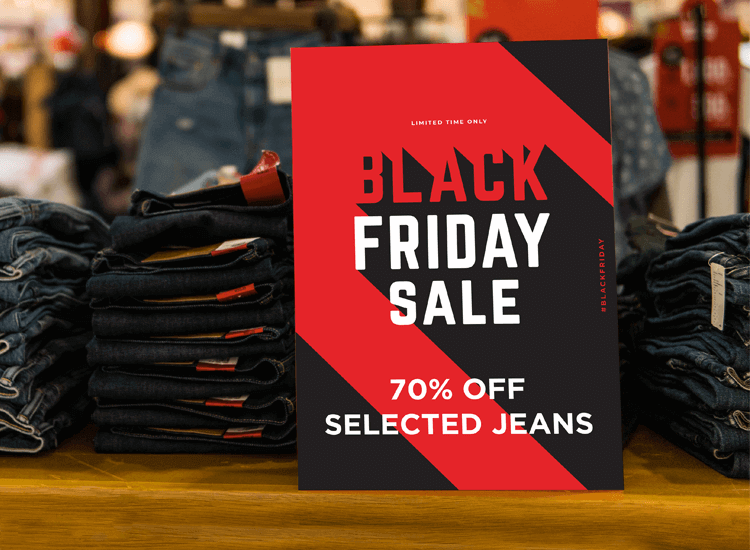 The whole idea behind a Black Friday event is for retailers to offer the biggest discounts to consumers over the year, so that they can save money for Christmas gift buying, and buy more as a result. Customers will expect to see what savings you can offer them within your window displays, so they can decide whether it is worth going in. Price-based Black Friday sale posters are essential, as they are eye-catching and easily attract bargain-hunting shoppers. At UK POS, we can print bespoke posters for your business.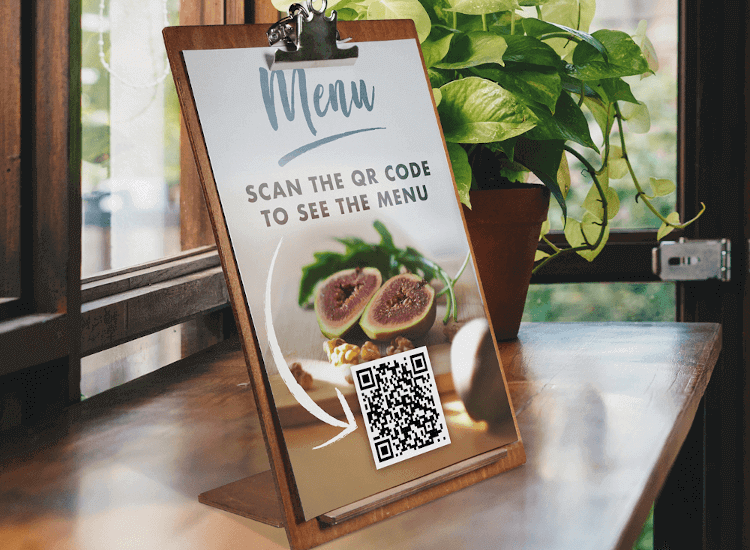 QR codes offer you a great way to link your online and offline sales. Generate QR codes to print on your posters which will direct customers to your website while they wait, or to give them another option to buy from you when the store itself is too busy.
These posters can be placed in the window, in showcard stands, on wall-mounted snap frames, or by using floor stickers at the entrance to your queuing systems.
They're great in hospitality industries, such as restaurants and pubs. Display a QR code within your queuing system that takes customers to an online menu, so they can browse while they wait to be seated, and can also use it to order online once they are seated.
2. Optimise your store layout
Your store needs to be ready for increased crowds and optimised to make shopping easy. People generally don't go to stores on Black Friday for a leisurely shop. They know what they want and want to get it quickly and leave. Many of your shoppers will have already researched your sale online. Use overhead sign hangers to reduce confusion so that customers can quickly navigate to the area they need without becoming frustrated and put off by crowding.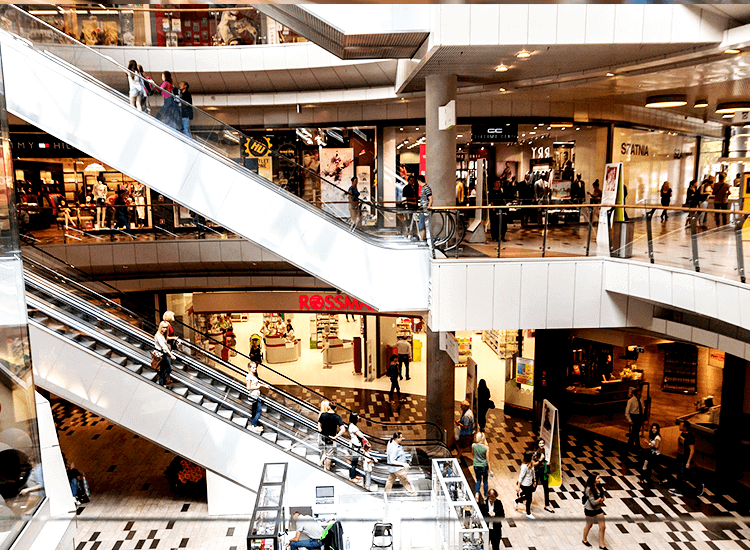 Ensure all of your primary sale offers are at the front of your store on your main promotional aisle, with prominent Black Friday signs. This way, Black Friday shoppers can find what they want with the least possible disruption to the rest of your store.
3. Avoid queuing and wayfinding disruption
Some retailers may wish to operate a one-in-one-out system. People can begin to queue and then, once the sale officially opens, only 10 or so people are allowed in the store at once. This is a great way to operate a fair first-come-first-served system to avoid trouble.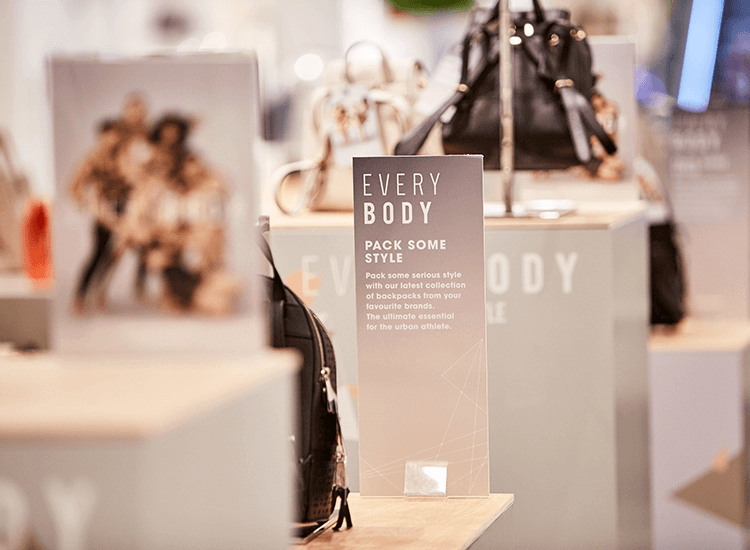 Label your products clearly with shelf talkers, posters or showcard frames and not all crammed into one location. For example, spread your TVs around to avoid crowds gathering in one place.
Aisle signs are perfect for drawing attention to specific areas of your shelving and to any offers you want to promote, while queue barriers can be used to control crowding in certain areas. Retractable barriers are ideal for this, as they can be extended or reduced as required.
Stores are always busy on Black Friday, so customers are likely to experience slightly longer queues than usual, both indoors and outdoors. Reducing the perceived wait time for customers is key to ensuring they have a good experience and will return.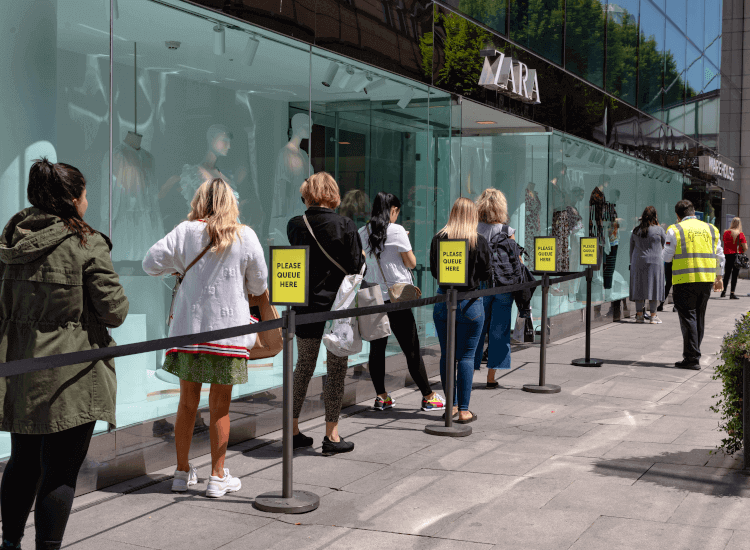 The queue will feel longer if there is nothing to occupy your customers' time and they will also feel frustrated if they're not given any indication of the problem when a queue isn't moving. Ensure that your signage gives customers a clear idea of how long they can expect to wait, and jump on the chance to boost your sales further through in-queue merchandising systems, which are reconfigurable with various add-ons.
Having an insight into customers' psychology when it comes to queuing can help you to design a queuing system that caters to the needs of your customers and your business. Find out more about this in our guide to queuing psychology.
4. Prepare your staff
Making sure your staff are fully prepared for your Black Friday event is another way to help avoid disruption. Firstly, you should have more staff in than a normal Friday, and they should know your sale inside and out. Let them know as far in advance as possible what your Black Friday deals are, how much items are discounted by, if there is more stock available and whether there is a limit to the number of items that each person can buy.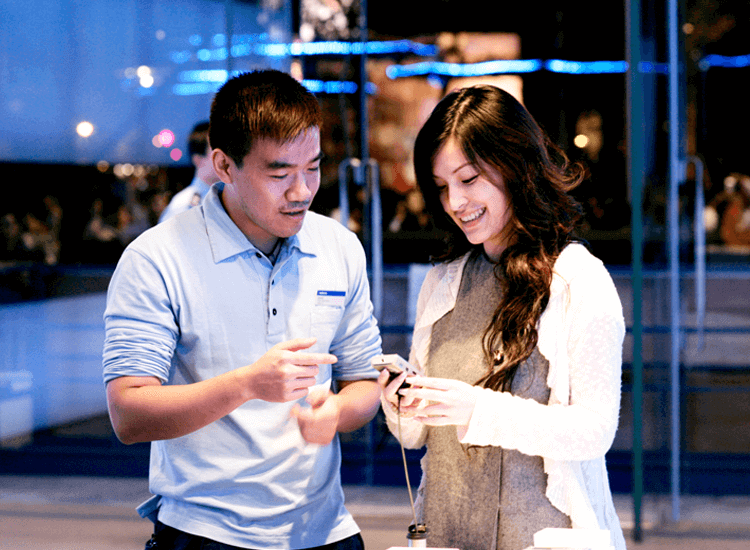 It's easy to forget about the display fixing accessories you may need to hang your signage and other display products, such as suction cups or adhesive tapes, until it's too late. Make sure your staff have enough stock of these to carry them through the busy period.
5. Make sure that your online presence is strong
The ever-increasing rise in online shopping means that having an online presence is more important than ever. Obviously if you have an ecommerce platform, this is the best way to maximise online sales if footfall drops off for your brick-and-mortar store.
There are other ways to increase your online presence and use this to boost sales in-store if you don't have an online shop.
Social media can play a huge role in communicating your messages to potential customers. Use these online platforms to advertise your in-store offers, discount codes, and opening times. Black Friday marketing should be carefully considered both in store and online.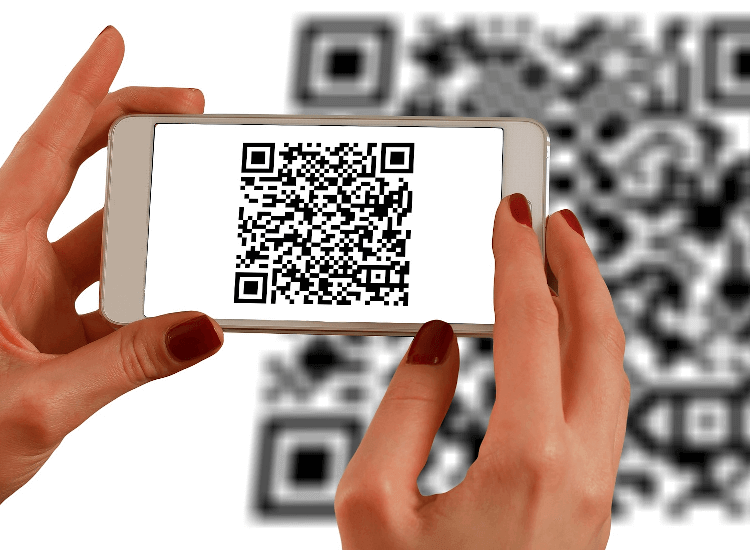 Social media, combined with the use of QR codes, can help to keep your customers aware of your events. As mentioned previously, QR codes offer the perfect solution to link your online and offline presence. Nearly half of all smartphone users have used their phones while shopping in brick-and-mortar stores, and 40% of them were using their phones to compare prices from competing stores [5]. This high level of smartphone usage in-store bodes well for QR codes.
Use them within retail settings to allow customers to find similar products online if their desired product has sold out during your Black Friday event in-store, allow customers to download coupons which they can then use instantly in-store, or to give customers an easy way to join your loyalty programs to ensure repeat purchases.
For more detailed information and ideas on how to create synergy across channels within your business, take a look at our guide to integrating online and offline marketing at the point of purchase.
Don't forget about Cyber Monday!
While Black Friday is a huge retail event in itself, you can further capitalise on sales by participating in Cyber Monday, which takes place on the Monday following Black Friday. It's similar to Black Friday, but is designed to promote deals on products sold online compared to in-store. If you do have an ecommerce platform, you should look to take advantage of in-store Black Friday sales by informing customers that you will also be holding an online sale.
'Retailers use Black Friday promotions to lure shoppers to their stores, with extended shopping hours, hourly deals, and in-store promotions leading to increased Black Friday sales. Cyber Monday gives retailers the ability to extend those promotions, as well as offering a larger product selection for increased online sales.'- Journal of Retailing and Consumer Services [6].
Use your brick-and-mortar Black Friday event to boost online sales in the following week. Use clear signage in-store to signpost your Cyber Monday event alongside your Black Friday deals (although make sure that this does not overshadow your Black Friday signage!). You could also hand out vouchers to your in-store customers that they can redeem online.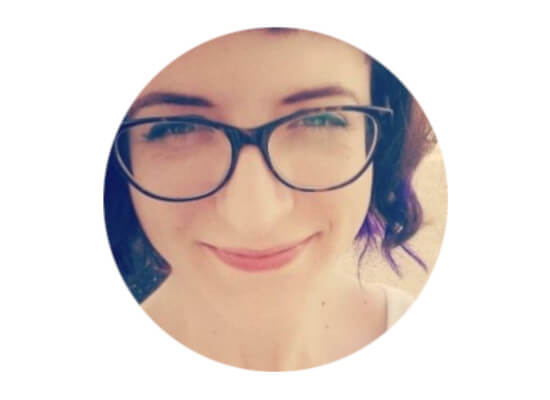 Kira Swales
Kira Swales is a copywriter for UK POS. Kira has nine years' experience in e-commerce and copywriting, with a background in retail. She enjoys researching topics in depth in order to provide readers with the latest information on point of sale merchandising. Read more of her comprehensive guides in our
Knowledge Hub
.
References
1. Stephanie Chevalier, 'Consumer participation in shopping events in the UK 2019, by event', Statista, Jul 7, 2021, https://www.statista.com/statistics/1063302/shopping-events-participation-in-the-uk-by-event/ [accessed July 2021].
2. Georgia-Rose Johnson, 'Black Friday and Cyber Monday statistics | 2020', Finder, https://www.finder.com/uk/boxing-day-statistics [accessed July 2021].
3. Tugba Sabanoglu, 'Black Friday in the United Kingdom (UK) - Statistics and Facts', Statista, https://www.statista.com/topics/5849/black-friday-in-the-uk/ [accessed July 2021].
4. Georgia-Rose Johnson, 'Black Friday statistics', Finder, April 2020, https://www.finder.com/uk/black-friday-statistics [accessed September 2020].
5. Sherice Jacob, '5 Genius Examples of QR Codes in Marketing', Neil Patel, https://neilpatel.com/blog/genius-qr-codes/ [accessed September 2020].
6. Esther Swilley and Ronald Goldsmith, 'Black Friday and Cyber Monday: Understanding consumer intentions on two major shopping days', Journal of Retailing and Consumer Services, Vol. 20, Issue 1 (January 2013), pp. 43-50.Black_Friday_and_Cyber_Monday_-_Swilley___Goldsmith.pdf