Cable and Rod Fixings and Pockets
Cable and Rod Fixings and Pockets
How should I use Cable and Rod Fixings?
Cable and rod window displays can be updated and refreshed by adding additional cable display components such as poster pockets, or adapting their orientation to landscape or portrait. We supply a leaflet holder which can be added to your cable and rod window displays using cable display components, encouraging customers to pick up your promotional material or information as they browse. Double and triple poster holders can be used to allow you to display additional information without investing in additional rod or cables.
Are rod and cable display components difficult to install?
While they may look complex, it is deceptively easy to fit your retail poster display systems using our rod and cable display components. For full instructions, check out our installation guide. If you require any further advice, a member of our sales team will be happy to help.
Which cable and rod fixings do I need to secure my cable and rod window displays?
Cable and rod window displays can be attached to either the wall or ceiling using our rod fixings or cable display components. Cable display components connect poster panels to the cables or rods, ensuring your wire hanging display systems are suspended safely and neatly. Add a poster clip to ensure your poster pockets are firmly held together with no gaps.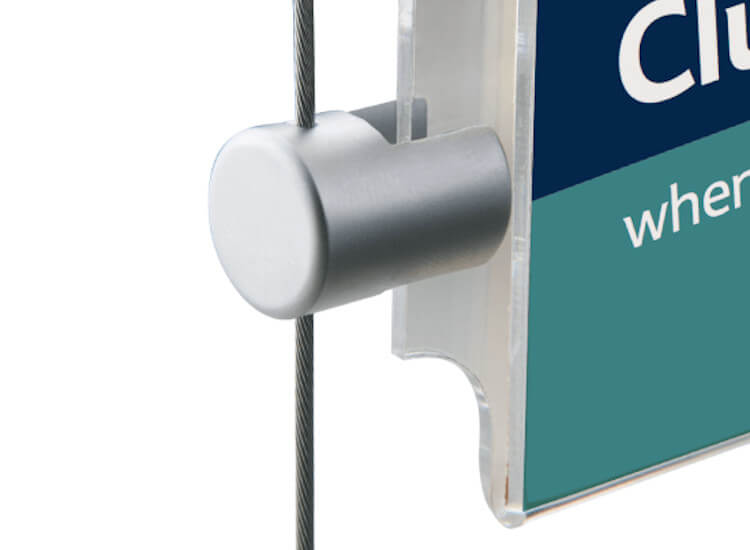 What are the benefits of using cable and rod window displays?
Cable and rod window displays allow for users to display a large quantity of prints at any one time. The rod and cable display fittings give a highly professional appearance and can be used to showcase your best products, properties or promotions. Using an LED illuminated kit ensures customers will see your beautiful display, even in the dark.