Shelf Display Stands and Shop Shelving Units
Shelf Display Stands
Do you sell display racks for retail stores?
Yes, as well as our wall display racks and gondolas, we also supply floor standing shop shelving units. These are a great way to set up a merchandising display for businesses as they are generally more lightweight and easy to transport than gondolas and wall-fixed varieties. Ladder display shelving is hinged, so it simply folds away when not in use.
Why choose shelf display stands?
As previously mentioned, a shelf display stand is a versatile choice as they tend to be light and easy to move. They're supplied ready-made in a range of styles, including wooden shop shelving and branded foam board display stands, so you can easily find one to suit the visual merchandising style in your business.
Are retail shelving stands suitable for other uses?
Yes, our shelf display racks aren't just for retail, they're great for other uses too, such as in exhibitions, community spaces and for displaying items in hospitality settings. The tiered design of wooden shop shelving allows you to place products and promotional material on different levels, so as to display complementary product ranges and information.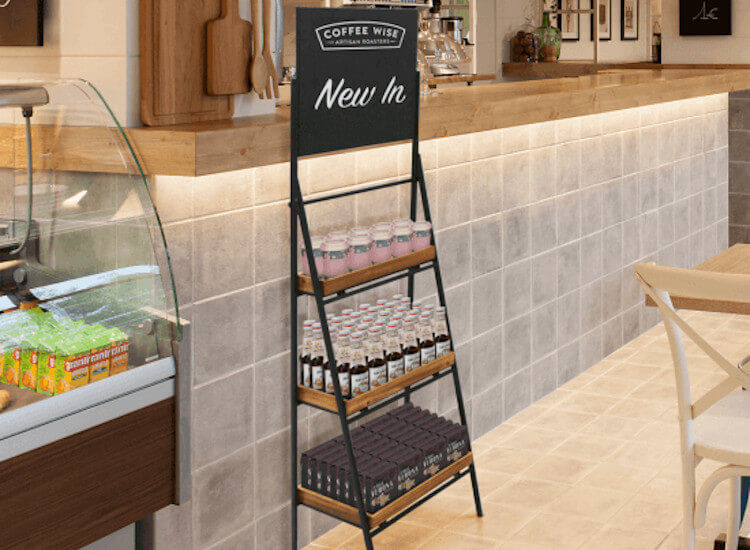 Wooden shop shelving adds a stylish aesthetic
Do you make bespoke shop shelving units?
Yes, we can make bespoke point of sale display stands with practically any design you choose. Popular choices for branded retail shelving include our wooden and foam board point of sale display stands which can be fully printed with your custom designs, and our folding wooden ladder shelf stands which we can easily add your brand logo to.
We also supply acrylic slatwall slot-in shoe shelf units, which can be made in any colour you choose - simply request a bespoke order quotation.