Water Base Pavement Sign available in silver or black
The display sign has a snap frame mechanism for easy poster updates
Built-in wheels (except A2) and pull-along handle provide easy movement
UK mainland delivery from £9.50 - free on orders over £150 (ex. VAT)
Get it by Friday 1st Dec if you order by 5pm using Express Delivery
What is a Water Base Pavement Sign?
The Water Base Pavement Sign has a hollow base which can be filled with water or sand to provide strength and stability for your outdoor signage. The frame is attached using heavy duty springs, which prevent the weighted outdoor sign from falling over in strong winds.
Key benefits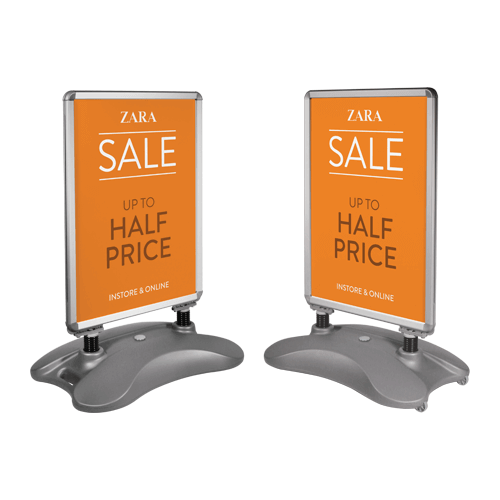 Double sided
Visible from both sides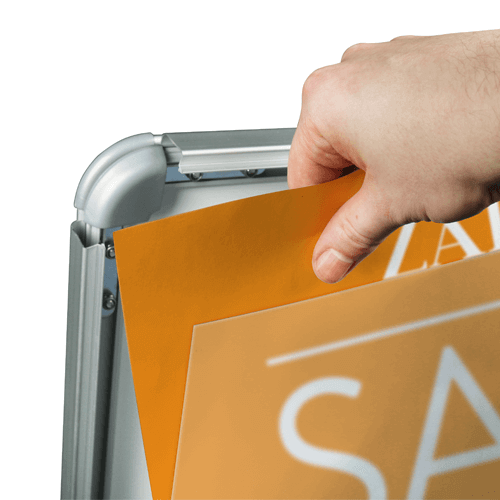 Easy poster change
Snap frame allows quick poster changes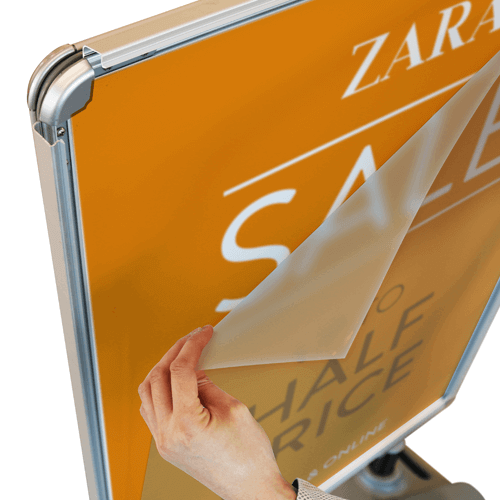 Plastic covers
Protects against rain and UV light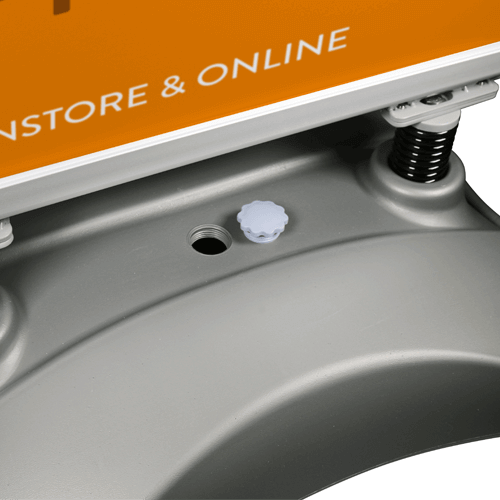 Heavy base
Can be filled with sand or water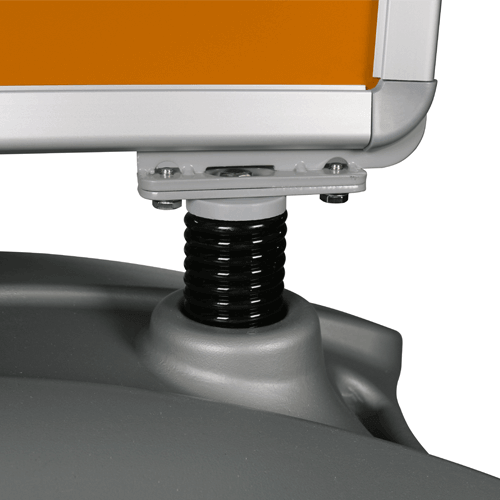 Heavy duty springs
Improves weather resistance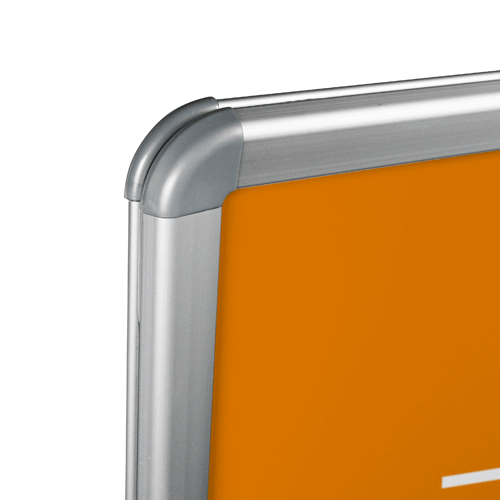 Rounded corners
Rounded corners for added style and safety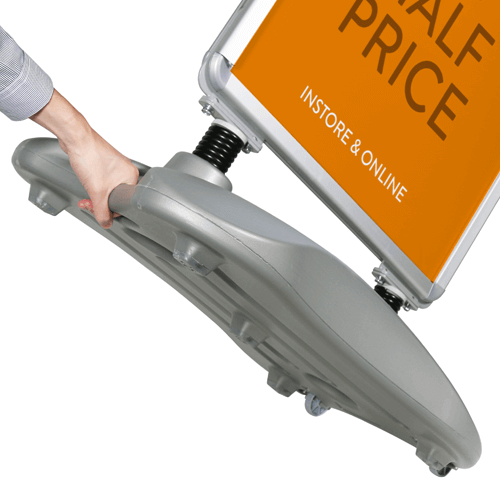 Recessed wheels
For easy transit when full (excludes A2)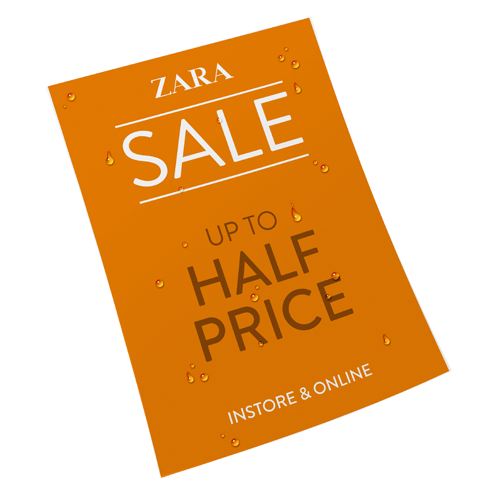 Waterproof posters
Available with your artwork on
Is this forecourt sign easy to move?
The recessed wheels and pull handle on the base make it easy to bring the sign indoors at the end of the day, despite the 37 to 77kg weight when it is filled with water. This excludes the A2 version - the A2 forecourt sign does not feature wheels or a pull handle. Click to view our assembly instructions.
How does this Water Base Pavement Sign differ from others on the market?
We make our pavement signs using higher quality components including clear plastic poster covers, a heavy duty frame, tougher springs and a stronger snap frame mechanism, making it much more hard wearing than cheaper alternatives. It's our most popular model and we've sold thousands of units.
How do I replace the posters?
The display sign is fitted with a snap frame mechanism which clamps down the edges of your posters and holds the clear plastic cover in place. Replacing the posters is as simple as unclipping the snap frame, switching the poster, replacing the plastic cover and snapping the frame shut again.
How weather resistant is this sign?
This forecourt sign is one of our more weather resistant signs as it is supplied with two clear plastic poster covers, heavy duty springs, a rigid back and a base that can be filled with sand or water to make it a weighted outdoor sign. It withstands normal weather conditions but, like any sign, should always be moved indoors during bad weather.
What paper can I use for my posters?
We would recommend that all display signs are used with our semi-rigid waterproof posters to prevent the crinkling that occurs when paper posters are used. You can opt to order your pavement sign complete with 2 of these posters bespoke printed for you within 2-3 days.
Poster size
A2
A1
30" x 40"
A0
Overall size W x H x D
47cm x 85cm x 41cm
80cm x 119cm x 50.5cm
103cm x 140cm x 62cm
96cm x 156cm x 61cm
Visual area W x H
40cm x 57.4cm
57.5cm x 82cm
76cm x 101.5cm
82cm x 117cm
Base size
W x D
59.5cm x 41cm
80cm x 50.5cm
103cm x 62cm
96cm x 61cm
Wheels?
No
Yes
Yes
Yes
Handle?
No
Yes
Yes
Yes
Frame material
Anodised Aluminium
Anodised Aluminium
Anodised Aluminium
Anodised Aluminium
Panel material
Aluminium Composite Panels (ABS / PE)
Aluminium Composite Panels (ABS / PE)
Aluminium Composite Panels (ABS / PE)
Aluminium Composite Panels (ABS / PE)
Frame width
3.2cm
3.2cm
3.2cm
3.2cm
Frame type
Snap frame
Snap frame
Snap frame
Snap frame
Poster covers
Yes
Yes
Yes
Yes
Double sided?
Yes
Yes
Yes
Yes
Base type
Water base
Water base
Water base
Water base
Water volume
10 litre
25 litre
50 litre
50 litre
Tools required
Spanner
Spanner
Spanner
Spanner
Empty weight
7.8kg
18kg
19.5kg
25kg
Full weight
19.8kg
37kg
66kg
77kg
Can I get this product with printed posters?
Yes, this product is available with custom printed posters. After purchase, we'll send you an email within an hour with a link to upload your graphics, or you can design it yourself using our clever online drawing app. Please ensure you use one of the templates we provide to make this problem-free.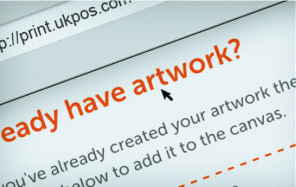 After you order, we'll send an email within an hour with instructions on how to send us your artwork.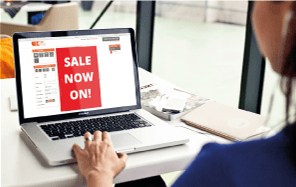 You can upload artwork from your designer, or design it yourself using our online drawing app.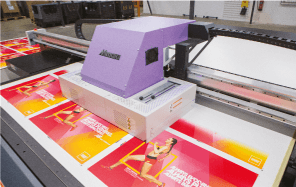 We'll print your artwork and will send it along with your products when it's printed 2-3 days later.
Where do I find templates and information on image requirements?
You can find templates and instructions for your designer on our Print Service page under the 'Design Templates' tab.
Do you offer a design service?
If you're struggling with creating your artwork, we do offer an in-house design service. Using your existing images and logos, we will take your design instructions and ideas to create a finished piece of artwork that is effective and ready to print.
Alternatively, our online drawing application allows you to design your own graphics via web browser. It's easy to use and you don't need to be a designer to get good results.
Do I need my artwork ready when I order?
No, as you upload your design after ordering, you don't need to have it ready when you purchase your item. We'll send you an email within an hour after you order. You can then get it designed and uploaded in your own time. If you don't receive an email within an hour, please contact us and we'll be happy to assist.
Can I send more than one piece of artwork for a double sided product?
Yes, you can send over two different types of artwork to feature on either side.
How long does it take to print my products?
Most of our printed or branded products take 2-3 days to produce (depending on the product) after we've received your graphics. If we don't receive your artwork promptly your order will be delayed.
Can I get next day delivery?
As there is a lead time of 2-5 days on custom prints after receipt of artwork, we're unable to deliver them via expedited services or make them available via Click and Collect. Once printed, we'll despatch your goods using your chosen delivery method.
Pavement signs great. Delivery not so.
Very happy with the overall quality of the signs, but the 4 boxes have arrived over the course of 2 weeks and actually we are currently still waiting for box 4. Whether it is a delivery or production issue is unknown, but the window for receiving the complete order has passed and therefore diminished our review
VT
Great service, fast delivery and good quality product and also poster print.
Mike
Excellent product and quick delivery.