Display Blocks and Bridges
Display risers, blocks and bridges
What are display risers, blocks and bridges for?
Display risers, Perspex blocks and bridges are used as visual merchandising displays to showcase particular products and make them stand out. While tubs and crates allow retailers to display many lower value items at once, display bridges, pedestals and stands are designed to make high value items stand out individually. They're a great choice for luxury products.
Should my business use display blocks or bridges?
Display bridges and multi level display stands are often used at the point of sale in premium retail environments to showcase quality items such as designer accessories, electronics and perfume. They are also perfect in hairdressers and spas to display high value cosmetic products which complement the treatments that customers have received.
Are any of these display bridges available in different colours?
Absolutely. At UK POS we manufacture a large quantity of our products right here in Stockport and we have the ability to create your merchandising display items in a range of colours, as well as adding branding. If you would like your display risers made to order from bespoke specifications, simply contact a member of our sales team today for a quote.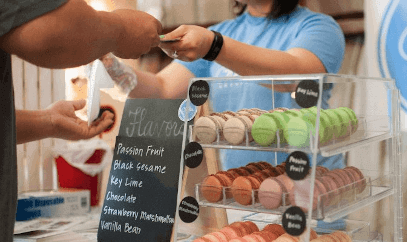 How stores make you spend more
The overall atmosphere and look of a retail store can have a big impact on sales. You will have to think about how the lighting, music and layout is making your customers feel.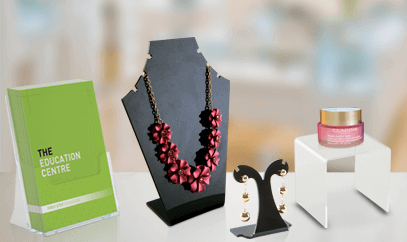 Countertop display stands buying guide
Countertop display stands are a versatile display solution that can be used by any business to maximise the visibility and aesthetic of your product or service.
Do any of these display blocks show branding?
Our clear acrylic display blocks are available with bespoke branding so that you can use them as acrylic branding blocks, featuring your company logo or message. Alternatively, they're also supplied without branding for a plain acrylic block to stand your products on.
Another way you can display branding or graphics by your products in a visual merchandising display is by using a product glorifier unit. They are very similar to display bridges, but feature a header section at the back into which you can easily slide your A5 graphics.