Gen Z And Millennial Shopping Habits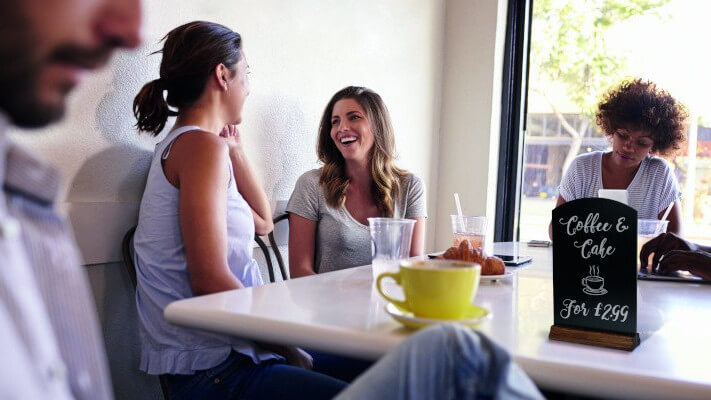 Did you know that almost half of millennials believed supporting small and local businesses during the Covid-19 pandemic was important [1]? Of these, 47% actively changed their shopping habits as a result! While the shift towards online shopping has been a continuing trend for many years, it is clear that brick-and-mortar stores still have a place in the shopping habits of younger consumers - but how can you maximise your point of sale to appeal to them?
The generation referred to as millennials technically refers to those born between 1981 and 1996, while Gen Z refers to those born between 1997 and 2012. However there are various interpretations of these terms and many sources use slightly different ranges to define each term, so for the purposes of this article we advise you to think of millennials as being born between 1980 and 1999, and Gen Z as those born in or after 2000.
What are millennials buying?
Millennials are a broad array of people at different stages of life, but there are trends that hold them together as a demographic. The oldest millennials are now over 40 years old and the youngest are 26, meaning that their spending power will be increasing as they climb the career ladder. Paradoxically, this generation is the first in the UK to earn less than the generation before [2]. Only 42% of millennials in 2016 owned their own home, so when you combine their lower earning power with rising house prices, you can start to understand why their spending habits differ from their parents [3].
"52% of millennials were likely to make impulse purchases [more than any other generation]."-V12 Data [4]
Stereotypes about millennials often rely on claiming that this generation is 'killing off' a huge number of traditional industries, but if you look a little closer, you will be able to spot huge opportunities for your business to appeal to the under-40s.
Millennials hold fewer assets and have less accumulated wealth than previous generations, so they are conscious about where they spend their money. Generally this generation prioritizes health, wellbeing, convenience and ethics, with 73% willing to pay more for products or services that are sustainable or promote a positive impact on the world [5].
What are Gen Z buying?
Generation Z are currently either still at school or have recently entered the workforce, so their earning power is yet to reach its full potential. However, there are some key trends to take note of if you want your business to successfully appeal to this generation now and into the future.
Fashion dominates spending for Gen Z, with around 75% of their purchases being in this sector, compared to 65% of millennials [6].
Like the generation before them, Gen Z is less likely to prioritize price as a purchasing factor, focusing more on the ethical, practical and eco-friendly aspect of products and services.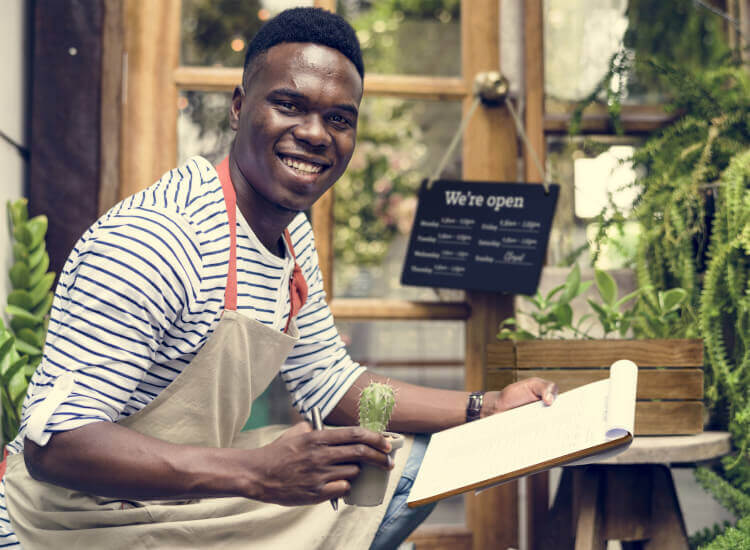 This young generation are digital natives, being the first to have never known a world without the internet. To connect with Gen Z, brands must ensure that their digital presence is strong and engaging.
How can you attract younger consumers into brick-and-mortar stores?
There are still plenty of physical stores that have no problem attracting Gen Z and millennials. In a recent survey, 54% of millennials and 51% of Gen Z said that they were more likely to shop for food and drink in physical stores [7]. There is a divide between the sexes however, with 83.5% of Gen Z females wanting to hit the shops after the Covid-19 pandemic restrictions lifted, versus 68% of males. Millennials follow that same trend, with millennial males being the least eager to return to physical stores (61%), compared to 75% of millennial women.
The continued rise of online shopping will still be concerning to brick-and-mortar retailers however, as it is almost impossible to compete with the convenience that this form of shopping provides for consumers. Rather than focus on products and prices, physical businesses may want to look at offering more experiences in-store to give customers a reason to visit.
With high streets up and down the country turning to experience-led business, such as bars, restaurants and cinemas, to attract visitors, it is clear that retailers will not be able to maximise sales by relying on their products entirely - they have to offer something more.
"56% of a survey of 2,000 consumers aged between 18 and 35 would like retailers to complement their click and collect service by offering a space to try on clothes and facilitate returns and refunds."-Fashion Network [8]
This is particularly important for smaller, independent stores who do not have an online offering. As discussed above, younger generations are very particular about where they spend their money, preferring to spend more on brands that prioritise sustainability and ethics. Gen Z and millennials are reported to prefer shopping at small and local businesses that support the local economy, so if your business has strong ties to the local community or champions local causes, you need to shout about them!
Among the millennials who prefer to shop at small or local businesses, the top three reasons for doing so were as follows:
Wanting to support the local economy (77%),
Preferring a more personalised customer service (29%),
Access to a unique range of products that can't be found elsewhere (22%).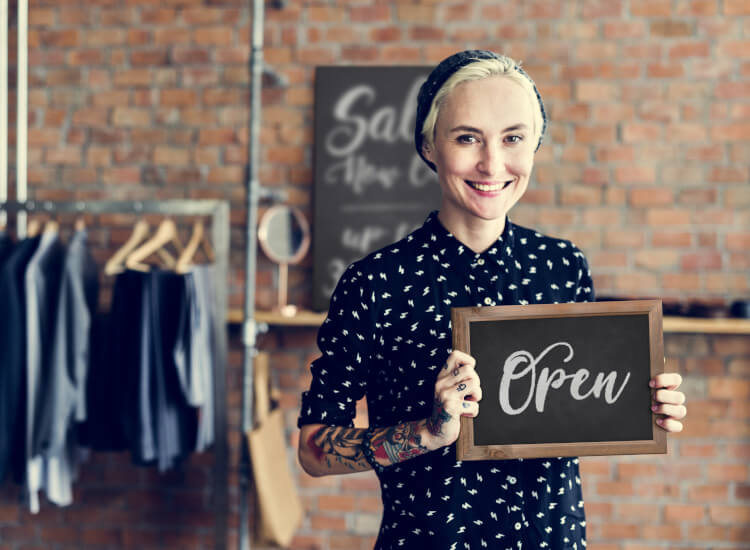 Larger businesses who cannot offer a one-to-one or personalised service for customers can use their online presence to support their brick-and-mortar offerings. Millennials and Gen Z are heavy users of smartphones, often using them to research products, read reviews, and purchase online.
"88% of millennials say they would consider buying online and picking up in store to save $10 on a $50 item."

-V12
Take advantage of this by using your website or social media to advertise in-store only deals, loyalty programmes and click-and-collect services, to encourage people to visit your store. If everything you offer is available online, then it is likely a majority of your sales will come from that platform.
You must also make sure that your business address can be found on search engines, to appear in local search results. Did you know that 56% of millennials are willing to share their location in order to receive coupons from nearby businesses?
Experiential retail is a growing trend that could have huge ramifications for retailers. This is a broad term that refers to businesses using interactive, shareable experiences in their brick-and-mortar stores, which give customers a reason to visit and gives your brand a USP. Find out more about experiential retail in our short guide.
Shopping as a destination or activity that a group of friends plan in advance may seem like it's becoming a thing of the past, but Gen Z is bucking that trend. According to research from Vogue Business, while the majority of this generation prefers to research products online, 81% stated that they preferred to go to the high street to shop. Interestingly, this group cited that their reason for shopping in physical stores was that it provided stress relief from being constantly connected to the digital world [9].
How to boost Gen Z and millennial sales in store
Younger generations are looking for unique experiences and reasons to choose your brand. Maximise your chances of increasing sales within your brick-and-mortar stores by using interactive, innovative displays, that are likely to be recorded, photographed and shared online by younger generations, or even provides them with a talking point to pass onto their peers.
Digital displays are ideal for capturing the attention of these digital generations! Technology such as virtual reality, LED posters, interactive screens and gaming consoles could really give your brand the edge over the competition.
Technology such as this not only gives you an opportunity to present your products in exciting, visual ways compared to a physical product display, but it also allows customers to try before they buy in many cases. Virtual reality and gaming consoles give customers a chance to experience how a product will look in their home settings or try their hand at a sample of a game before they commit to a purchase. You can also offer convenience to your customers using technology, with items such as Power Bank Menu Holders which allow customers to charge their devices while out-and-about.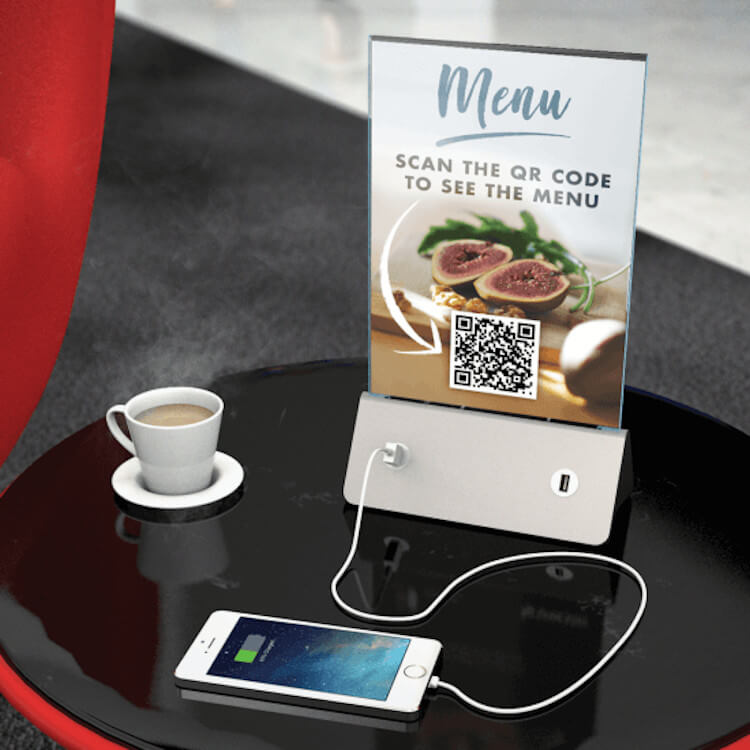 Promotional stands also give customers an opportunity to interact with your products before they buy, or learn more about how they work. This is especially useful for complicated products, as you are likely to receive less enquiries after any purchases.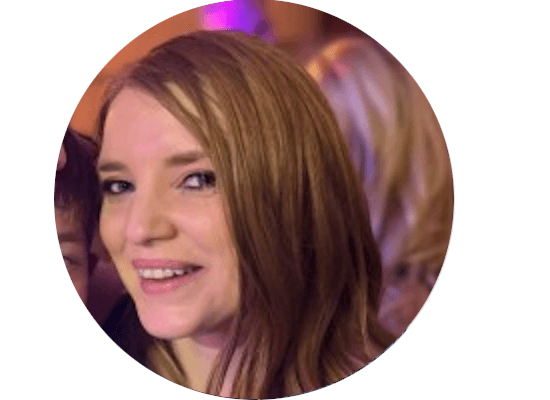 Alysha Bennett
Alysha is a copywriter at UK POS, with experience working in B2B and B2C companies, as well as with charities. She has been researching consumer and retail trends to assist retailers in implementing effective point of sale materials into their own businesses for eight years.
References
1. Barney Cotton, 'How has the pandemic changed millennial retail habits?', (January 2021), Business Leader, https://www.businessleader.co.uk/how-has-the-pandemic-changed-millennial-retail-habits [accessed February 2022].
2. Sarah O'Connor, 'Millennials poorer than previous generations, data show', (February 2018), Financial Times, https://www.ft.com/content/81343d9e-187b-11e8-9e9c-25c814761640 [accessed February 2022].
3. 'Millennial Facts', Lucky Attitude, https://luckyattitude.co.uk/millennial-facts [accessed February 2022].
4. 'Retail for the Millennials – How Do They Purchase and What Do They Really Want?', (January 2021), V12 Data, https://v12data.com/blog/retail-millennials-how-do-they-purchase-and-what-do-they-really-want [accessed February 2022].
5. '14 Industries Experts Say Millennials Are Killing — And Why They're Wrong', (February 2020), CB Insights, https://www.cbinsights.com/research/millennials-killing-industries/ [accessed February 2022].
6. 'Millennials and Gen Z in the UK: Next Gen Index', Clearpay, https://afterpay-corporate.yourcreative.com.au/wp-content/uploads/2021/08/Clearpay_NextGen_UK.pdf [accessed February 2022].
7. 'Who's leading the return to the UK high street?', (May 2021), Attest, https://www.askattest.com/blog/research/whos-leading-the-return-to-the-uk-high-street [accessed February 2022].
8. Barbara Santamaria, 'Millennials still prefer stores to online shopping, but want less store staff', (June 2018), Fashion Network, https://uk.fashionnetwork.com/news/Millennials-still-prefer-stores-to-online-shopping-but-want-less-store-staff,990249.html [accessed February 2022].
9. Sabrina Faramarzi, 'Post-pandemic playbook: What Gen Z want from physical retail', (May 2021), Vogue Business, https://www.voguebusiness.com/consumers/post-pandemic-playbook-what-gen-z-want-from-physical-retail-adidas [accessed February 2022].