Integrating Online And Offline Marketing Strategies In-Store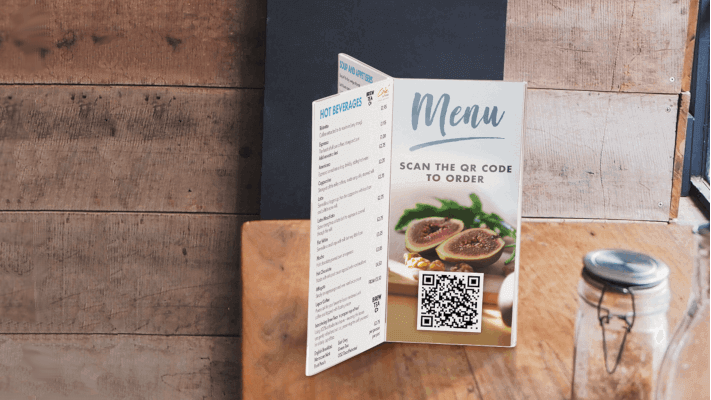 What is cross channel marketing?
Cross-channel marketing involves engaging customers across multiple channels in a seamless, integrated way. This may involve interacting with customers in person, through store signage, on your website, or via social media. A cross channel marketing strategy ensures that your different advertising platforms work together to provide consumers with a cohesive, comprehensive customer experience.
Examples of cross-channel marketing to increase customer engagement:
Promotional text messages that link to web pages.
Use of QR codes in-store that link to relevant online shopping pages and/or more detailed product information.
Email or SMS marketing that provides a phone number or link and encourages consumers to call and speak to a customer service team member.
Printed signage in hospitality venues, such as restaurants or salons, that encourages customers to share pictures of their meal or haircut on social media.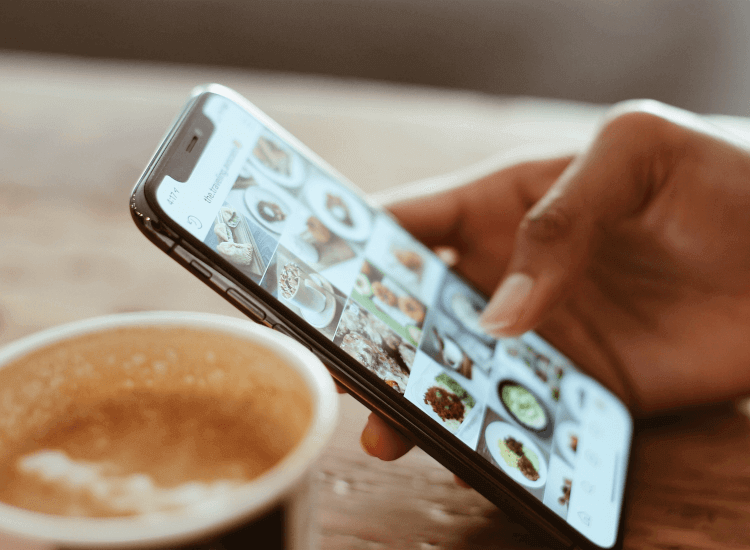 Encourage customers to interact with online services at your point of sale.
"Firms that better coordinate their multiple channels may improve consumers' trust, increase their loyalty, boost their conversion rate, and create greater opportunities to cross-sell"- Li and Cao (2015) [1].
Why do I need to utilise cross channel marketing at my point of sale?
Ensuring that your business communicates and functions cohesively across channels will allow your customers to engage in the way that works for them, rather than being forced into a certain type of brand engagement, which could be off-putting.
A cross-channel strategy recognises your customers' individual needs and provides them with more flexibility. This results in the public having a more pleasant experience with your brand.
This idea is confirmed by a research paper on integrated multichannel retail, in which the authors note that 'the distinctive channels should complement each other to increase the possibility that consumers may easily find the most relevant one for their needs' [2].
The combination of promoting online services at your POS and promoting your bricks-and-mortar stores online, results in greater customer engagement. Greater customer engagement will bring you more repeat customers, and higher sales figures.
The point of integrating online and offline marketing strategies is to encourage interaction, which increases involvement. Even if a customer doesn't have time to stop now, they may be interested enough to find you on social media. If they have a great experience, the easy availability of social links will make them more likely to leave a good review, or tag you in a positive post.
Combine your marketing strategies to increase customer engagement
In the book Pervasive Advertising, J. Müller and colleagues point out that the level of involvement the customer has with a purchase and the strength of their relationship with the brand, product or service will affect sales figures. They argue that "involvement is critical to advertising because it can significantly impact the purchase decision process" [3].
Therefore, a strong cross-channel marketing strategy should aim to encourage maximum customer engagement with the brand both online and offline, in order to strengthen the customer's involvement and, ultimately, increase sales.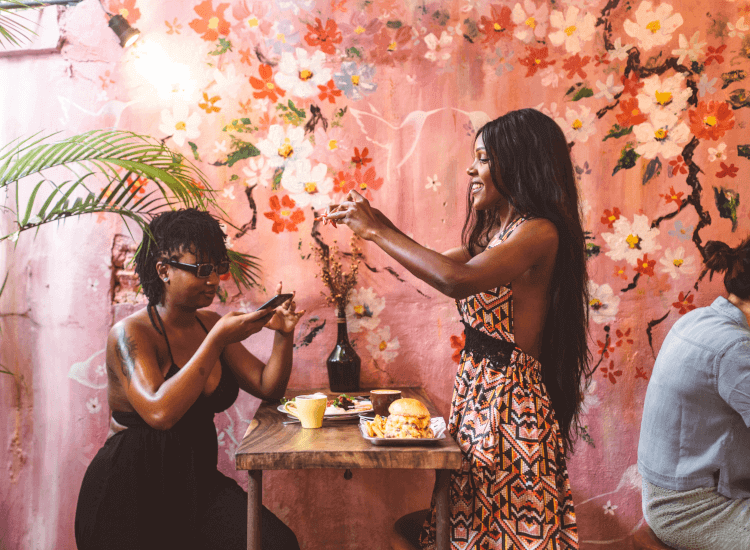 When customers feel engaged and involved in an environment or brand, they are more likely to share their positive experiences on social media and, ultimately, spend more with your business.
Your point of sale advertising and displays act as customer touchpoints along their journey. Be sure to include a call-to-action at these touchpoints which encourages them to interact across channels, such as asking them to interact with social media, to scan a QR code to get more information, or to fill out a review or survey.
Ensure your social media links and website details are printed on all the posters that you display, whether on pavement signs, snap frame posters or in your window displays.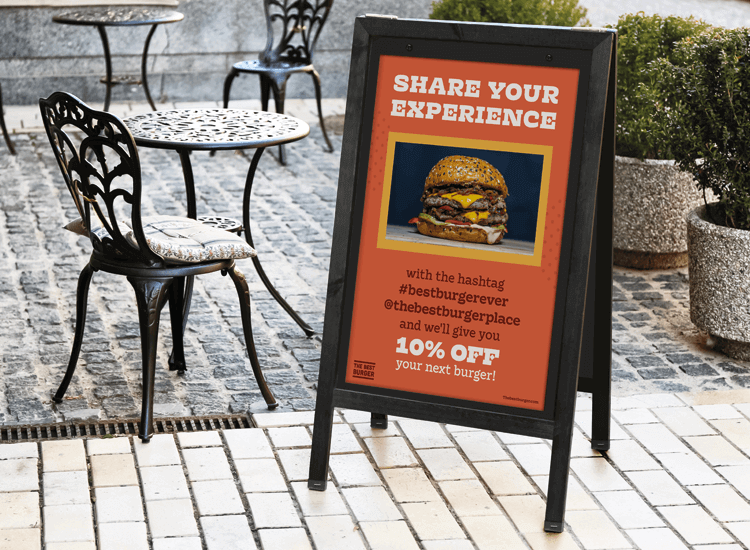 Create a sense of community by communicating with customers across channels. Communicate online, on digital signs, paper posters, and brochures and flyers. Social media sites are a hotspot for online community-building, so advertise these clearly at your POS.
Many passersby won't have time to stop and enter your premises at first. If, however, your social media and website are clearly advertised and easily accessible, they can type in your name or follow a QR code link in order to find more information.
This is a great way for restaurants to entice customers. Let them see your gorgeous images and mouthwatering meal descriptions on outdoor signs. This will make them much more likely to want to interact with your media and to make a booking.
The same is true for fashion stores. Passing customers may have a shopping goal already in mind, and won't have time to stop and browse when they see an attractive outfit.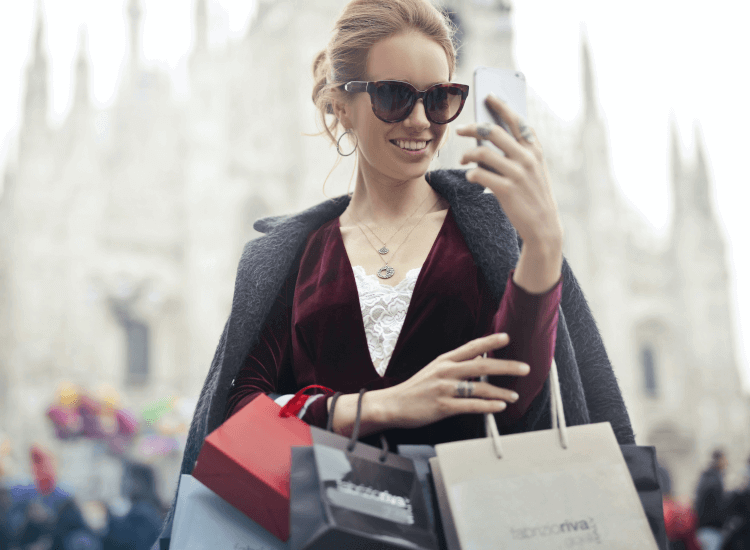 Make it easy for consumers to follow up online, using your retail displays and signage. Then, they can quickly connect to your resources and save all the information to their mobile device.
If a customer has a number of favourite looks, meals or products saved to their phone, they will be reminded of the sense of desire they felt for them. They will then be more likely to return and make a purchase through their preferred channel.
Display social media comments and reviews on digital posters
Showing positive comments and reviews from social media on your digital POS displays could help to increase customer trust in your brand and lift sales.
Social media comments are the new word-of-mouth advertising. Researchers suggest that it could be beneficial to display these on your signage, stating that they 'provide the consumer with an impression of innovation for the product or the brand in question, as well as for the retailers themselves' [4].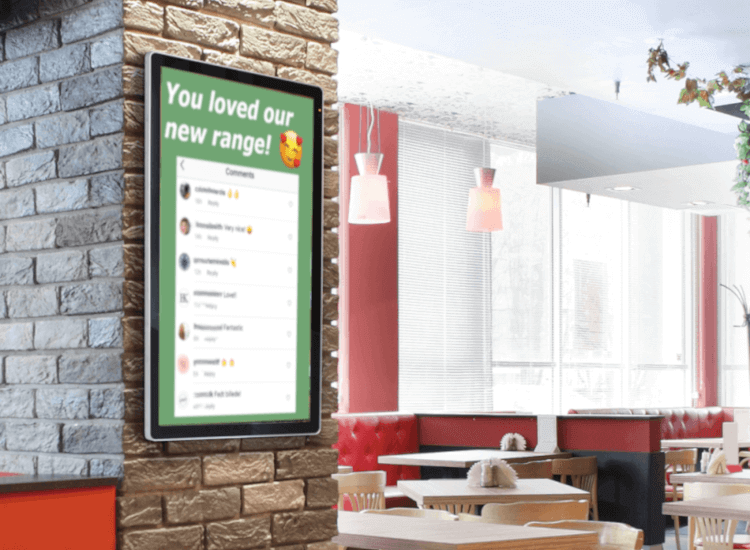 Seeing that other consumers have had positive social media engagement with a brand, product, service or venue, is reassuring to new customers. Additionally, 'displaying product-specific social network comments are more effective than showing general brand-related comments' (Spiegler (2011), p.223). So, you may wish to use comments that specifically refer to products or services.
'A carefully designed mixture of traditional advertising and social network comments would maximise the benefits of both advertising and social networks' ability to generate word-of-mouth'

- Spiegler et al (2011), p.224.
When displaying social media comments on digital signs, bear in mind that long-form comments can be difficult to process quickly. This means that they won't be easily understood in fast-paced environments (Spiegler et al, p.223). Therefore, consider carefully where you will display the screens, and which comments to display.
We recommend that you use these displays in areas that people will be waiting and have time to take them in. Ideas include at bars and by tables in restaurants, in queues and around changing rooms. Pick short and to-the-point comments, which heap praise on your products and services too.
Advertising online services in-store increases customer satisfaction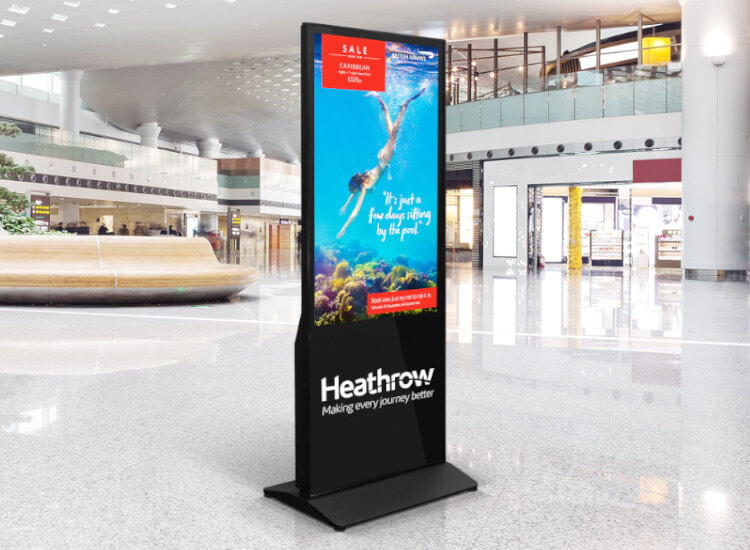 As well as advertising products and services, using digital posters for cross-channel advertising can improve customer enthusiasm and engagement
Integrating digital technology with bricks-and-mortar stores reduces the boundaries between in-store and online retail. Increase customer satisfaction, make them more likely to visit again and recommend you to others [5].
Using interactive screens is a great way to connect your online and offline marketing, with many potential uses. For example, you could allow customers to check stock levels and find product recommendations in-store on touchscreens. This would enhance the relationship between your online and offline brand presence.
Another simple and effective way to do this is with the use of QR codes. These can be easily printed onto posters, banners and signs.
View

View

View
What is a QR code?
QR stands for 'quick response'. It refers to the way that these printed codes can be used to access information or services almost instantly, all from a mobile phone. QR codes can really add a lot of value and convenience for both the customer and for the businesses that use them.
Printing QR codes for use in restaurants is really popular. They allow visitors to order food and drinks, discover additional details about meals, and pay - all with minimal contact. However, the potential uses of QR codes can go much further.
QR code ideas for shops and restaurants:
Provide extra product information
Provide directions to a product or store
Link to an online survey and/or competition
Allow customers to pay ahead of time and skip queues
Take them directly to a wish list or look book, making it easy for them to build a list of products or services they would like from you
Show them products which are recommended for use with another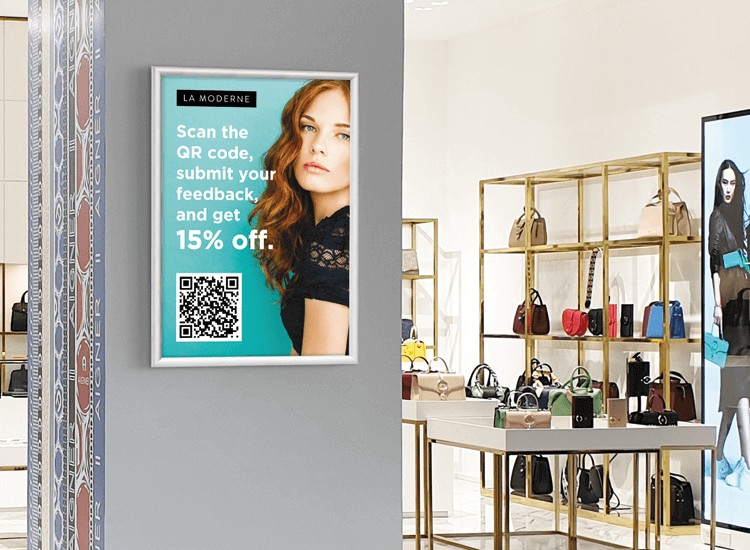 QR codes improve consumer engagement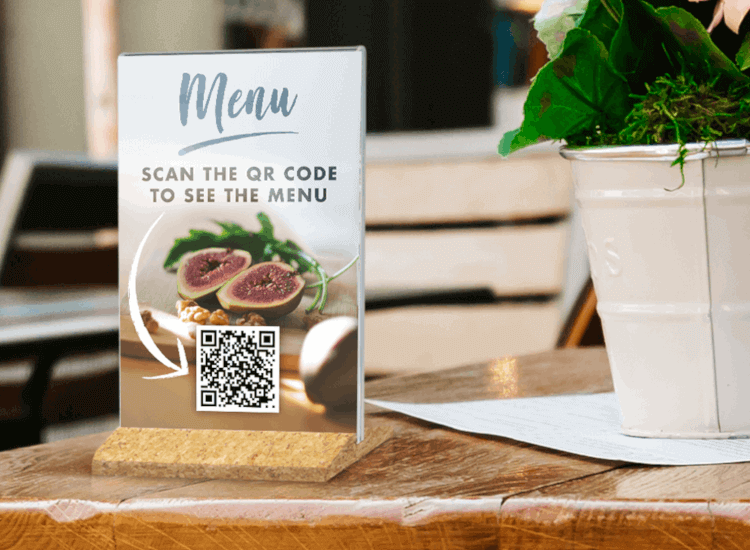 How to create a QR code
Creating a QR code couldn't be easier, as there are many free QR code generators available for use on the internet. Simply provide the generator site with the URL that you wish the code to direct to.
Do always check, however, that the code works and scans correctly before investing in a large print run of these.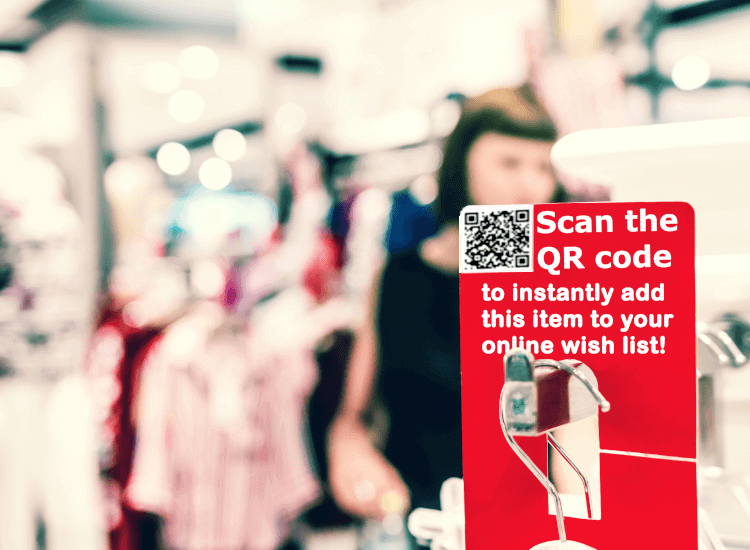 How to print a QR code
Once the QR code has been generated, it can be used straight away. You don't need any specialist equipment for this, you can even use a home printer.
Why not get your business signage printed by us here at UK POS? Simply include the QR code on your print design template, and we'll create your high-quality prints.
If you're able, investing in the creation of 'smart content' can be incredibly profitable. Smart content adapts what is shown to customers based on their behaviour. For example, if a supermarket customer tends to only purchase vegetarian food, this can be flagged digitally to ensure they see marketing content for vegetarian and vegan food.
Gathering feedback is important for all businesses to assess whether their strategies are working.
Encourage your customers to fill in surveys or provide feedback both online and in store. Compare the results to ensure you're providing a consistent quality of service across the various mediums.
Create an incentive by giving them entry into a competition, or a discount, in exchange for their feedback.
Providing touchpoints for digital interaction shouldn't result in a reduction of your in-person services. It should simply work with them and enhance them.
Ensure that you're adding value for your customers wherever possible. Also, it's important to make this interaction both convenient and appealing.
A recent study found that businesses must make additional interventions in order to motivate customers to engage with these touchpoints. Otherwise, consumers will only access the information while doing so is quick and convenient. Quick, convenient access will 'greatly increase the likelihood that they will access it' [6].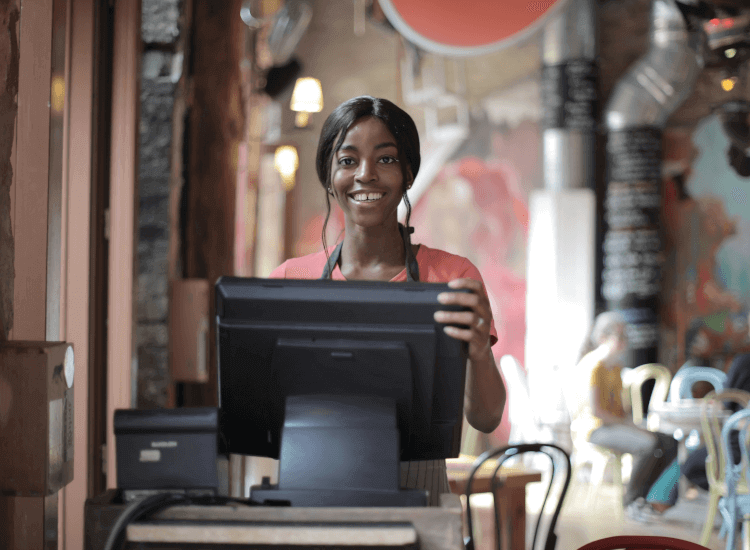 Customer service is of the utmost importance in both online and offline marketing strategies.
For further reading on integrating online and offline marketing strategies, check out our guide on How to Create Digital Signage Content.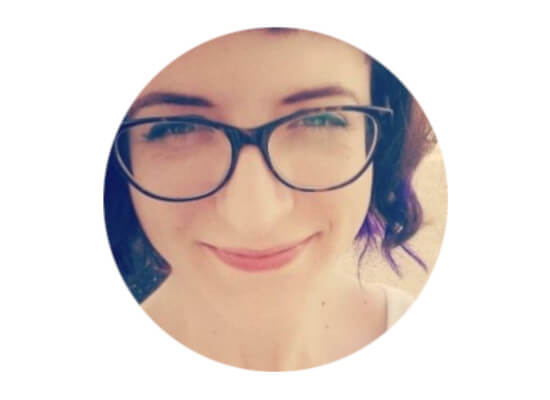 Kira Swales
Kira Swales is a copywriter for UK POS. Kira has nine years' experience in e-commerce and copywriting, with a background in retail. She enjoys researching topics in depth in order to provide readers with the latest information on point of sale merchandising. Read more of her comprehensive guides in our
Knowledge Hub
.
References
1. Cao and Li, 'The Impact of Cross-Channel Integration on Retailers' Sales Growth', Journal of Retailing, Vol. 91, pp. 198-216 (2015).
2. Pantano and Viassone, 'Engaging consumers on new integrated multichannel retail settings: Challenges for retailers', Journal of Retailing and Consumer Services (2015), Volume 25, pp. 106-114.
3. Müller, Alt and Michelis, 'Pervasive Advertising', in Pervasive Advertising, ed. by Jorge Müller, Florian Alt and Daniel Michelis (London: Springer Science & Business Media, 2011), pp. 1-29 (p. 5).
4. Spiegler, Michahelles and Hildebrand, 'Social Networks in Pervasive Advertising and Shopping', in Pervasive Advertising, ed. by Jorge Müller, Florian Alt and Daniel Michelis (London: Springer Science & Business Media, 2011), pp. 207-205.
5. Poncin and Mimoun, 'The impact of 'e-atmospherics' on physical stores', Journal of Retailing and Consumer Services (2014), Volume 25, pp. 851-859.
6. Li and Messer, 'To Scan or Not To Scan: The Question of Consumer Behavior and QR Codes on Food Packages', Journal of Agricultural and Resource Economics (2019), Vol. 44(2), pp. 311-327.