Essential Signage And Salon Display Stands For Hairdressers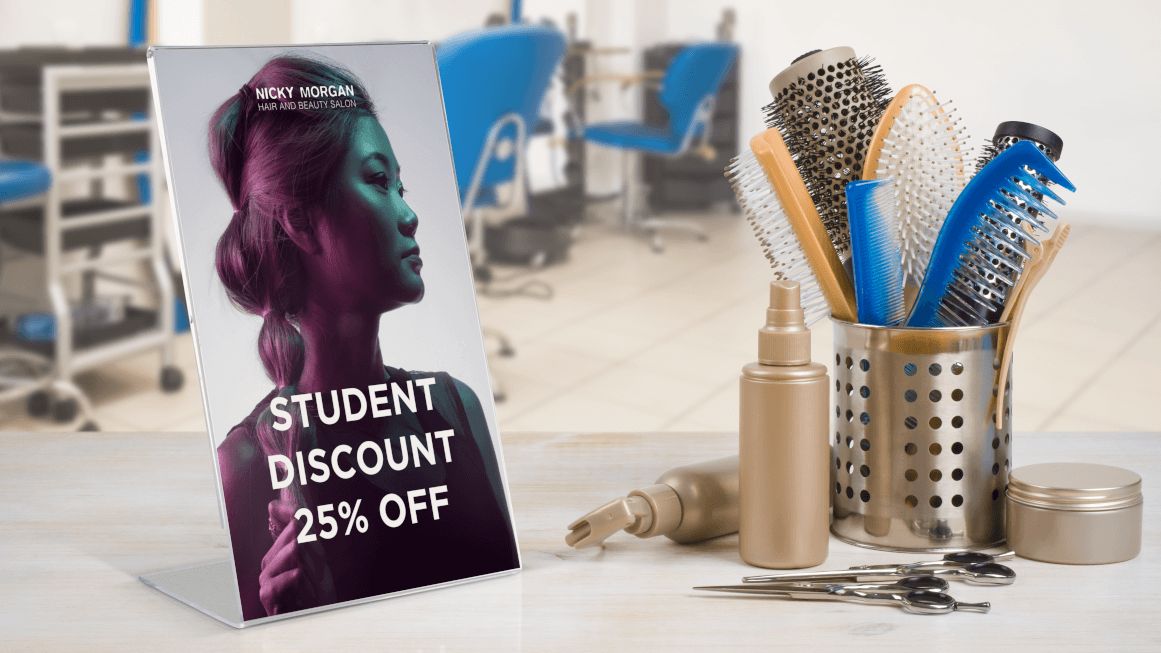 Hairdressing is a competitive industry, with people tending to stay loyal to one salon once they have found the ideal cut and colour, so enticing people into your business is tough.
Investing in the right signs for hairdressers, to promote your offers and display your work, is a vital concern for salon owners.
Plus, once customers are inside your business, you should be displaying any relevant products or accessories you supply on stylish salon display stands, in order to boost add-on sales.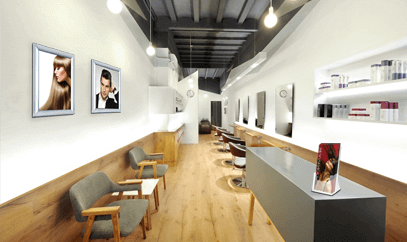 Creating an enticing hairdresser's window display, informative wall displays and tidy countertops, are all simple steps you can take to ensure that you're marketing effectively at your point of sale.
How can I promote my salon with hairdressing signage?
Point of sale materials are the key to promoting your salon to passersby, and are also great for encouraging impulse purchases and return visits from existing customers. Use effective hairdressing signage, such as salon window displays and pavement signs, to attract new customers. Then, use posters and leaflets inside to offer deals and incentives that can increase brand loyalty and create new returning customers.
Salon window display ideas
How do I attract new customers to my salon?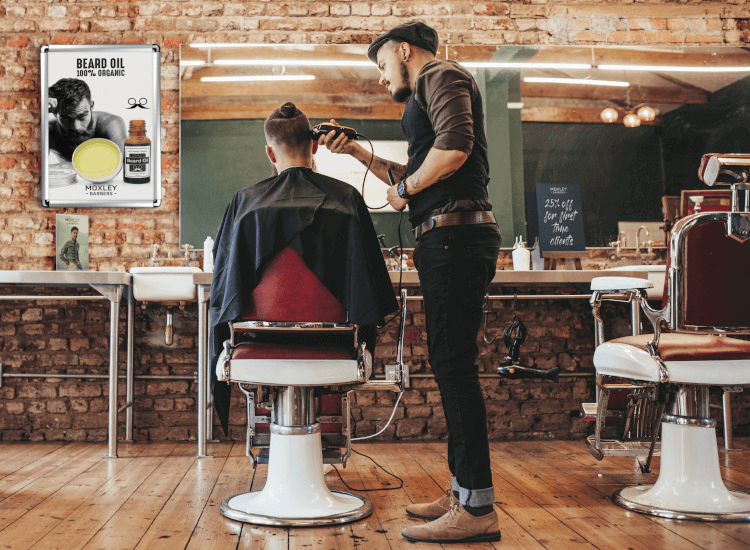 The best way to attract new customer to your salon is with outdoor salon signs. Introducing a pavement sign to your business is a simple yet effective way to catch the attention of passing pedestrians and motorists.
All of our pavement signs and a boards are double sided for double advertising, so you can display two different offers at once.
For maximum impact, make sure your poster or chalk design stands out, encourages people to come inside or call and is clear to the customers what you are offering.
Pavement signs for hairdressers
I don't have space for a pavement sign outside my salon, how can I utilise my salon display?
Window displays are a great way to make your shop front stand out from your neighbours and competition. This is a key area for displaying photos of your work, current promotions and showcasing your vast range of hair treatments and products.
A cable or rod display kit is the best way to make your window stand out. Add more poster wallets in any orientation to create a completely bespoke display.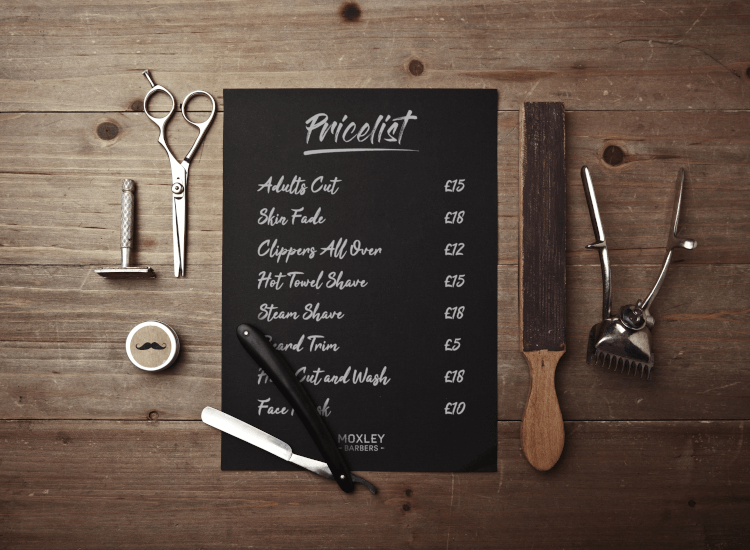 If you are looking for something a little simpler, poster holders with suction cups are a quick and easy solution for an empty window display. These are great for images, prices and opening times.
Wall mounted signs for hairdressers
How do I encourage salon customers to return?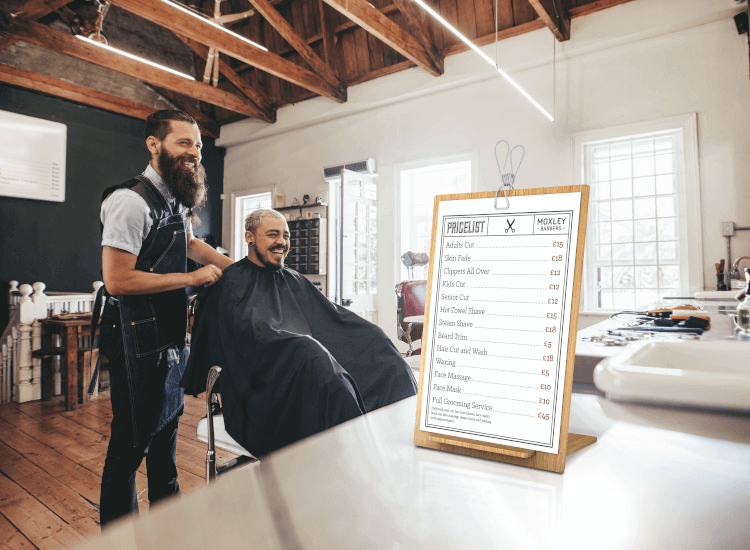 Maintaining brand loyalty is a crucial element to hairdressing. A simple way to leave an impression with your customers is with leaflets.
Display your leaflets in an organised, clear and professional manner using leaflet holders. A good leaflet holder will encourage customers to engage with your display and take a part of your business away with them.
Advertise your prices, points system or range of hair treatments in your leaflets, as well as using business cards to give customers your contact details and details of their next appointment. Display your business cards and loyalty cards in business card holders in key areas, in order to encourage people to pick up and browse.
Research shows that offering customers discounts or rewards helps to drum up more business and keep existing customers coming back and spending more money. Studies show that 'an increase in customer retention of merely 5% can equate to an increase in profit of 25%' [1]. Not only that, but repeat customers are then more likely to spend up to 67% more in your business.
Hairdressing signs and business card holders for countertops
I want to display some pictures of hair designs and promotional images for our product range, what is the best way to do this?
Snap frames are an ideal solution, as they are made in a range of colours, easy to wall mount, and simple to use. In an environment full of hair spray, products and water, your posters need protecting, so of our snap frames come with PVC UV-resistant, anti-glare poster covers.
Floor-to-ceiling and wall mounted rod display kits are a great way to display multiple graphics in one-large-scale display.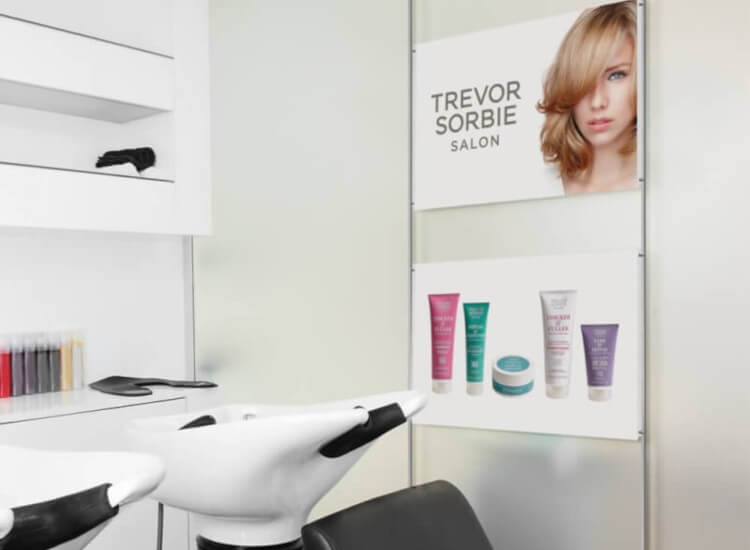 To make a specific poster stand out, you could invest in an LED poster frame. A backlit display will make your graphic stand out in any setting while creating a modern yet professional appeal.
Salon product display stands
Effective salon product display ideas include the use of acrylic cosmetic stands. A clear acrylic cosmetics display, such as a tiered step display, really showcases your top products in their best light. Consider adding shelf lighting strips to make your salon displays even more attractive and eye-catching.
Lastly, while there is no longer any requirement to wear PPE in a salon, the use of PPE in a salon has become fairly standard procedure for many. This includes the use of sneeze guards for close contact services, and hand sanitiser dispensers. Think about whether to integrate these into your everyday salon services.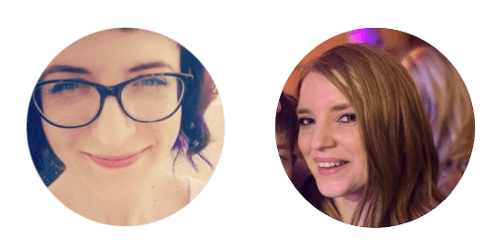 Kira Swales & Alysha Bennett
Alysha and Kira are copywriters for UK POS, with over fifteen years of combined experience in e-commerce. Read more of their in-depth guides in our
Knowledge Hub
.
References
1. Amaresan, Swetha, '10 Undeniable Reasons Customer Service Is Important to Your Business', Hubspot (December 2019), https://blog.hubspot.com/service/importance-customer-service