9 Types Of Signage In Retail That You Need To Know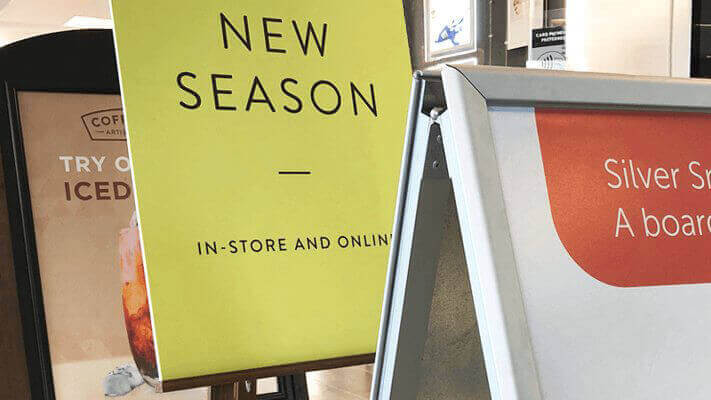 What is signage in visual merchandising?
Signage in visual merchandising refers to all the various types of sign that shops can use. They use these to communicate various messages, from promotions to important information. This article will help you to understand what the real purpose is for each of the different sign. To use your signs effectively, however, you need to know exactly what each of the 9 key types of signage for shops are.
9 key types of retail signage:
1. Wall mounted signs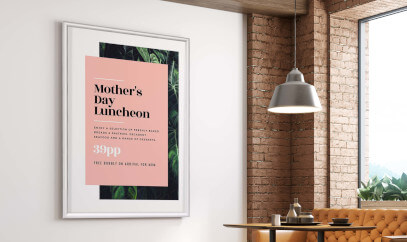 Our bestselling type of wall signs are snap frames, which are ideal for all kinds of uses. LED signs add an attractive glow to your graphics, while acrylic standoff posters look classy and professional. Chalkboards have a more rustic, natural effect.
2. Countertop signs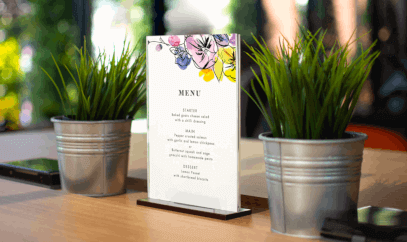 Freestanding clear countertop poster holders have lasting popularity, as they always make your graphics the centrepiece. Wooden menu holder bases or acrylic blocks are also a discreet way to hold signs on counters, while being easy to move and update.
3. Digital signs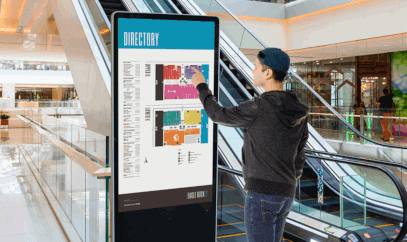 Digital signs are so versatile and effective, you can use them just about anywhere around your business. Wall mounted digital screens will entertain queues with engaging ads, while interactive digital totem stands are perfect for providing information [1].
4. Outdoor signs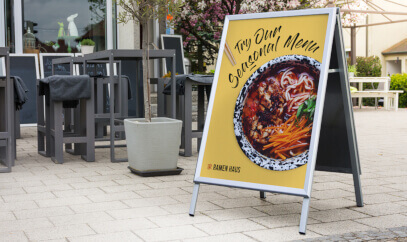 To entice passersby to enter your store, outdoor retail signs are essential. Weather resistant pavement signs are the best choice for this. Window signs and A boards should also be considered carefully to ensure you're conveying the right messages.
5. Overhead signs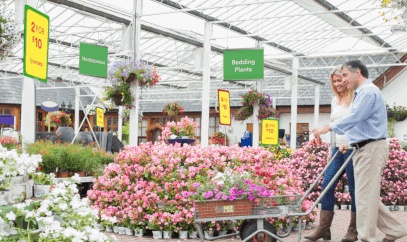 Overhead signs are ideal for wayfinding in retail as they're generally easy to see from all around your store. Sign grippers and hanging poster pockets are great for aisle markers. You can also use our steel sign cable to securely suspend your overhead signage.
6. Shelf signs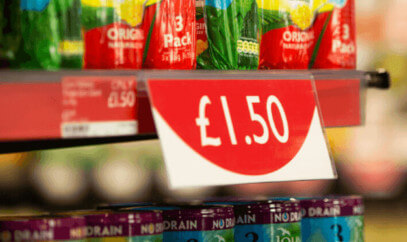 Shelf signs are the best way to alert customers to specific price promotions and product ranges in-store. Colour code your data strip inserts and invest in various shelf talkers and wobbler signs to make your shelf displays really stand out.
7. Poster stands and easels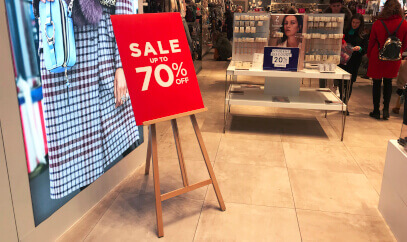 Metal poster stands and wooden poster board easels add a really stylish and modern aesthetic to your business or event. They're easy to adjust, fold away and reposition. You can even your easels sent complete with printed foam boards or chalkboards.
8. Floor signs and stickers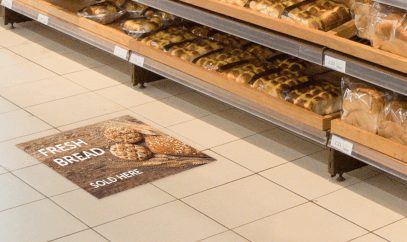 Floor stickers and mats can help ensure your customers always see your promotions, even if they're just staring at the floor! Retail floor stickers can be used to mark out a queue, direct people to particular areas, or simply influence them with beautiful images.
9. Banners and event flags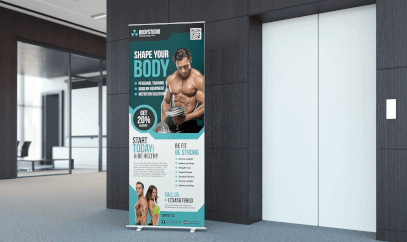 Banners and event flags function in the same way - they're a large, eye-catching way to advertise to customers, and passersby. Most roller banners are for use indoors, while our printed teardrop and feather shaped event flags are great for use outdoors.
What is the purpose of signage?
Signs to increase footfall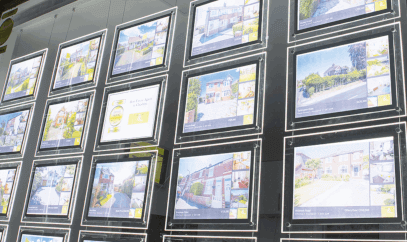 Before customers have entered your shop, you need to attract their attention from outside. Outdoor signs and window displays can give people a reason to want to enter. Utilise these effectively with stunning imagery and enticing sale offers.
Promotional signs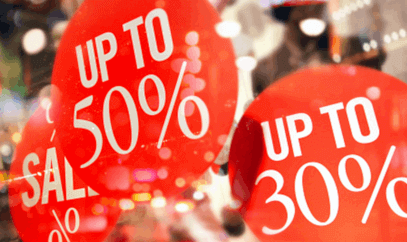 Promotional signs will advertise specific products, prices, brands and services. When customers move around your shop, they're often unconsciously searching for a deal. Sale signs highlighting price discounts are quick way to connect with this need [2].
Branded signs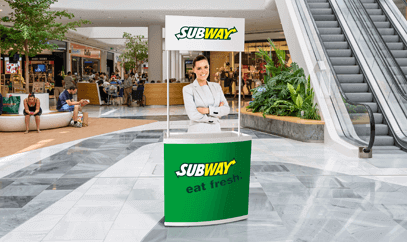 Make sure you have coherent brand messaging throughout your business signage, in order to increase brand awareness and trust [3]. Include both store branding and product branding, with clear branding blocks and bespoke branded display stands as well as on your digital and printed posters.
Informational signs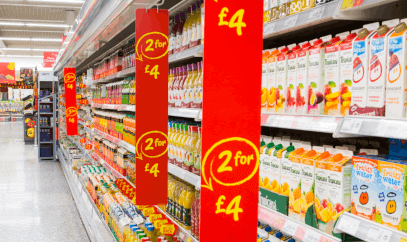 Your customers need to have easy access to all the most important information about your products and services, in order to make their purchase decisions quickly and comfortably [4]. Use informative details on your signage regarding wayfinding, opening hours, health and safety, and pricing.
Summary
What are the 9 types of signage in visual merchandising?
Wall mounted signs
Countertop signs
Digital signs
Outdoor signs
Overhead signs
Shelf signs
Poster stands and easels
Floor signs and stickers
Banners and Event Flags
What are the 4 purposes of signage?
Increasing footfall
Promoting products and services
Increase brand awareness
Provide information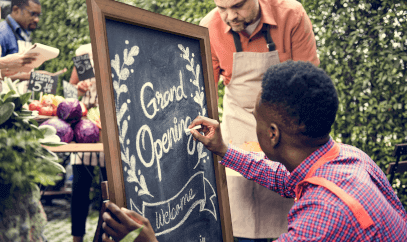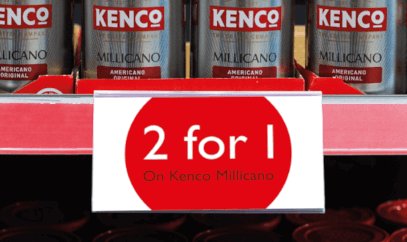 Now that you've developed an understanding of the 9 main signage types in retail merchandising, you should be able to select the very best signs and sign holders for your business. Invest today to see results tomorrow. For more insights, check out our Knowledge Hub for more in-depth articles on point-of-sale displays. Alternatively, take a look at our bestsellers list for more inspiration. Invest today to see results tomorrow!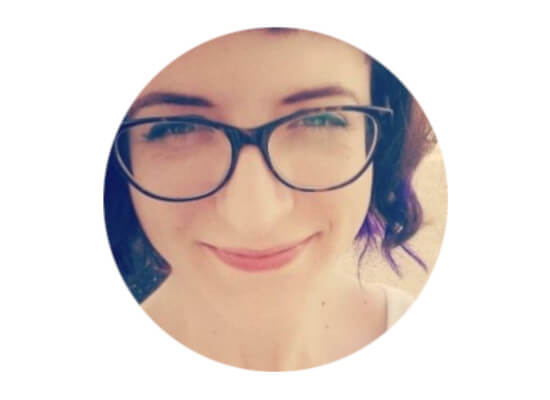 Kira Swales
Kira Swales is a copywriter for UK POS. Kira has nine years' experience in e-commerce and copywriting, with a background in retail. She enjoys researching topics in depth in order to provide readers with the latest information on point of sale merchandising. Read more of her comprehensive guides in our
Knowledge Hub
.
References
1. Garaus and Wagner, 'Let me entertain you – Increasing overall store satisfaction through digital signage in retail waiting areas', Journal of Retailing and Consumer Services, Vol 47 (2019), pp. 331-338.
2. Han, Chandukala and Li, 'Impact of different types of in-store displays on consumer purchase behavior', Journal of Retailing (Oct 2021).
3. Hynes, Niki, 'Colour and meaning in corporate logos: An empirical study', Brand Management, Vol. 16, 8 (2009), pp. 545-555.
4. Tijmen Elbers, 'The effects of in-store layout- and shelf designs on consumer behaviour', Wageningen UR (January 2016), p2.