Integrating A Wayfinding Strategy Into Your Store Layout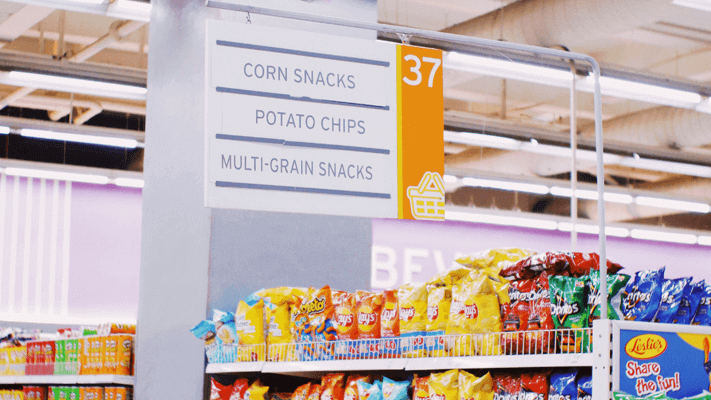 In part one of this guide we had a look at the different types of store layout and the space-saving visual merchandising tools that can help you maximise your retail space. In this section, we will discuss how implementing a wayfinding strategy, including wayfinding signage, to guide customers around your store layout can increase sales.
What is an effective wayfinding strategy?
A wayfinding strategy is the practice of designing a system to guide customers around shops or complexes easily, using clear signage and simple floor layouts.
The importance of good wayfinding cannot be underestimated. Once a customer feels that they do not have any control on their environment and cannot navigate around a space, the following reactions can be expected [1]:
The customer will spend less time in store
They become more critical of the merchandise
They are less likely to make an impulse purchase
A customer's loyalty to the store is negatively impacted
The process of establishing a wayfinding system needs to involve having clear goals for your business, which could include: easing the customer traffic flow around your store, helping customers find the sections of the store that they require, and displaying clear signage for sales and promotions. Once you have established the goals for your business, you can use the correct wayfinding signage to achieve them.
Five key types of wayfinding signs
1. Overhead signage
Overhead retail signage is a very effective wayfinding technique in larger retail stores, such as supermarkets and homeware stores, where customers may not know where to begin when trying to find the products that they are looking for.
Typically, overhead signs hang over sections of the store to indicate which product range is situated below. Overhead signage is only effective if it can be seen from a distance that allows customers to find their way around the store easily.
You will need to consider the height of your aisles and shelving units when using overhead signage, as high shelves could block important sight lines. Here at UK POS, we have a wide range of ceiling fixings to help secure your displays.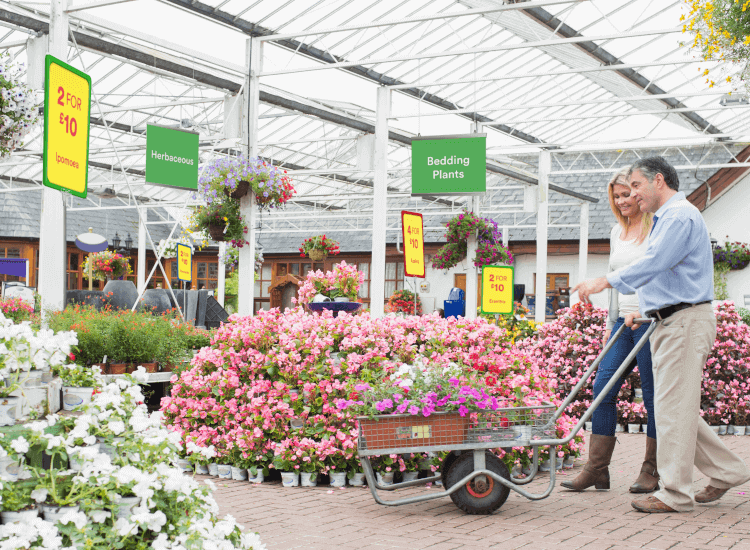 2. Aisle signage
Aisle signage can be used for the same purpose as overhead signage in store, in order to guide customers to particular sections, but on a smaller scale. While overhead signage is great for vague descriptions of product ranges, such as 'dairy', aisle signage can be used along the dairy aisle to signpost where the milk, cheese and eggs are situated.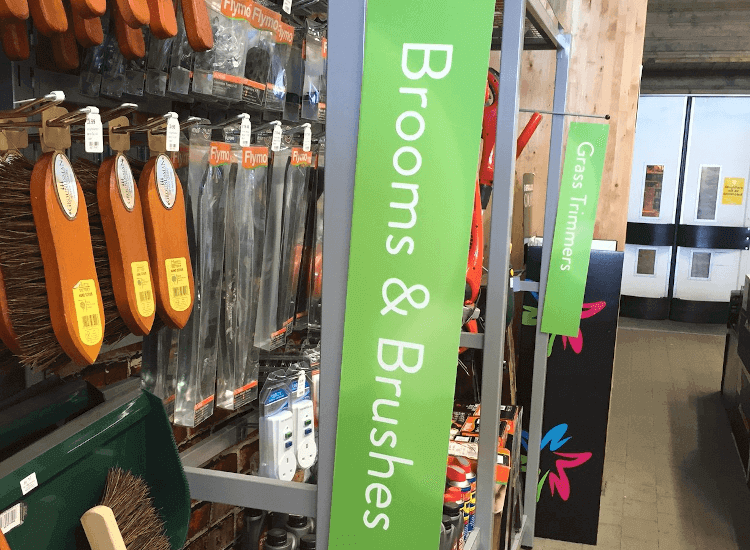 All wayfinding signage is there to reduce stress for customers and speed up their shopping experience, so being as specific as possible with your navigational information can only be a good thing.
You will however need to use end caps and promotional stands within your store layout in order to catch the attention of customers and try to increase increase purchases from customers who have only come into store to purchase a specific product.
3. Freestanding signage
Freestanding wayfinding signage is commonly used by large department stores, which often have ranges that cover more than one floor. Wayfinding signage in department stores needs to be a combination of small aisle and overhead signs, and larger posters and totems. We've got an extensive range of cost effective floor standing shop signs to improve the visitor experience.
Totem signs and large freestanding frames are very useful for retailers that cover a large area, where directories that cover various floors and departments are very important for customers.
Make sure that you place these larger wayfinding signs in highly visible areas that meet the customer's needs at the exact time that they need to know what direction to go in. Places should include foyers, outside of lifts, and at the top and bottom of escalators.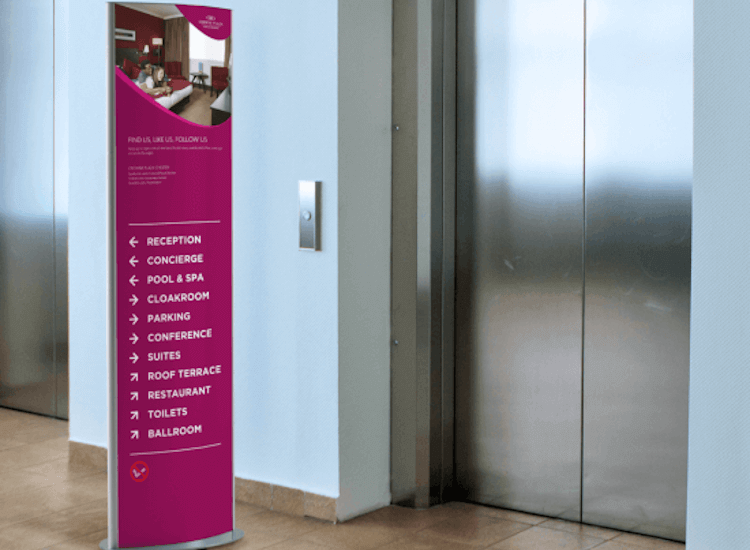 4. Wall and door signage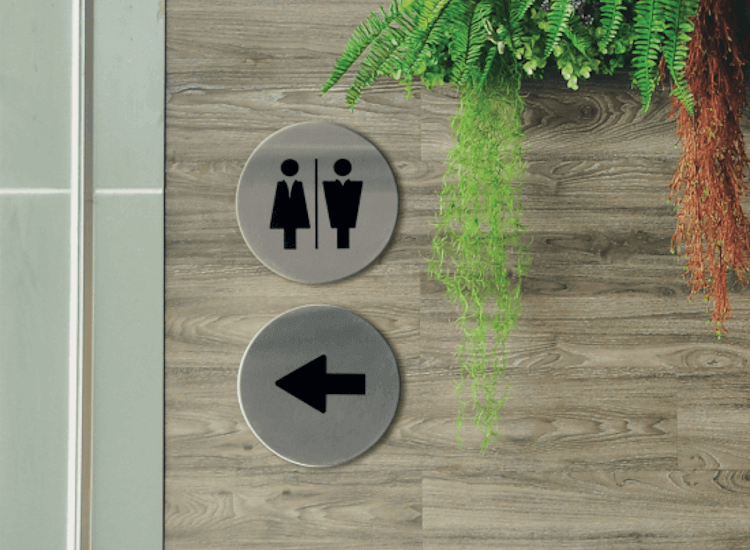 Something as simple as having directional signage that directs customers to important areas of your store, such as the public toilets, store exits or checkouts, can instantly improve a customer's perception of your business.
Once again, you will need to ensure that this type of signage is easily visible to those who are seeking it out, but not too visible that it is distracting to other customers. You will, of course, want to ensure that your promotional signage is more noticeable than your wayfinding signage.
5. Digital wayfinding solutions
Digital signage is now a frequently used point of sale tool for retailers, as it is very easy to update. When it comes to wayfinding, digital signage has many benefits.
Use a touchscreen to provide an interactive element to your displays, which could allow your customers to zoom in and out of your store map to easily find the area they are looking for.
You will have to consider whether the use of digital signage is suitable for your store in regards to your demographic market. If your brand mainly caters to older customers, interactive signage may cause them to have difficulties with the technology.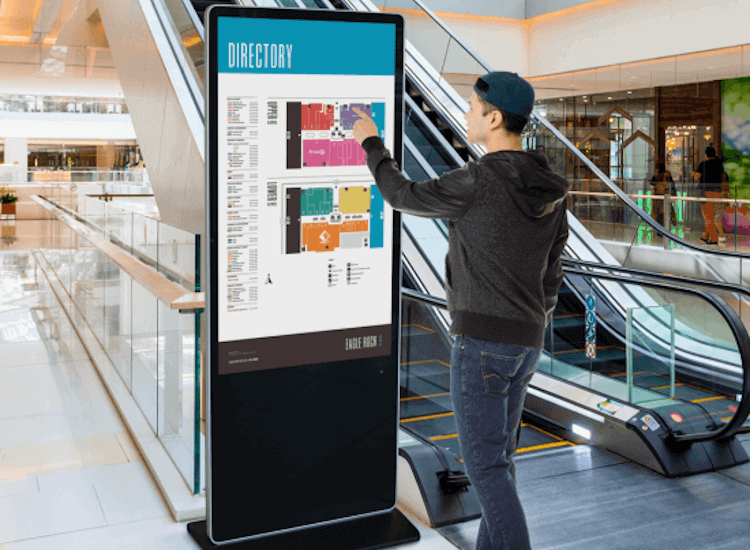 DDUH

Despatched in 3 - 5 days

View

View

View
Summary
Implementing a wayfinding strategy in your store is essential to keeping your customers relaxed and happy, making them more likely to purchase. You have to consider the following aspects of store design when designing your wayfinding strategy:
The type of floor layout that you will use
The types of visual merchandising displays you will use in store
The types of wayfinding signage you will use to signpost customers in the correct direction
We hope that this guide has helped you decide which point of sale materials are most suitable for your shop, and given you actionable tips on how to maximise the space in your retail store.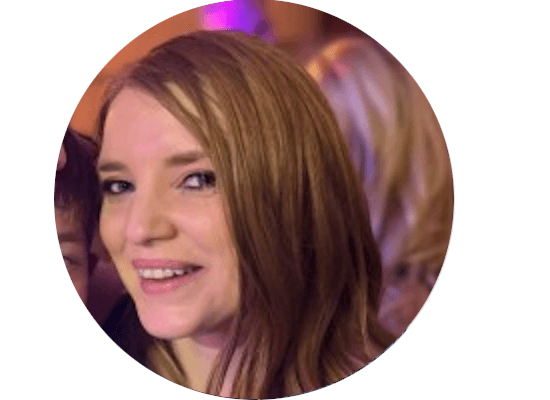 Alysha Bennett
Alysha is a copywriter at UK POS, with experience working in B2B and B2C companies, as well as with charities. She has been researching consumer and retail trends to assist retailers in implementing effective point of sale materials into their own businesses for eight years.
References
1. Ebster and Garaus, Store Design and Visual Merchandising: Creating Store Space That Encourages Buying (New York: Business Expert Press, 2015), p32.