Shelf Talkers
What are shelf talkers used for?
Shelf talkers (aka shelf barkers) are highly popular among retailers, such as supermarkets, to add additional information to their shelf edges. These are commonly used to display special offers and prices, as the addition of extra signage simultaneously attracts and informs customers, increasing their likelihood of spotting a deal that appeals to them.
Shelf talkers are also great for use in libraries and galleries, in order to provide useful supporting details.
What different types of shelf talker are there?
Our shelf talkers are designed to fit onto retail shelf edges in different ways, giving you more options over what or how you display to customer.
Some shelf talkers and data strips are designed to sit flat against the shelf edge, whereas others are designed to sit at an angle, making them easier to read from above.
Some are supplied with adhesive to stick onto shelf edges, but others are designed to hook into your data strip. First identify what kind of shelf it is, and then you will be able to figure out which shelf talker you need.
What are hinged shelf talkers for?
Hinged shelf talkers allow you to display a slightly bigger sign without obstructing the products below. As it is hinged, it easily moves out of the way when lifting products, without risking the shelf barkers falling off, breaking or damaging your products.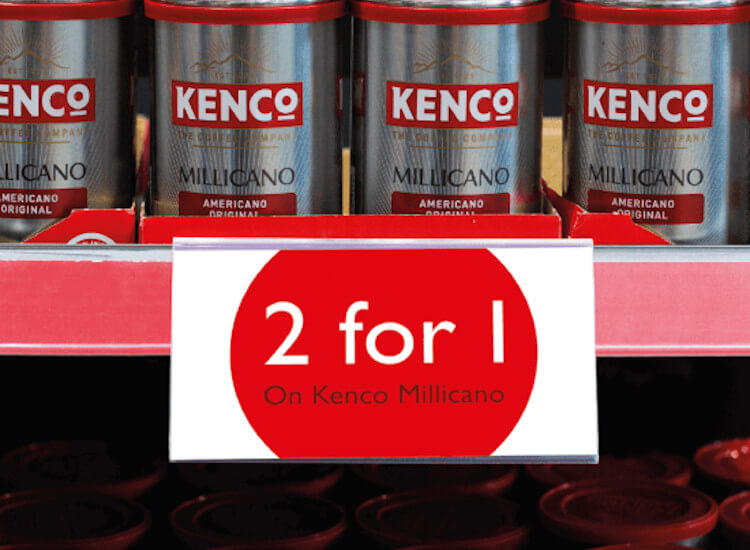 Shelf talkers and shelf barkers buying guide
Shelf talkers are found in almost any supermarket or retail store. Here's what you need to know to pick the right ones.
Are your shelf talkers supplied with signage?
Many of our shelf talkers are supplied blank for you to add whichever signs you want. If you want a shelf talker with a pre-printed, eye-catching red and white sign, we do also supply these with a choice of different messages. These messages include 'Sale', 'NEW', 'Special Offer' and 'Reduced To Clear' and you can check them out here.
I'm still not sure which shelf barkers I need, can you help?
You can take a look at our shelf talkers buying guide above, which has an easy guide to choosing the right shelf talkers. Alternatively, simply contact a member of our sales team who will be happy to advise you.