Retail Checkout Counter Display Ideas That Work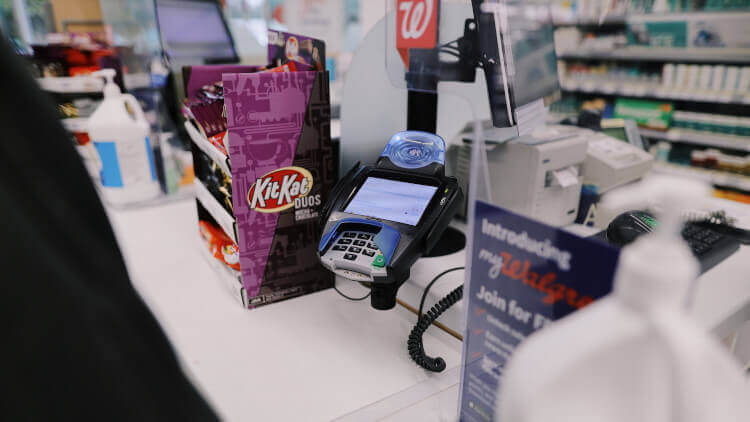 Checkout counter displays: 6 shop counter ideas that work
Your checkout area is possibly the most important customer touchpoint in your store. Countertop retail displays are your final chance to connect with the customer. Make sure they will form a good impression and make any last-minute sales. POPAI (Point of Purchase Advertising International) describe checkout displays as 'ideal vehicles for impulse purchasing' [1].
Therefore, you must use your retail countertop display wisely, maximising each and every marketing opportunity. Fortunately, here at UK POS, we specialise in the best merchandising displays to suit almost every business. Read on to discover our top 6 shop counter ideas for retail countertops.
Top 6 retail checkout counter ideas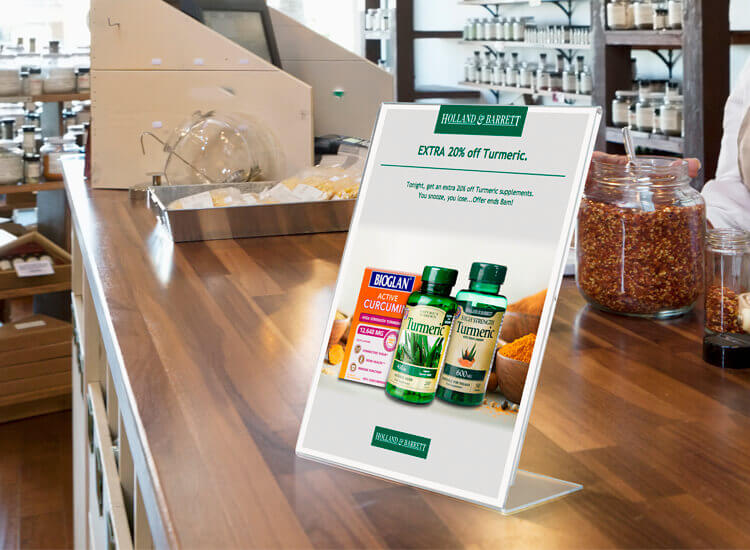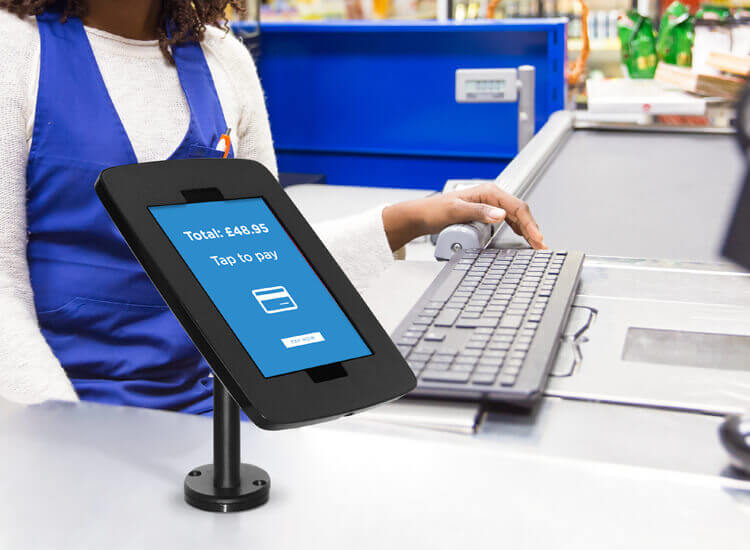 Move with the times and utilise digital displays around your checkout areas. Use digital screens to present high-quality advertising graphics, entertain queuing shoppers. Engage the customer with an interactive experience, such as with touchscreens and tablet stands. They will provide further opportunities for cross-channel marketing and sales.
Maximise your counter space with tiered display stands, such as smaller tabletop shelf stands in acrylic or wicker. Your checkout is a key promotional area, where customers will make snap decisions to pick up extra items before they pay. Don't be afraid to use these stands for slightly higher-value impulse purchase items, and products from well-known brands.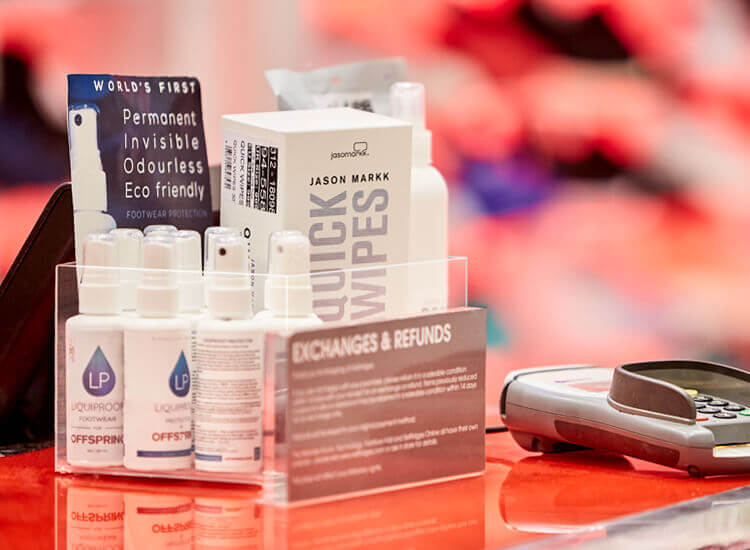 Add countertop dump bins such as clear spheres and acrylic display cubes for low value, high turnover impulse buy items. Don't neglect these low-cost items. While they tend to be an easy last-minute purchase decision for customers, they can really boost your average basket value If each customer buys one of these add-on items, your overall sales will rocket!
Use a business card holder in order to display your range of gift cards, or your store loyalty cards, both of which can boost your sales figures. You could also use countertop leaflet holders on the checkout counter too - encourage customers to take one away, so they can continue to browse your products, services and information even after they've left your store.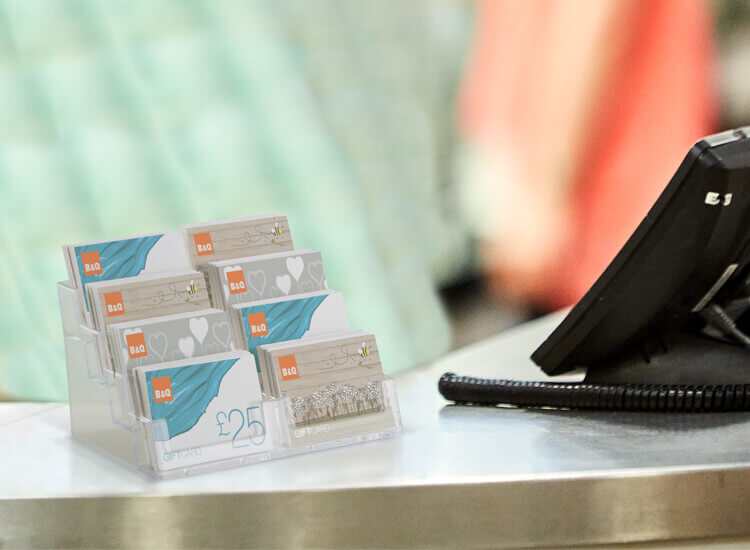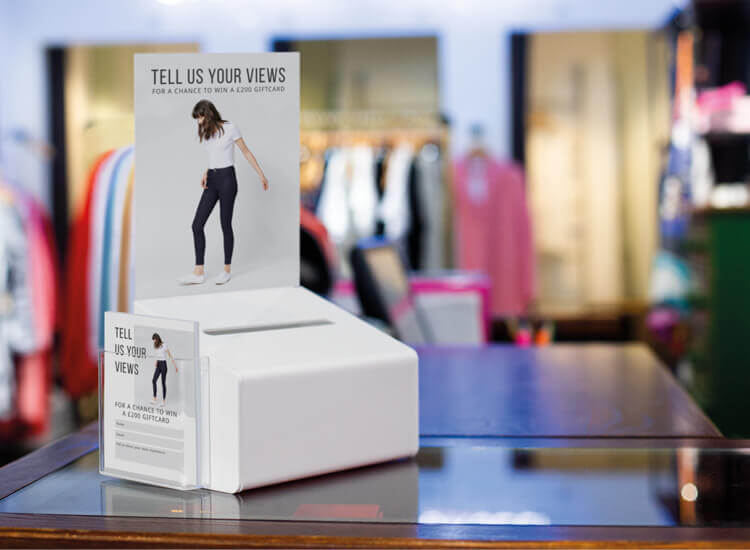 Use a suggestion box to gather feedback, or use them as competition entry boxes. Customers can sign up to your mailing list in exchange for a chance at winning a competition, or getting a discount. You can collect customer details for use in online marketing or leaflet distribution, while engaging them further with your brand experience.
What products should I use on my checkout counter display?
Snacks have always been a big driver of impulse buys at retail checkouts. Now, however, it's worth bearing in mind the recent government restrictions of unhealthy snack foods at sales counters. Consider what other items you sell that may work well as last minute add-on sales at the point of purchase. Research from Statista found that the most popular checkout alternative to unhealthy snacks are water, fruit snacks and seeds [2].
To increase impulse buying, focus on merchandising your checkout areas with "emotionally appealing, lower-priced items" [3]. Products such as cosmetics, batteries, and small gifts are always a good choice. These items are used by so many people across different demographics, and often forgotten while walking around the aisles.
"Checkout counter displays increased in-store decisions to purchase an item by about three percent compared to when an item was displayed in-aisle"- Inman et al. (2009), cited in Kacen et al. (2012) [3].
Don't forget the self checkouts! Self-service checkouts are predicted to grow in number exponentially, with 10,000 stores worldwide predicted to offer fully autonomous checkouts by 2024 [4]. Therefore, these areas need clever merchandising too, with quick and convenient items for busy shoppers.
Time-conscious shoppers are more likely to use the self-checkouts when they're rushed, so think about what a busy shopper in your store may forget to pick up on their way around the aisles. Add these items to your checkout counter displays.
Finally, be sure to carefully plan your queueing area, as well as the store checkout counter displays. Waiting customers may become bored, and will be more likely to pay attention to your in-queue merchandising displays.
Ensure your promotions are targeted towards items customers can quickly pick up at checkout. This is a great area to use a digital display screen, to keep shoppers entertained while they wait.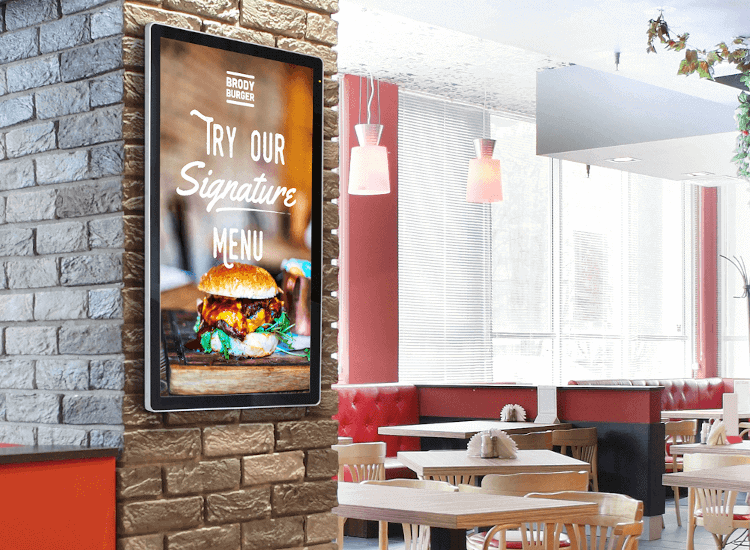 More retail checkout counter ideas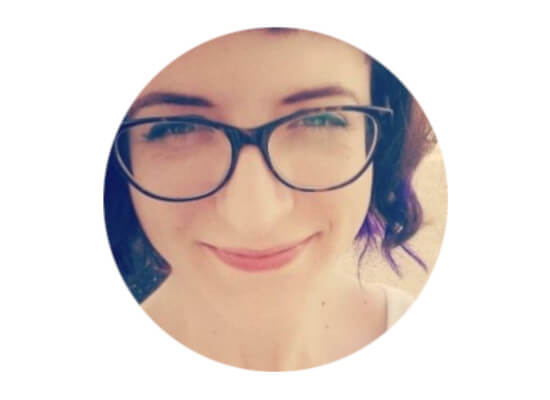 Kira Swales
Kira Swales is a copywriter for UK POS. Kira has nine years' experience in e-commerce and copywriting, with a background in retail. She enjoys researching topics in depth in order to provide readers with the latest information on point of sale merchandising. Read more of her comprehensive guides in our
Knowledge Hub
.
References
1. 'The Role and Impact of P-O-P Display in the Convenience Retail Channel' (2019), POPAI, https://www.popai.co.uk/boxfile/documentdetails.aspx?GUID=191c1ef4-cedf-4ea4-bbbd-72e6d3ac0187 [accessed 03.11.2021].
2. Statista Research Department, 'What should retailers put at checkouts in place of confectionery?' (July 2015), Statista, https://www.statista.com/statistics/533445/preferred-replacements-for-confectionery-at-retail-checkouts/ [accessed 03.11.2021].
3. Kacen, Hess and Walker, 'Spontaneous selection: The influence of product and retailing factors on consumer impulse purchases' (Nov 2012), Journal of Retailing and Consumer Services, Vol. 19, Issue 6, pp 578-588, https://doi.org/10.1016/j.jretconser.2012.07.003 [accessed 03/11/2021].
4. Statista Research Department, 'Number of stores which offer autonomous checkouts worldwide from 2018 to 2024' (Feb 2021), Statista, https://www.statista.com/statistics/1033836/number-of-stores-with-autonomous-checkouts-worldwide/ [accessed 03.11.2021].