Clothing Display Ideas For Fashion Stores
Clothing stores are hotbeds of point of sale merchandising opportunities. Whether you have an incredible half price sale or a fantastic new designer fashion range coming soon, you will want people to know all about it.
UK POS stocks a wide range of point of sale materials for fashion retailers' clothing displays. Use window display posters to entice customers inside, then catch their attention further with an unbeatable promotion on the end of a rail.
Clinch extra sales and clear surplus stock quickly by using poster displays, graphics holders and tidy clothing rails to promote your clothing ranges.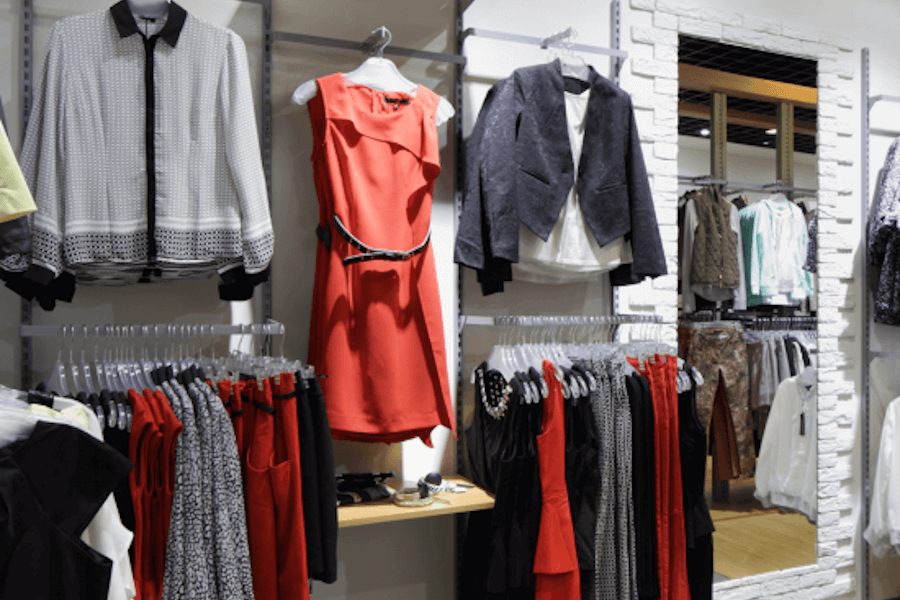 Use visual merchandising aids including clothes rails, ticket holders and shoe shelves to increase fashion store sales
How to display clothes in your fashion store
Clothes need to be displayed in a way that is visually appealing to customers. This is particularly important in high fashion or designer outlets, where you are asking customers to buy into your brand's luxury lifestyle or big aspirations. Your clothing and footwear displays must reflect the quality of your garments and brand.
Freestanding clothes rails and display stands are ideal for use in fashion stores, as you can use them to break up the layout of your premises for a more interesting browsing experience for your customers.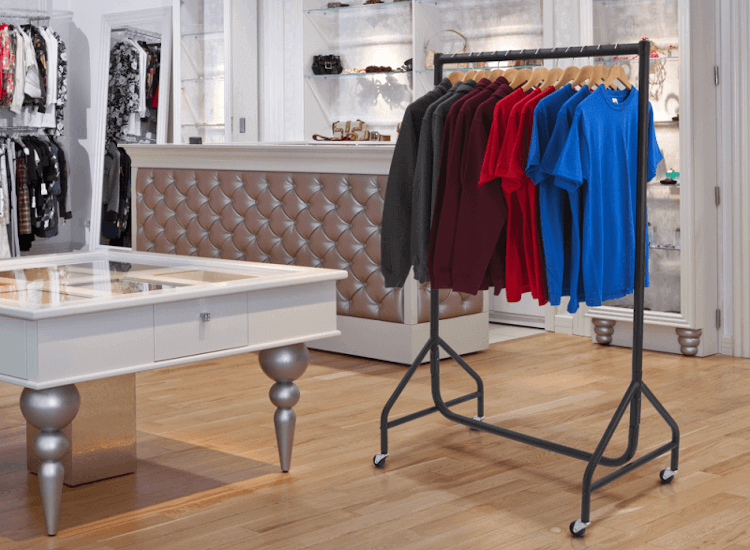 Our range of clothes stands come in two, three and four arm models, with a choice of straight or waterfall rails. This variety of styles gives you freedom to configure your clothing displays to suit the layout of your stores.
Fitting rooms or storage rooms would benefit from a clothing rail that has wheels, such as our Heavy Duty Clothes Rail. They make it easier for you to move stock around your store and can hold up to 100kg.
Our Heavy Duty Superior Reinforced Clothes Rail features reinforced wheels, which allow it to be used across rougher terrain, such as warehouse floors.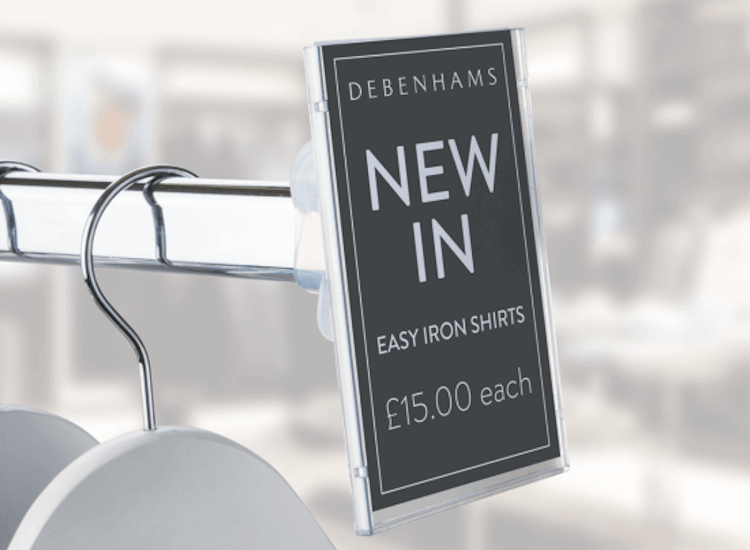 Use garment rail accessories to grab attention
Garment rail accessories, such as swing tags, card holders and graphics holders, offer a simple way to direct customer's attention to your promotions. Use eye-catching photographic designs or large, bright text to let customers know about discounts on particular ranges and new products that are in stock.
Clothes rail card holders are easy to update, with most having openings to slide your graphics in and out of. As well as promotions, garment rail accessories can also be used to signpost products from specific brands, or separate products on a clothes rail by size.
LED light boxes
Light is a very effective way to draw a customer's attention to a place in your store. LED light boxes provide a soft glow around your posters, which works well when used in both brightly lit and low-light areas. They are available as either wall mounted frames, counter standing frames or freestanding totems, so they can be placed in any area of your fashion store.
How do you display clothes on the wall?
Displaying clothes on the wall helps save on vital floor space and creates a sleek, professional store layout.
There are plenty of ways that you can use your wall space, Shopfitting displays such as slatwall, gridwall and twin slot systems offer fantastic, configurable ways for you to showcase your clothing and footwear ranges.
Slatwall: Slatwall panels come in a variety of colours to match the style of your store, so they end up feeling like part of the wall itself. The MDF panels feature horizontal groves which you can slot shelves, hooks and clothing rails. Slatwall is the ideal choice for retailers who want to display posters next to their products, as slatwall panels can support ticket holders and leaflet dispensers.


Gridwall: Gridwall panels can also be used to display clothes against walls, while also helping to create an industrial style within your retail space. Gridwall accessories clip directly onto the grid panels using a back plate, making it easy for you to update and rearrange your displays when required. As well as clothes rail arms, we stock a Millinery Hat Arm for displaying headwear.


Twin slot: Twin slot systems are incredibly versatile, which is why they're popular with retailers for minimalist product displays. Use uprights, back bars, d rails, stepped arms and waterfall rails to build a clothing display system to suit your store.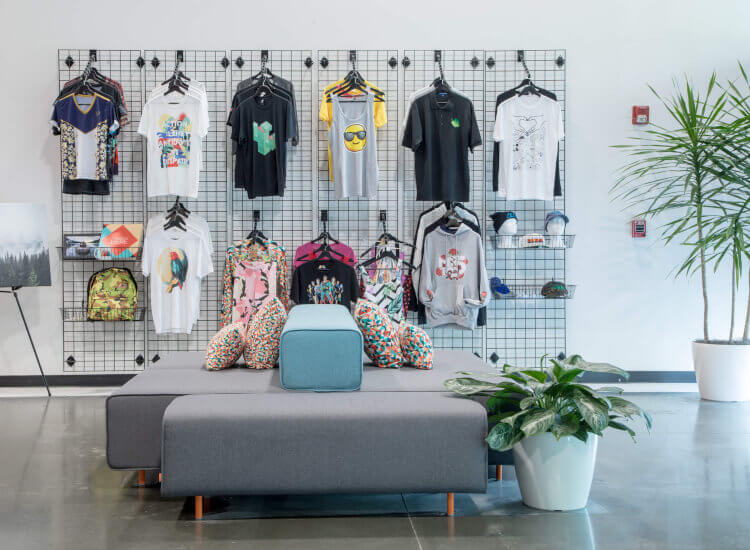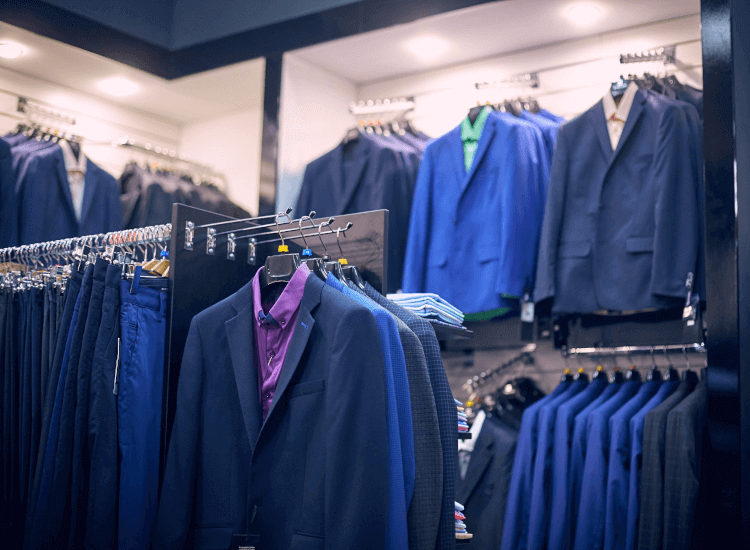 Displaying footwear in store
Footwear displays have the potential to be a focal point in your fashion store, if you use the appropriate display stands and shelves for your products. Slatwall is a popular way for retailers to display samples of footwear across a whole wall, which allows customers to take in the full breadth of your product range at a glance.
Slatwall shoe shelves slot directly into your slatwall with no need for extra fixings. Slatwall shoe shelves can be arranged in creative ways, due the fact they can be placed anywhere along the slatwall panels. Use the styles of the footwear you are promoting to determine the layout of your slatwall displays. Trainers and other sportswear are perfect for being arranged in more haphazard, zig-zag patterns, while formal footwear is best laid out in straight lines.
If slatwall isn't for you, then you could use pedestals to display smaller numbers of products in high traffic areas of your store. Pedestals are ideal for displaying your premium ranges or latest designs.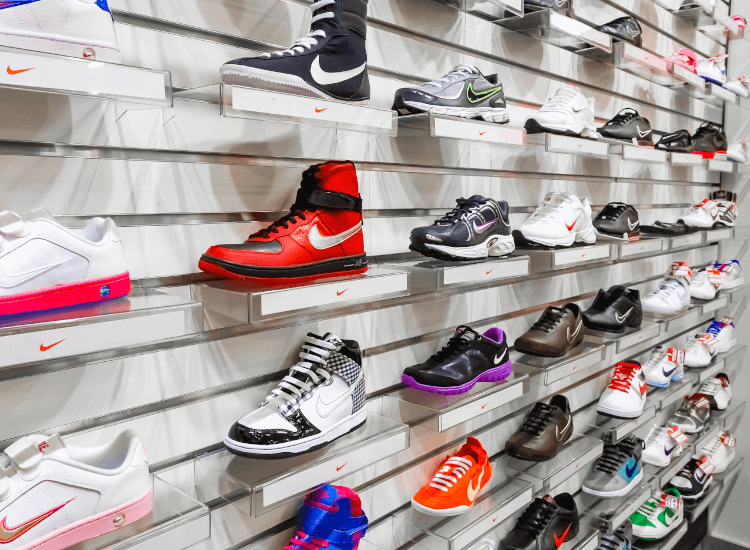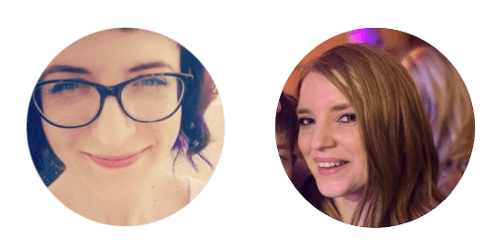 Kira Swales & Alysha Bennett
Alysha and Kira are copywriters for UK POS, with over fifteen years of combined experience in e-commerce. Read more of their in-depth guides in our
Knowledge Hub
.