How To Create A Great Restaurant Experience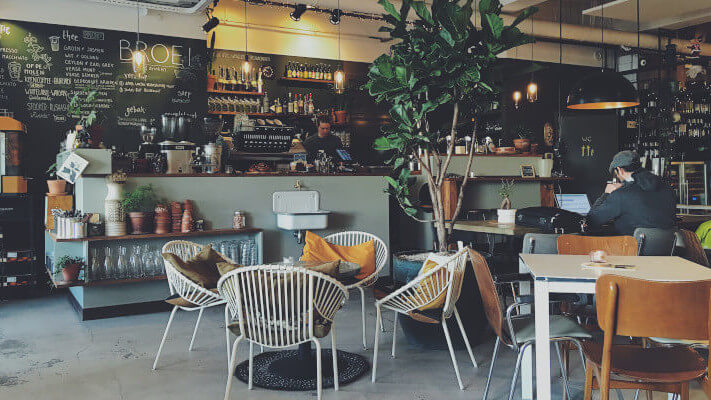 There are many factors that go into creating a good restaurant atmosphere that keeps customers coming back for more, while also attracting new customers in, which is especially important during peak seasons such as Christmas and New Year.
Each customer has a different opinion on what makes a great restaurant, and your approach will change depending on the style of your dining venue. The key factors to positive restaurant experiences are good service, good value, cleanliness and high-quality food. This guide aims to help you evaluate and enhance these important aspects of your restaurant and identify areas for improvement, in order to boost sales and engage customers.
"People these days are not just looking for good service, good food, and a good ambiance, but they're looking for an experience. And the way we define experience is something that really activates all of your senses: smell, sound, sight, touch, taste. Being able to trigger all of the senses is the key to making you stand out." - Dala Al-Fuwaires, Owner of House Of Form Interior Design Firm on the Garnish Podcast [1].
Ensuring customers have a good experience when interacting with your business is key, as even one bad review can have an impact on your future sales! As well as the quality of your food and drink offerings, there are multiple factors that influence customers' feelings as they leave your restaurant.
Create a welcoming layout
Restaurant layouts have to be welcoming and aesthetically-pleasing for guests, while also providing a space for employees to move around freely and maximise efficiency. If you own a fine dining venue, you will want to focus on ensuring your customers have privacy and time to enjoy their meals in a comfortable environment, without feeling rushed.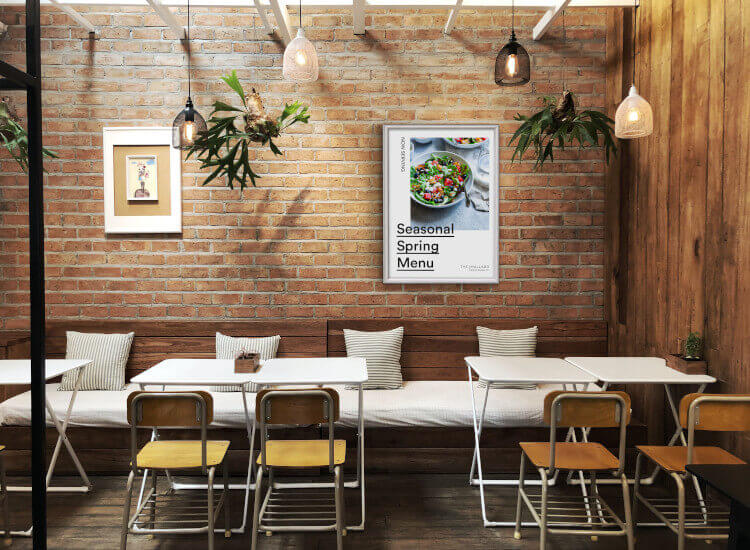 If your restaurant is more of a fast-food or chain restaurant that relies more on quick customer turnover, then you are able to place tables closer together to fit more people onto the premises and can afford to spend less time thinking about luxurious extras. This doesn't mean that you are giving your customers a bad experience, as they will have chosen to eat at your restaurant because they are expecting speed and affordability.
Fast food joints would benefit from implementing a clear queuing system and waiting area for takeout customers in order to reduce frustration. This has the added bonus of allowing you to dedicate separate staff to dine-in customers and take-out customers, providing both with a quick and enjoyable experience.
Use atmospheric lighting
As the saying goes, we eat with our eyes first! Lighting plays a huge part in the emotional response customers have to your business, and can also act as a cue for customers as to the type of restaurant that you operate.
Bright, harsh lighting has been found to decrease the time customers spend eating, while also increasing their appetite [2]. Many fast-food restaurants are lit in this way for this exact reason, so the turnover is faster and they can serve more customers every day. Whereas in fine dining restaurants, lighting is generally more dim to make the food look more tempting, as direct light can cast shadows on meals and make them look unattractive.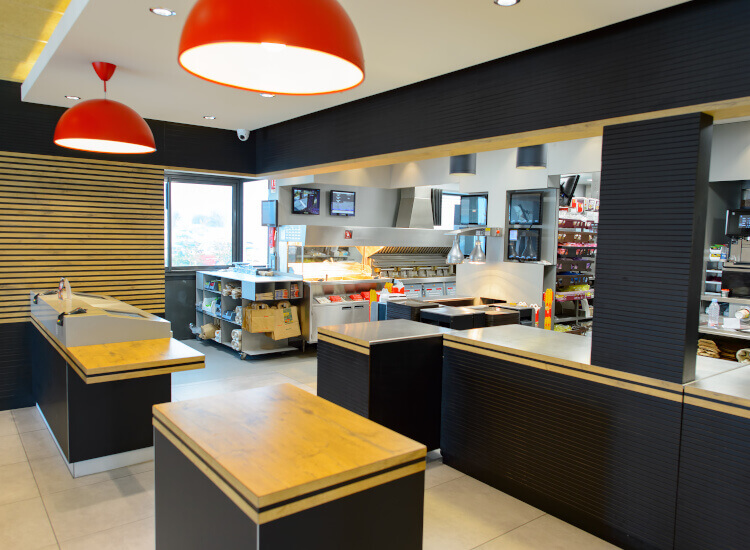 At UK POS, we have plenty of bright lighting options for fast-food and chain restaurants that can help you grab attention from passersby who are looking for a quick bite to eat, including LED backlit poster frames.
Bright lighting is also more attractive to children, who may play up when placed in an environment with dim lighting, so if your restaurant is aimed at families you should consider using overhead lighting.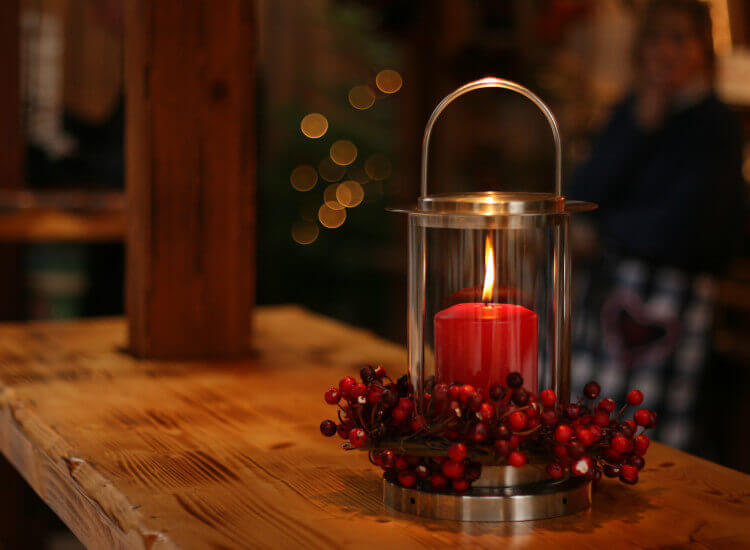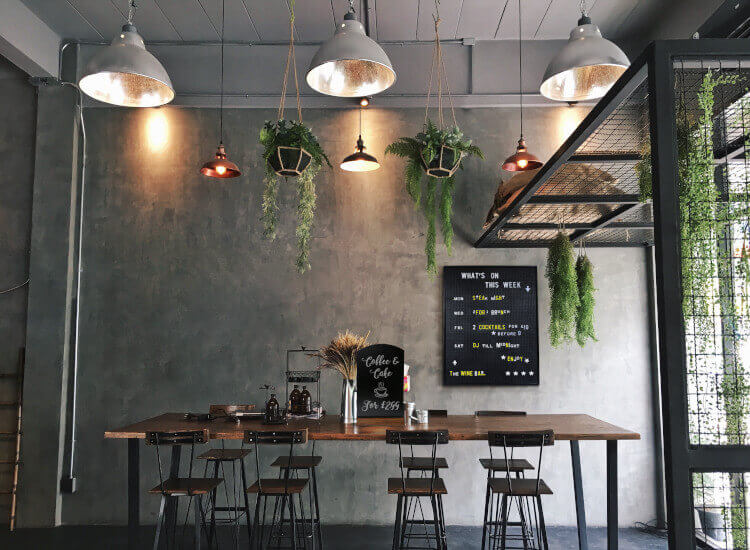 For fine dining venues, you may consider using candles on tabletops to provide a soft, homely vibe as your customers enjoy their meals, alongside using accent lighting around your dining room to provide soft light to key areas, rather than using bright overhead lights.
Use lights that are more yellow in colour rather than brighter white lights, as this softer lighting enhances the food to make it more visually appealing. White light infers a more sterile environment, compared to the warmth and coziness of yellow lighting.
Accessories such as LED menus are ideal for high-end restaurants, as they give your menus a luxurious feel while also providing a soothing, backlit glow to make your menus clear and legible. Why not also place an LED menu stand outside your restaurant to attract passing customers?
Make your offers stand out
Once customers are inside your restaurant their minds will be focused on placing their order, so you need to make sure that all the information they need is at their fingertips. You need to make sure that your main menus are accessible, and that any promotions, specials boards and other important messages are clear to customers from the moment they step foot on the premises to when they sit down at their table.
Use menu holders to clearly display your main food and drink menus to customers as they are seated, alongside limited time messages such as 2-for-1 deals and new dish announcements which are ideal for displaying in table talkers and on tabletop chalkboards.
Poster holders are also ideal for use at the entrance to your restaurant as customers wait to be seated, as the reading material also helps to reduce boredom if the wait time is longer than expected. It's a great place to advertise upcoming deals for peak seasons such as Christmas and New Year.
Using a lectern stand where customers are waiting to be seated also gives you an opportunity to display large promotional posters to a captive audience. Customers will appreciate knowing your best deals before they sit down to order.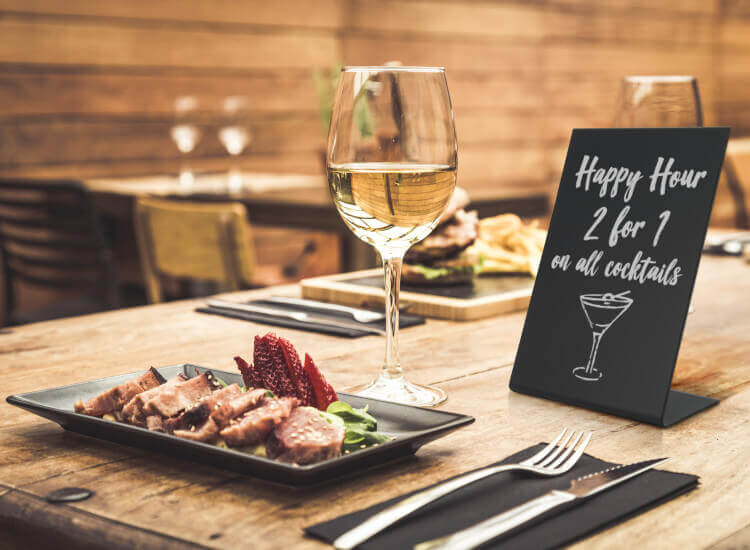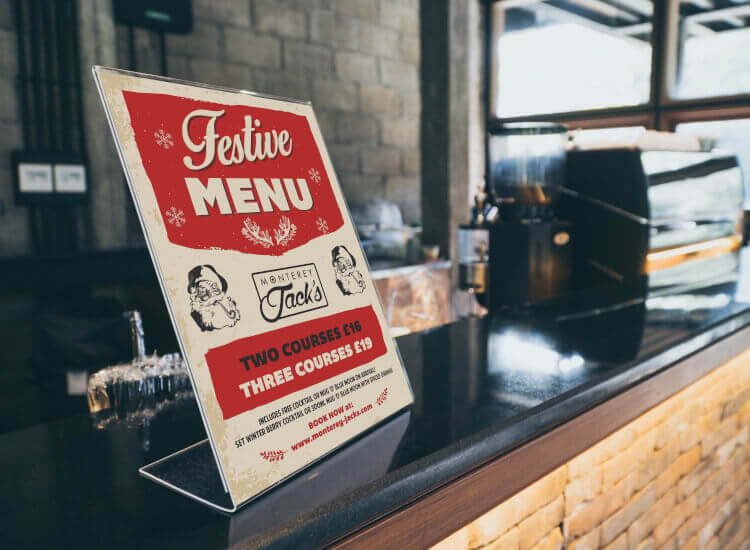 If orders are placed at a bar or checkout area, then you will need to have a large menu displayed on a nearby wall or behind the bar for customers to browse and refer to. Chalkboards are a popular choice for this, as they can be easily updated when required without the need to print out posters each time.
Maintain cleanliness
Arguably the most important thing in a restaurant is hygiene, as every single customer wants to be assured that their meal is being prepared in a clean environment!
Signal to customers that your business can be trusted with their health by placing hygiene stations at key points around the restaurant, including entrances, exits and outside toilets. We've got wall mounted, floor standing and counter standing models to suit any type of restaurant, and you can even add branding to many of them to fit into your restaurant's décor.
Let customers know that their table has been cleaned, sanitised and is ready for service with our handy Table Cleaned Sign, which is made from wipe-clean acrylic and can be reused time and time again. The tent-shaped design means you can stack these neatly when not in use.
The importance of hygiene measures cannot be understated. 66% of respondents in a 2016 survey cited bad food hygiene as a reason for not returning to a restaurant, compared to just 16% who said bad service would put them off [3].
Embrace technology
If you want your restaurant to be at the cutting edge, you should be investing in digital signage. The possible uses are endless! Chains and fast-food venues can place digital screens in their windows to play high quality video advertisements to passersby and attract them in.
If you are operating a take-out service, you can use screens to display order numbers and collection points to waiting customers. Interactive touchscreens can also be used for self-service ordering, which helps you get orders out to customers faster as you can assign more staff to food preparation. Why not use tablet holders on your tables to allow customers to order straight from their tables?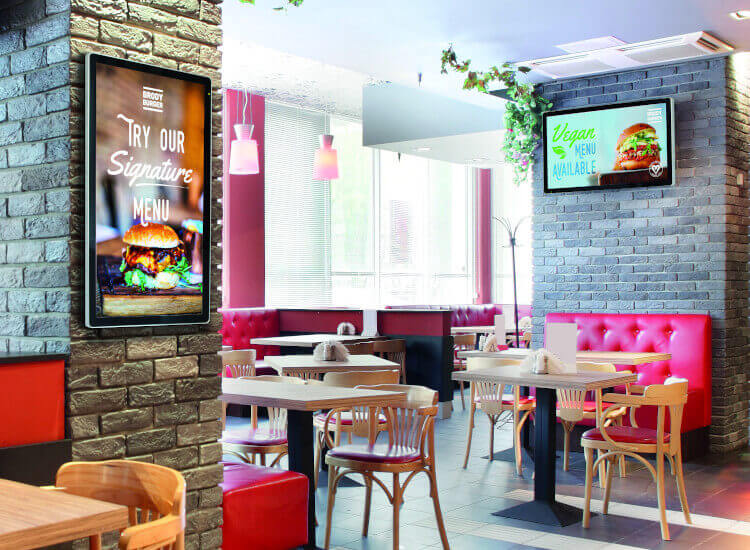 View

DPT

Please call to order or request a quote

View

View
In conclusion…
In order to provide your customers with a great restaurant experience, you need to first understand what their needs are. There's no such thing as a one-size-fits-all in this case! Whether they're looking for speed, comfort, high-tech or cheap-and-cheerful, we hope the suggestions above have inspired you to implement some changes in your dining venue to meet these specific needs.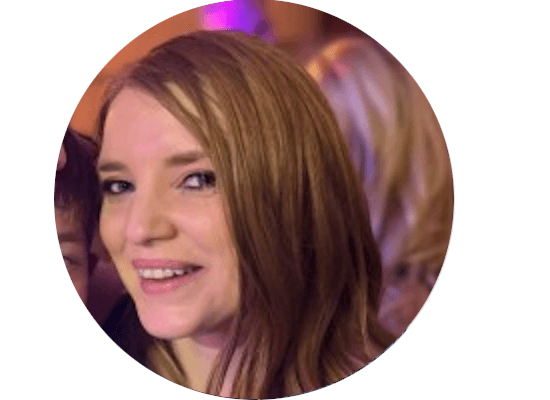 Alysha Bennett
Alysha is a copywriter at UK POS, with experience working in B2B and B2C companies, as well as with charities. She has been researching consumer and retail trends to assist retailers in implementing effective point of sale materials into their own businesses for eight years.
References
1. How to Design a Restaurant Floor Plan, On The Line, https://pos.toasttab.com/blog/on-the-line/restaurant-floor-plans [accessed October 2021].
2. Dr Mudita Sinha, Dr Leena Nitin Fukey and Tejinder Singh D, 'Do fine dine restaurants satisfy customer needs? Diners' perception of functional aspects of quality, value and satisfaction', International Journal of Advanced Science and Technology (2019), Vol. 28, No. 20, p928.
3. Restaurant cleanliness more important than customer service, finds report, (Emma Eversham), Big Hospitality, September 2016, https://www.bighospitality.co.uk/Article/2016/09/12/Restaurant-cleanliness-more-important-than-customer-service-finds-report [accessed October 2021].