Wall Mounted Chalkboards and Wall Blackboard Signs
How can my business benefit from using wall mounted blackboards?
Chalkboard wall signs can be used to display a range of information such as menus, daily specials, events guides and price promotions. They add a rustic and homely feel to your point of sale. It's no wonder they are a popular choice in both hospitality and retail.
Chalk board wall signs are easy to clean, write on and illustrate. Use liquid chalk pens for handwritten or hand drawn displays. A wall mounted hinged chalkboard with an integrated poster holder is a versatile choice for décor. You can easily change the look by switching from poster to chalkboard.
Why use wall mounted blackboards?
Studies into consumer behaviour have shown that customers are more likely to look at signage which is displayed at eye level or above. Therefore, mounting your display on a wall increases its effectiveness. We also offer blackboard labels, as well as floor-standing or tabletop blackboards. This means you can create a cohesive brand identity across your business.
What if I'm still not sure I need a wall mounted chalkboard?
It's important to be able to regularly refresh your point of sale. Products such as our Poster Case with Chalkboard, or our Chalkboard Inserts, conveniently allow you the option to display either a chalkboard or a poster from the same display unit.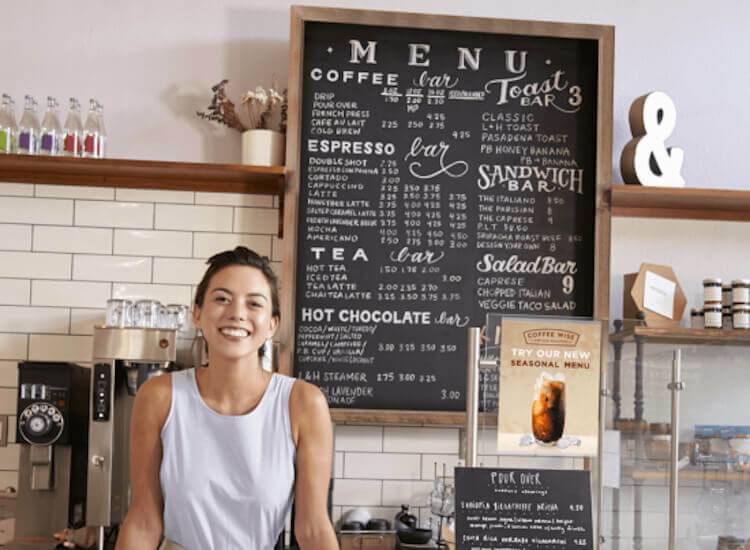 How can I make a wall mounted chalkboard display?
We have blackboard paint that can be used on different surfaces to turn them into full wall chalkboards. This paint is suitable for use both indoors and outdoors, and on plaster board, wood, metal or glass. We also stock both framed and unframed chalkboard panels for mounting on walls. We offer different ways to mount our wall chalkboards, including adhesive pads, screws, and suction cups for glass surfaces.
These large blackboards can be used anywhere, so you don't even need to hang them up if you don't wish to. Why not display them on wooden easels, or prop them up on countertops? They're compatible with our liquid chalk pens and other accessories.