Jubilee display ideas for bank holiday sales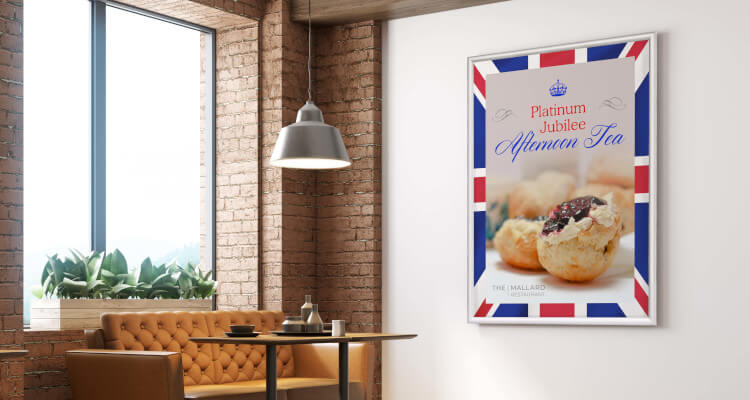 The upcoming four day bank holiday weekend to celebrate The Queen's Platinum Jubilee is a great opportunity for a range of businesses to boost their bank holiday sales figures.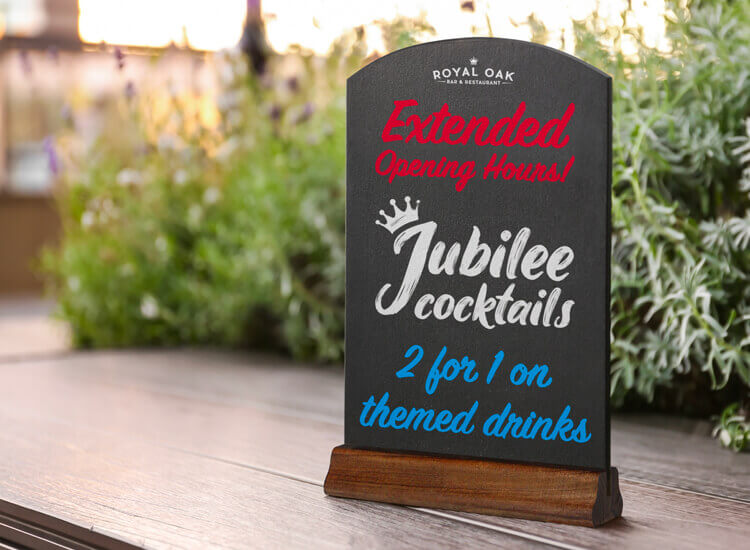 The hospitality sector can benefit hugely from this. Particularly since so many more people than usual will be off work and having get-togethers with family, friends and neighbours.
In addition, the government has announced that opening hours for pubs and bars will be extended until 1am between the 2nd and 4th June. This means businesses will have an extra 2 hours to serve their customers each day. Advertise this early on your posters and menus!
As a hospitality venue, or business owner in retail, you don't have to passively wait and hope to get a piece of the pie. There are many ways you can appeal to potential customers using point of sale displays. Use these to tempt them to enter your business and engage with your jubilee bank holiday promotions. Anticipate the trends around the jubilee weekend, and plan for them in your visual merchandising and marketing.
Window posters and pavement signs are a good place to start for any business. You can use these to remind passersby about the upcoming festivities, longer opening hours and your relevant promotions.
If you're a café or restaurant owner, advertise a special bank holiday menu on one of our chalk A boards, or write messages on your windows with our chalk pens. Make them eye-catching and fun!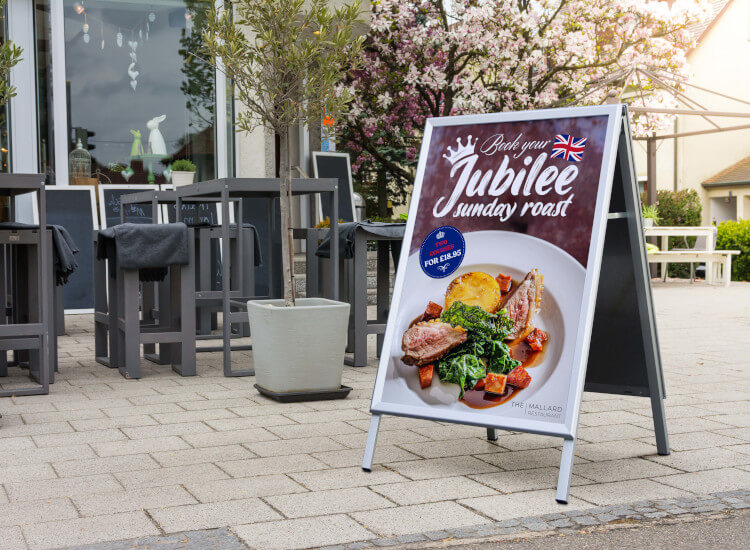 Another tip for restaurant owners is to display your menu clearly outside your venue, with either a standard restaurant lectern stand, an illuminated poster stand, or a wall frame. This allows passing pedestrians to glance over your offerings and see what appeals, making it far more likely that they will want to enter. Printed cafe barriers are popular in hospitality too. They section off outdoor dining areas while advertising your brand and promotions to passersby.
Jubilee bank holiday sale supplies
PBB-SET

Despatched in 5-7 working days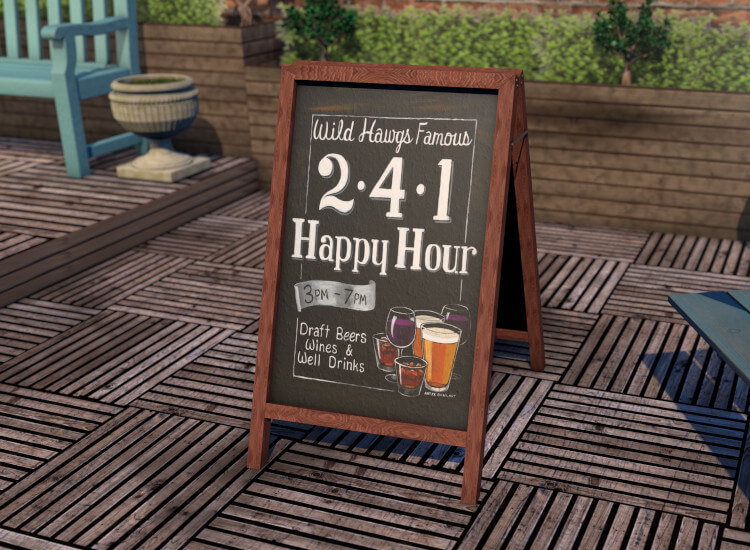 Jubilee specials will be televised throughout the long weekend, which pubs and restaurants can broadcast on large screens to attract more customers. There's a whole host of special events set to be broadcast live, with millions of Brits planning to watch nationwide. If you can broadcast this, be sure to advertise it outside of your business. Let your customers indoors know the schedule by writing it onto a chalk display board.
Retail businesses are also likely to generate healthy profits from this period - with clever use of promotions and displays. The Big Jubilee Lunch is set to mark the occasion on Sunday the 5th, with up to 12 million of us planning to organise and attend street parties. The organisation is encouraging the nation to turn out and organise street parties in their local communities. This means retailers are likely to see demand increase for street party supplies. These might include party food and drink, paper plates and napkins, bunting, folding tables, garden chairs and much, much more! Bundle relevant products together, providing most convenience for your customers. Hospitality businesses should offer themed jubilee lunches as an alternative to street parties.
If you're a retailer, why not use your full window display space for a jubilee-themed takeover? A jubilee window display for retail is likely to be decked out with red white and blue decorations, bunting, and, of course, the Union Flag. This imagery and colour scheme prompts your customers to consider what they might need to buy in order to take part in the fun. Make these items prominent when they enter with freestanding display stands at aisle ends.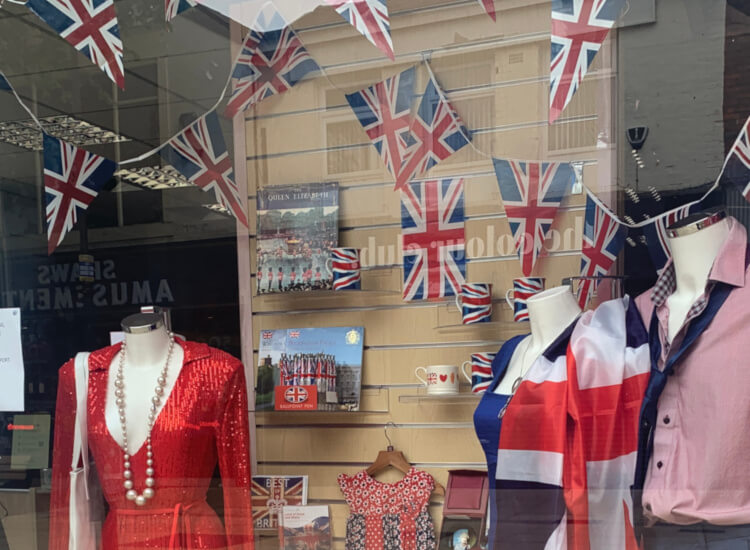 Once customers are in your shop, use different types of displays to draw them to the right areas for your jubilee bank holiday deals. Overhead signs are ideal for this.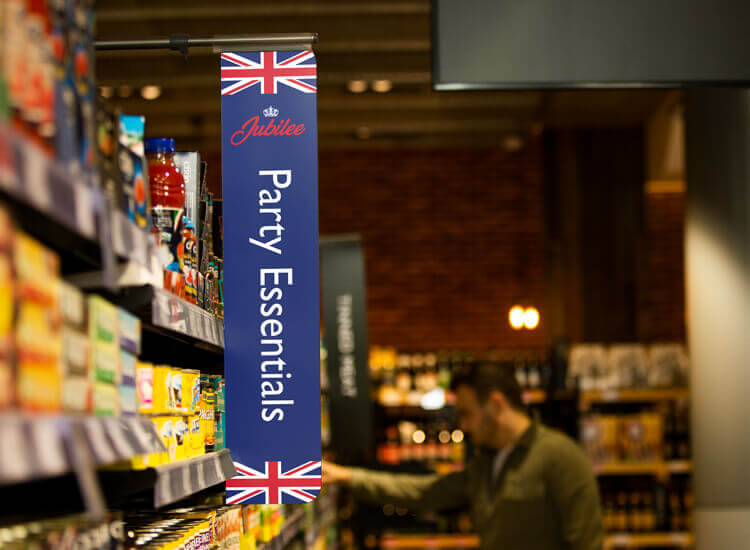 You can use coloured infill strips in your data strips to mark out sections for your special promotions. While red is always popular for promotions and clearances, why not use alternating red, white and blue strips, as a nod to the traditional Union Flag colour schemes?
Aisle signs and shelf talkers are another really effective way to attract customers to your special bank holiday deals.
Regardless of the jubilee promotion types you use, or the sector you're in, prepare your Platinum Jubilee signage and displays well ahead of time. This will ensure you maximise footfall and boost your jubilee bank holiday sales.
Key events to remember for your Platinum Jubilee bank holiday promotions:
Thursday 2nd - The Queen's Birthday Parade (Trooping the Colour), including Royal Gun Salute and lighting of the beacons, finishing with an RAF fly-past.
Friday 3rd - Service of thanksgiving at St Paul's Cathedral
Saturday 4th - Epsom Derby, Party at the Palace
Sunday 5th - This is the planned day for the national Big Jubilee Lunch. Celebrations culminate in the Platinum Jubilee Pageant which will be broadcast live on television.
Platinum Jubilee bank holiday displays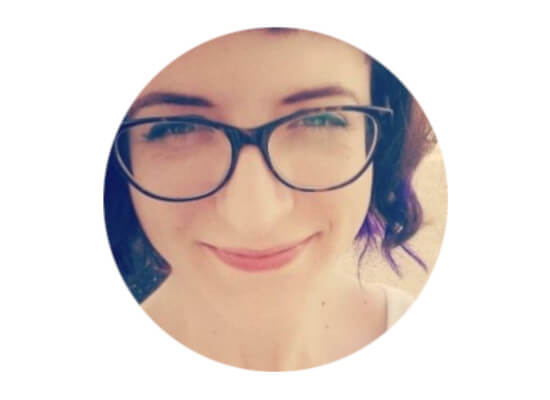 Kira Swales
Kira Swales is a copywriter for UK POS. With over six years' experience in e-commerce and copywriting, and many years in the retail sector, Kira loves to take a deep dive into topics in order to provide readers with the latest research in point of sale and merchandising. Read more of her in-depth guides on POS in our
Knowledge Hub
.