Pavement Sign Covers and Inserts
Pavement sign covers and inserts
Why do I need pavement sign covers?
Outdoor Pavement Signs, A Boards and A Frames are exposed to changing weather conditions which can affect the look of your display. Keep your pavement signs looking fresh and new by replacing your sign covers regularly.
Why is pavement signage important?
Outdoor advertising signs help to grab the attention of people that may not have otherwise noticed your business as they walked by. Use pavement signage to display your latest offers, menus and images of your products or services to entice new customers into your store.
Which advertising boards are the covers and inserts compatible with?
At UK POS, we have replacement covers and inserts available for a wide range of pavement signs, in sizes from A1 to A7 and everything in between. We have replacement plastic sheets for snap frames, magnetic covers, chalkboard inserts, aluminium panels and replacement swinging panels available in our range.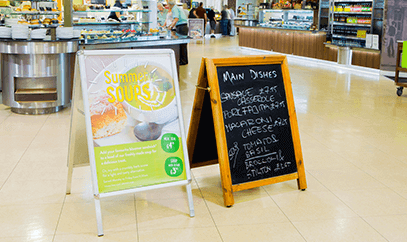 A Boards and Sandwich Boards buying guide
Create unique, stylish advertisements outside shops and food outlets.
What businesses need pavement signs?
Pavement signs are suitable for use by most types of business, but are most commonly used outside stores that are situated in high footfall areas. They are ideal for cafes, delis, bars, restaurants and high street stores.