Display Stands, Frames and Noticeboards
Display Stands, Frames and Notice Boards
Showcard stands, flip charts, whiteboards and notice boards are great accessories for use within many industries, including hospitals, schools, offices and events. Use a display board to communicate with your staff, customers or visitors in lobbies and meeting rooms. These boards can be used to display almost anything, from product information and prices, to staff rotas and safety notices.
They're available in a variety of colours and styles. Portray messages on a noticeboard, whiteboard or in a show card frame to further enhance brand recognition between you and your customers.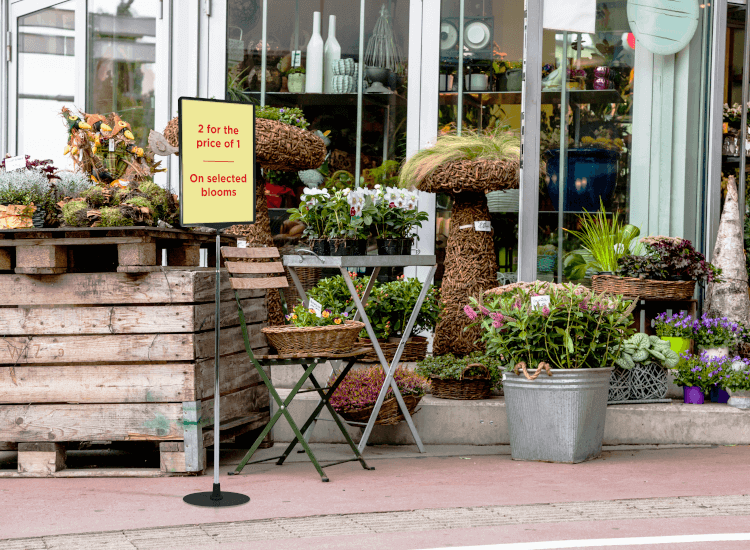 Which noticeboards are right for my business?
Keep your health and safety notices, employee holidays and upcoming office events clearly displayed with a noticeboard. Choose from a traditional cork noticeboard or a more colourful blue or grey felt noticeboard. These are the best way to keep your employees up to date and keep offices or staff rooms neat and tidy.
We now stock fire resistant notice boards which meet the BS EN 13501-1 criteria, which means they are suitable for use in public areas. Our frameless boards look great when you mount two or more side-by-side for an extended display. For schools and care facilities, a lockable notice board can be a great choice to ensure your display is protected from vandalism.
Do you stock flip chart displays?
Our flip charts can be used as a whiteboard or with an A1 pad, making them perfect for conferences, meeting rooms or exhibitions. Presenting your ideas is easier than ever! Choose from flip charts on wheels or easy collapsible frames for compact transportation. A magnetic flip chart provides more usability than ever, which is exactly what you need for a dynamic workshop or presentation. We also supply replacement flip chart paper, so you can get everything you need in one place. Many of our items are available for next day delivery.
Showcard frames
Here at UK POS, you can choose from a selection of showcard frames in a variety of bright colours. These plastic poster display frames are eye catching and low maintenance. They're ideal for use in a variety of industries, including garden centres, department stores, universities and colleges.
The showcard frames are available to buy with a floor stand, or you can buy the frame and display it any way you choose. We supply all the accessories required for versatile show card installation, including magnetic clips, upright feet, and suspension clips to create a hanging showcard point of sale display.
Showcard stands for striking signs
Our showcard stands are designed to raise your plastic poster frames up so that your promotional posters and pricing can be spotted by everybody. Showcard holders can be used indoors or outdoors with a laminated insert, and come in a variety of forms.
Many of the retail sign stands have an adjustable pole and offer a choice of fixing the frame in either a portrait or landscape orientation. They are easy to move wherever you need them to highlight an offer or attract attention from potential customers.