Snap Frames and Tamper Resistant Frames
Snap Frames and Tamper Resistant Frames
What is a snap frame?
Snap frames are a hugely popular type of poster frame that have spring lock mechanisms that allow you to unclip the edges of the frame and replace your poster without taking it off the wall. Also known as click frames, these poster holders have become the standard way of displaying commercial posters in a wide range of businesses, as they make changing posters so quick and easy.
Where can these poster frames be used?
Our poster holders can be used both indoors and outdoors. They're supplied with anti-glare protective covers to keep off moisture and protect against UV rays and can be fully protected against crinkling if you print your posters on waterproof paper.
How do I install my POS wall frame?
Most of our sign holders are supplied complete with fittings to let you mount them on your wall. If you don't want to screw your sign directly to the wall, we offer a huge range of alternate fixings including adhesive tapes and pads which make installation possible in seconds.
What is a tamper resistant snap frame?
Tamper resistant frames feature very strong spring clip mechanisms which make them much harder to open with your fingers alone. This can help protect your posters from theft or defacement. We sell a special lever tool to open the frames.
We make two different styles of tamper resistant poster frame: lockable and tamper-resistant. The tamper-resistant ones use a stronger spring and can only be opened easily with the special opening lever tool, while the lockable ones feature a locking mechanism which requires the use of a special key or Allen key.
Do you supply an A5 click frame?
Our frames are manufactured in a huge variety of sizes and colours, fit to suit almost any poster display purpose. Some of our most popular products in the collection include our A5 click frame and the A0 click frame. The A5 click frame is a smaller size, ideal for wall mounted notices, whereas the larger option is perfect for displaying advertising posters.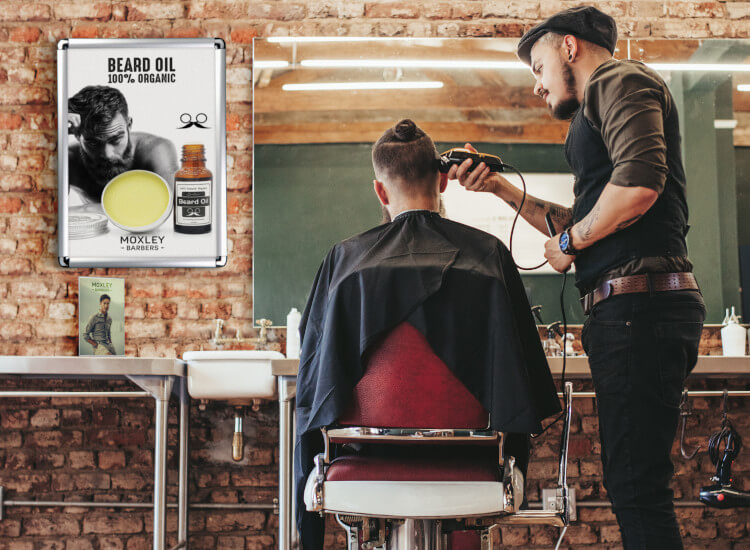 Snap frames buying guide
If you don't know where to start, check out our Snap Frames Buying Guide to help inform you.
Do you sell cheap snap frames?
As one of the UK's biggest manufacturers of aluminium snap frames, we're able to offer our products at wholesale prices.
They range from our premium Clipable frames, which include a high quality aluminium frame, protective cover, wall mounting fittings and a rigid back panel, to our cheap backless snap frame, which is a cost-effective alternative for those on a tighter budget.
Do I need to print my posters on special paper?
Our poster display frames can be used with posters of any kind, from standard paper and card to special waterproof papers. Although they're supplied with protective covers, these won't protect paper from crinkling in damp environments.
All of the posters we print use special paper which is waterproof and won't crinkle, even when wet.
Do the covers make the signs waterproof?
There are actually few truly waterproof poster frames on the market. Ours come with clear protective covers supplied with protect against rain, but in damp environments the posters can still crinkle if condensation forms. However, this is easily prevented by printing your posters on special waterproof paper, which we print our posters onto as standard, for use with our snap frames.