Menu Covers, Sleeves and Holders
Menu covers, holders and menu sleeves
Do I need menu sleeves, covers and holders?
If you are running a bar, restaurant or cafe, then the answer is definitely yes. We stock a wide range of covers, holders, menu clipboards and sleeves that can display your food menus and wine lists in a stylish, professional way. We also stock a large selection of multi-faced menu holders and menu bases in our Freestanding Menu and Sign Holders category.
What materials are your covers, sleeves and holders made from?
We stock a number of different styles to suit any type of business. Choose from wooden, PVC, faux leather and acrylic coated buckram menu displays to match the style and ethos of your brand.
Do you stock American style menu folders?
We do stock these, they are clear wallets with reinforced edges that you can slide your menus into, making them easy to clean and perfect for displaying food menus.
What paper sizes can your menu sleeves and covers accommodate?
We offer covers and sleeves that can hold A3, A4, A5 and A6 paper sizes.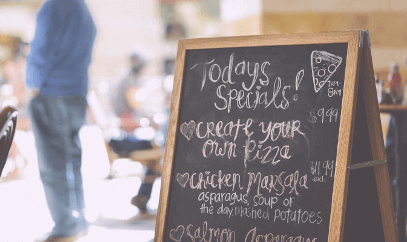 How to promote a restaurant
Increase your number of diners by tweaking just a few things simple things about your restaurant marketing.
Should I choose a wooden or a plastic display?
This depends entirely on your preference and the style of your venue. Wooden holders give off a rustic and welcoming vibe, but they do leave your menus exposed to potential food and drink spillages if the paper or card isn't laminated. If you'd prefer to keep your menus covered, then plastic or faux leather covers are the better choice, as they are easy to wipe down. Additionally, it is a great idea to display key menu items on the walls in your business. Wood and chalkboard displays are popular for these and can be found in our Chalkboard Signs category