Menu Covers, Sleeves and Holders
Restaurant Menu Covers, Sleeves and Holders
Do I need restaurant menu holders, covers and sleeves?
Bars, restaurants and cafes all benefit from using menu sleeves, covers or holders. We stock a wide range of covers, holders, menu clipboards and sleeves that can display your food menus and wine lists in a stylish, professional way.
We also stock a large selection of multi-faced menu holders and menu bases in our Freestanding Menu and Sign Holders category.
What materials are your covers, sleeves and holders made from?
We stock many different styles of wine list covers, wooden menu holders, and restaurant menus to suit any type of dining or drinking establishment. Choose from wooden menu holders for restaurants, acrylic menu holders and faux leather menu covers to display your meals and drinks lists and to match the style and ethos of your brand.
Do you stock American style menu folders?
Yes, we do stock this style of plastic menu sleeves. They are clear wallets with reinforced edges that are perfect for use in family restaurants. You can slide your menus into them easily and they are easy to clean, making them ideal for displaying food menus.
What is a menu holder power bank used for?
A menu holder power bank allows restaurants, cafes and other hospitality businesses to offer extra service to customers without much extra hassle.
It's perfect for use as a restaurant charging station for phones due to the integrated menu and sign holder. Customers can sit at your table or bar to peruse the menu, while charging their phones or devices. This innovative restaurant menu holder is a must-have unit for modern hospitality businesses.
How do the multiple device charging stations with menu holders work?
USB charging ports are located on the bases of the menu holders. Customers can either plug in their compatible charging cables or use the cables provided with the unit. The base itself needs to be charged for it to charge other devices. Simply use the charging cables provided with the unit to do this, either before it is used to charge devices or during.
If you're purchasing more than one menu holder power bank, we do have a docking station which can charge up to four power banks at once. This is a great option for large businesses that are looking to place these units on many tables.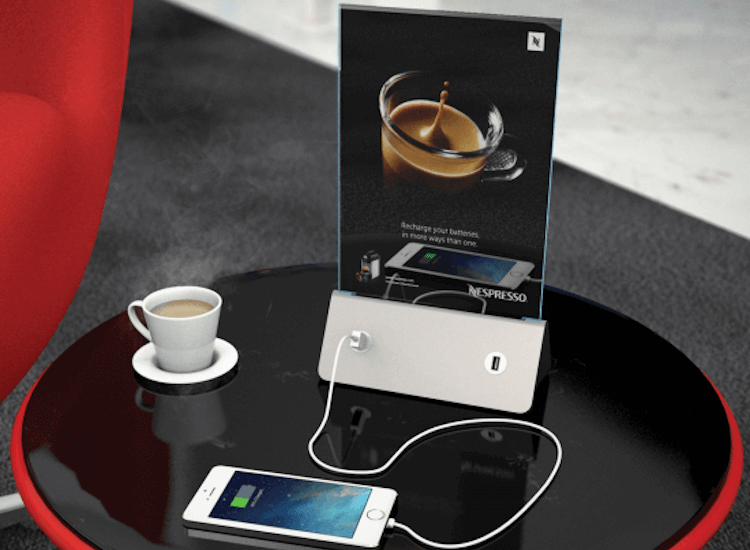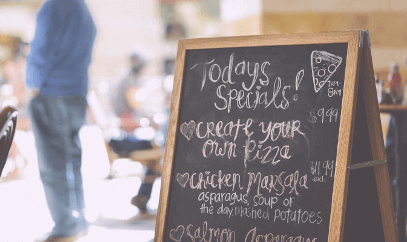 Guide to promoting your restaurant
Learn how to increase your number of diners with just a few simple tweaks to your restaurant marketing.
Can I charge multiple USB devices at a time with a restaurant charging station?
Yes, you can, these make ideal multiple device charging stations for bars, restaurants and cafes. Each of our menu holder power banks has a different amount of USB ports. Therefore, the number and type of devices you can charge at a time will differ.
Some of our menu holders come with charging cables provided. The cables are compatible with iPhone, Android and micro USB devices, whilst other power banks allow your customers to plug their USB cables in. The batteries that power the units can hold enough charge to power a standard iPhone six times.
Do the power banks on the table menu holders need to be charged?
These table top menu holders do need to be charged before or during use. Use the USB cables provided to charge the units, or save time by using the Menu Holder Power Bank Docking Station. The docking station can charge up to four holders at a time.
How can I secure my menu holder power banks?
Our 1m Kensington Locking Cable can lock your USB menu holder within a fixed radius to prevent it from being stolen from a public space.
Do you sell luxury menu covers for high-end restaurants and bars?
Yes, we have several elegant menu covers of various types, including foil-printed, embossed, and faux leather menu covers. We also stock stylish bill presenters. Choose an LED menu holder for a more modern appearance, which is backlit to provide an ambient glow in dimly-lit venues.
Should I choose a wooden or a plastic display?
Wooden holders give off a rustic and welcoming vibe. However, they do leave your menus exposed to potential food and drink spillages if the paper or card isn't laminated, unlike plastic menu covers. Plastic menu holder sleeves or faux leather menu covers are a better choice for family restaurants, as they are easy to wipe down.
Additionally, it's always a good idea to display key menu items on the walls of your business. Wood and chalkboard displays are popular for these and can be found in our Chalkboard Signs category. Or, visit our Sign Holders category for alternative menu displays, including wall mounted and countertop options.