Menu Stands and Display Lecterns
Menu Stands and Lectern Display Stands
Why use a menu stand or display lectern?
A menu display stand is a great way to showcase your menus, brochures and business information to customers. The height and angle of display is designed to encourage browsing. They make a useful addition to hospitality businesses, such as restaurants, where they can be used as a hostess stand or diary holder.
Alternatively, a lectern stand or acrylic display stand can be used in reception areas to support guestbooks.
How do your menu stands and display lecterns differ from the freestanding poster frames?
Our menu stands and display lecterns feature either metal ring binders or elastic straps to hold literature in place, with the ability to flip through multiple pages. This means that customers or staff can use the stands to browse catalogues or booking diaries.
Do you sell an outdoor menu display stand?
Yes, our 4xA4 LED stands make great menu stands for restaurants as they're suitable for outdoor use and can be used freestanding, or mounted to a wall if needed.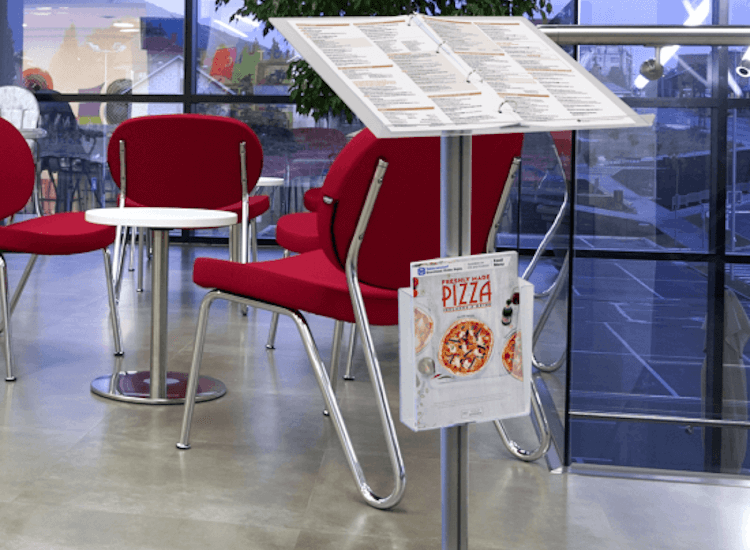 What is a lectern? What is a podium?
A lectern is stood behind, whereas a podium is stood on. Despite often being referred to as restaurant podium, it is more accurate to call a host stand like these restaurant lecterns as opposed to podiums.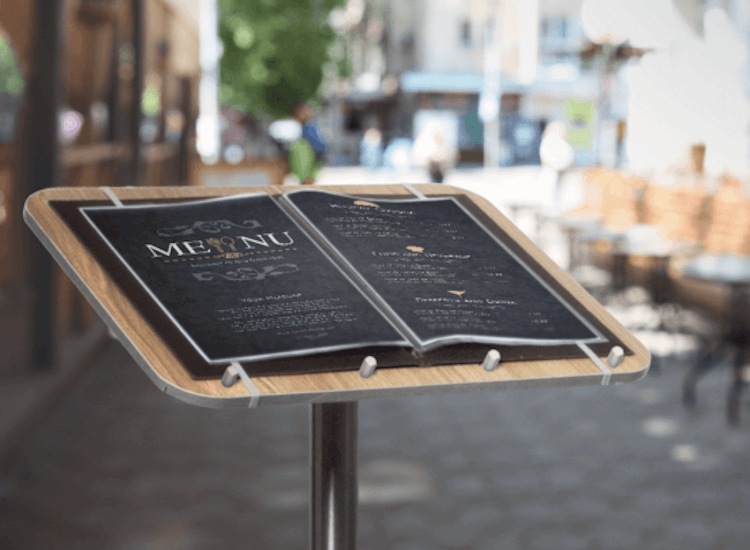 A lectern display stand is perfect for holding menus and reservation diaries at restaurants
Which menu display boards and lecterns are available?
You can get a floor standing menu stands hostess stand or lectern display stand, are a popular choice for POS displays in a wide range of locations.
These menu stands are not just for use in restaurants, but are also great for retail catalogues and displaying information at exhibitions. For countertop displays, we have a counterstanding lectern display which consists of an A4 acrylic display with a ring binder.
Visit our sign holders category for other restaurant menu displays, including wall mounted and countertop options. Our menu covers are another option which are ideal for holding menus on tables and bar tops.
Are the lectern stands supplied preassembled?
Other than the counterstanding version, the lectern floor stands are not supplied preassembled and so a small amount of self assembly is required. Setup is easy, however, and fixing screws are supplied.
We have a wide range of high quality display products for you to explore, with many qualifying for bulk buy discounts and next day delivery.