Showcard Stands, Frames and Accessories
Showcard Stands, Frames and Accessories
What are showcards?
Showcards are plastic picture frames which are often used by businesses to display poster advertising and special offers. Show cards are popular due to their easy-to-use design and wide range of attractive colours and fixing types.
Where should showcards be placed?
Place showcard signage around your store to draw the eye to products, highlight current discounts, or place outside your shop, restaurant or market stand in ambient weather to attract attention increase footfall. Poster stands can be great for use at exhibitions and open days to provide information or assist with wayfinding.
How can I fix my show cards in place?
We stock a huge range of fixing methods for your showcard frames including feet for counterstanding show cards, magnetic swivel clips for attaching signs to metal units, poster suspension clips and hooks to suspend showcards from the ceiling or from overhanging displays, wall clips and many types of stand in a range of colours and sizes.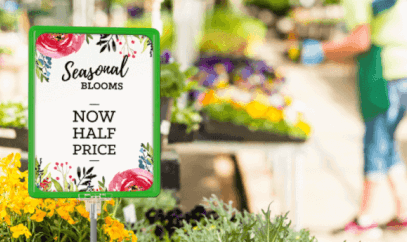 Do you supply replacement poster sleeves?
Yes, if you need to update the poster protector sleeves in your showcard frames, we supply these PVC sleeves in A3, A4 and A5 sizes to suit your showcard signs.
Can I display my showcard outdoors?
We do supply a purpose made outdoor showcard stand which has a heavy steel base insert to help resist toppling in adverse weather conditions. If you do display your posters outside, we recommend that you have your posters printed onto semi-rigid waterproof posters to prevent smudging or crinkling in unexpected rain.