Essential point of sale displays for wayfinding
Wayfinding signage is essential for any business as it can be utilised in various ways.
Signposting can be used as directional signage for helping visitors, to highlight receptions and meeting rooms or as temporary signage for open days, events and conferences.
We have many signage options available, ranging from more permanent fixtures such as business plaques which you can have your branding directly printed onto, to more interchangeable options such as snap frames.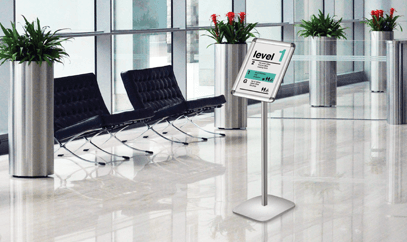 Wayfinding is essential for navigating and engaging.
Essential POS products for wayfinding
What is wayfinding?
Wayfinding refers to the signage system that helps people navigate around a particular building or location. This may seem like a simple and obvious system to put in place but it often requires more thought than you might expect, especially if you are placing wayfinding signs around a large, complex location.
Wayfinding signs are often seen around large public spaces, such as museums, exhibitions and large office complexes to help visitors find their way to stalls, meeting rooms and bathrooms.
How can I ensure that my wayfinding signage is effective?
Writing in Store Design and Visual Merchandising (2011), Claus Ebster and Marion Garaus state that "Signs must stand out and be visible. While from an architectural or artistic point of view, it might be desirable if signs harmonize or blend in with the environment, signs are only helpful to customers if they can be clearly and easily seen. It is of particular importance that signs are at an appropriate height to be noticed by customers."
It is a good idea to walk through the building you are creating signage for, to take note of where you naturally walk, what is in your eye line and if there is anything that may block the view of your signs. Take care to keep the design of your signs minimal, as too much information can look confusing and your message may become lost. Best wayfinding practice is to use one sign per message.
Business plaques and wall mounted sign holders for office wayfinding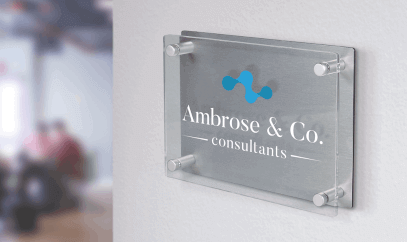 Allow people to know exactly where your business is clearly with one of our outdoor business signs. Business plaques are a modern and professional way of outlining your receptions areas, meeting rooms or even an employee's name and title.
We have a range of business plaques and wall mounted sign holders with the choice of permanent branding directly onto the sign holder or the option for poster inserts if you need to regularly change the contents.
Digital display totems for retail and exhibitions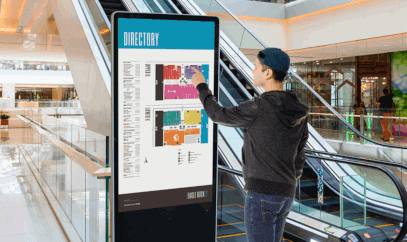 Touchscreen Digital Display Totems are ideal for displaying interactive maps and information in shopping centres, exhibitions and museums. The interactive, modern display will give your customers or visitors a great perception of your brand.
Tent card holders for countertop interior wayfinding signage
Tent card holders are perfect for desk or countertop use. Display information or names to inform staff or visitors who resides where. If you're looking for a low cost and low maintenance option, tent card holders can be easily updated by simply slotting paper or card within them. This ensures they always look their best and that if you have to replace them it won't be too expensive.
Snap frames for educational wayfinding
Snap frames can display a variety of important, educational information and are also ideal if your signage changes frequently.
Snap frames are a great POS solution for posters that need to be regularly updated and can be used as directory signs for vital information such as a fire escape route.
Snap frames are easy-change solutions that are convenient and quick to update. We offer both budget and premium snap frames in many colours, suitable for any business.
Floor standing poster holders for directional signposting
Floor standing poster holders are great for use as directional signage at open days, events and conferences to help people navigate.
Movable sign posts often require the contents to be easily changeable also, so choosing a floor standing poster holder with a built in snap frame is the perfect solution.
Floor standing sign holders stand out to passers-by and help communicate way finding clearly.