How to open up a salon safely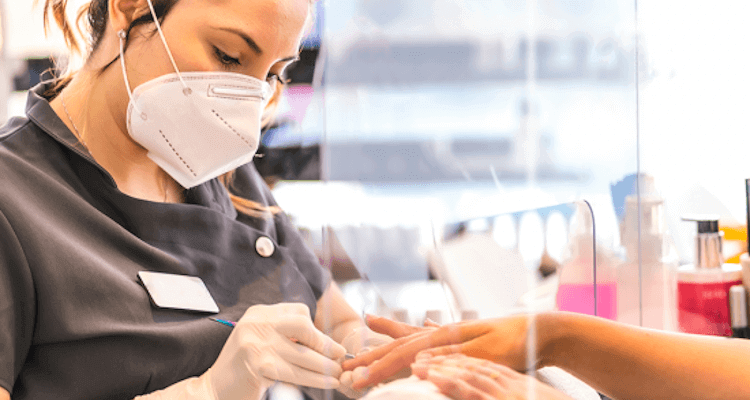 First published in July 2020 and updated in March 2021- some information may now be out of date
Close contact services such as hairdressing and most beauty treatments are now hoping to be permitted to continue trading again in the UK after 12th April 2021 [1]. In order to reopen safely, business owners are required to ensure that their premises are COVID-secure to reduce the risk of both staff and customers spreading infections.
The salon entrance
The safety measures must be advertised before customers set foot in your salon or barbers. Make sure to email or text your customers with information on your guidelines before their appointment so that they can be prepared to comply with them. You should also ask customers to arrive no more than five minutes ahead of their appointment time, so that they are not waiting in the salon and being exposed to others longer than is necessary. It is a good idea to provide a hand sanitiser at the entrance of the salon and ask all customers and employees to use it upon their arrival and departure.
You may also want to use pavement signs or window signage to display your COVID-19 guidelines to passersby and to entering customers. At UK POS we offer professionally-designed posters in A1, A2, A3 and A4 sizes, that display common messages surrounding the COVID-19 UK guidelines for business. These include 'keep your distance', 'face masks required', 'wash your hands' and 'we are open for business'.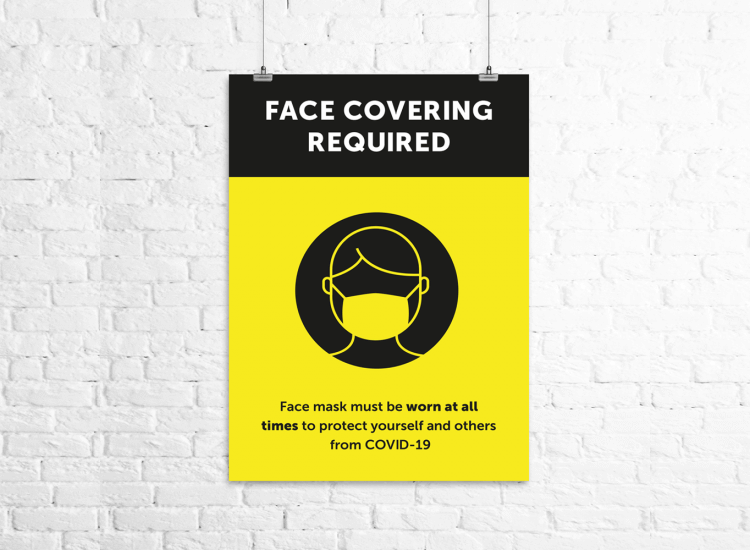 From:

Was: £3.78

Special Price £1.39

ex. VAT

From:

Was: £26.00

Special Price £22.00

ex. VAT

From:

Was: £119.00

Special Price £92.76

ex. VAT

From:

£44.95

£35.00

ex. VAT
Preparing the treatment area
Treatment areas need to be at least two metres away from each other, or one metre with risk mitigation [2]. If your workstations are permanently stationed closer than this to each other, you may need to consider taping off areas and reducing your capacity. Use floor stickers to mark out each work area and to show customers and other staff how far back they should stand from each area.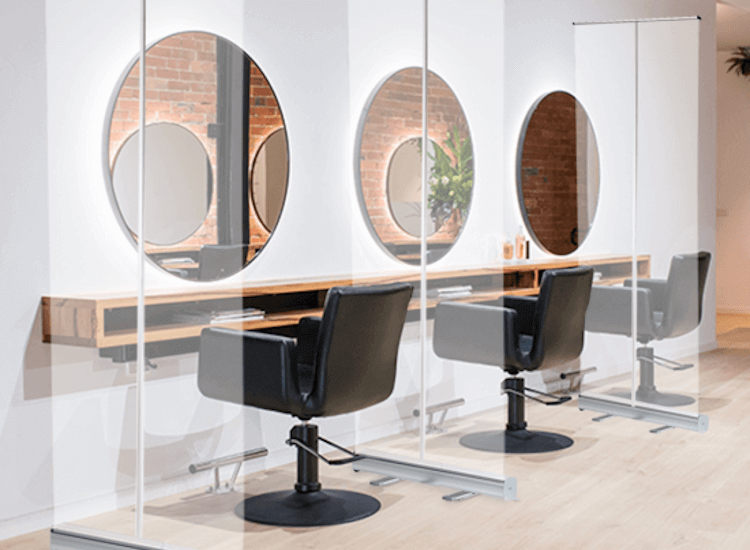 If treatment areas cannot be spaced two metres apart, you may wish to invest in some counter standing or floor standing transparent screens, which provide a safe barrier between customers, especially when used in conjunction with face masks and shields. This allows for good social interaction with others, while still maintaining social distancing. This is an ideal solution for hairdressers and barbers.
'Where 2 metre social distancing cannot be maintained, for example when providing a treatment, the person providing the service should wear further protection in addition to any that they may usually wear.'Department for Business, Energy & Industrial Strategy and The Rt Hon Alok Sharma MP [3].
The UK government advice says that this further protection should be 'a clear visor that covers the face, or the use of a screen or other barrier that protects the practitioner and the customer from respiratory droplets caused by sneezing, coughing or speaking' (Department for Business, Energy & Industrial Strategy and The Rt Hon Alok Sharma MP, 2020).
Once your treatment areas are marked out, you will need to ensure that staff will be protected from infection from customers while they carry out the treatment. It is absolutely essential that your beauticians and hairdressers are provided with the appropriate PPE. For this industry, this means keeping a constant supply of face masks, face shields and gloves, all of which will usually need to be disposed of after a single use in order to reduce the risk.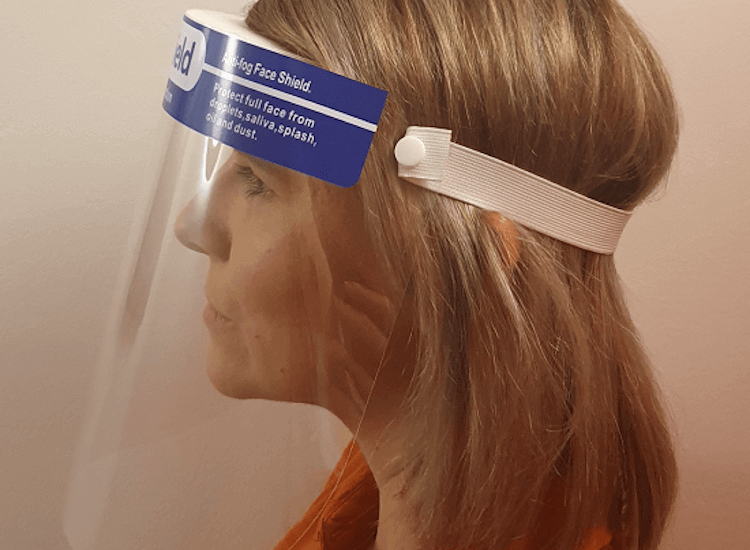 Finally, and most importantly, you need to ensure that the interaction a beautician or hairdresser has with their customers is as safe as it can possibly be, as they will be spending the most time together in close contact. For hairdressers and barbers, the risk of the spread of infection is lower, as they are not working in too close a proximity to the customer's face. The risk here can be mitigated with the use of face masks and/or face shields, as well as gloves.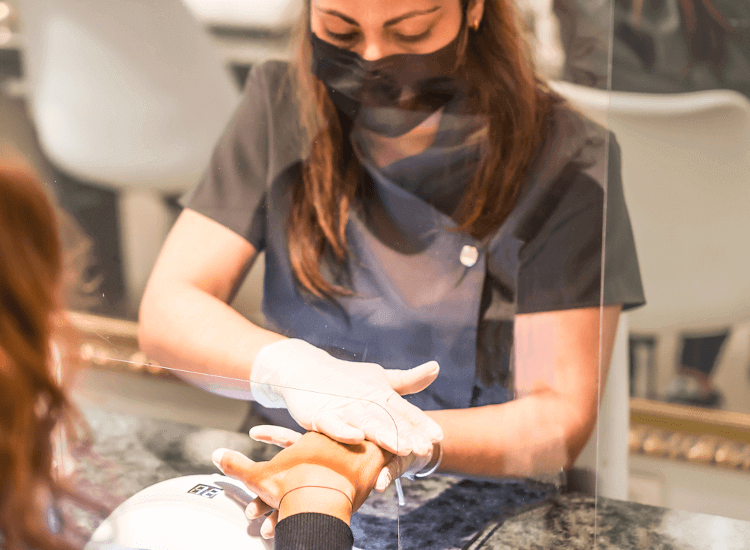 However, nail technicians will be spending most of the treatment session in contact with a customer's hands, which carries a higher risk of virus transmission. In these circumstances, it is wise to use transparent countertop sneeze screens which form a barrier between the beautician and the customer. They are essential for stopping viruses travelling from a person's mouth or nose when they speak, cough or sneeze to the person sitting opposite.
These screens must be used in conjunction with masks, shields and gloves, as the screens do still have openings at the bottom to allow for the hands to meet, which could allow tiny amounts of droplets through.
PPE for salons
Consider the use of digital displays
Beauty and hair salons are well known for providing customers with a high level of customer service, whether it's with an array of magazines to read while you wait, or with the offer of a lovely cup of tea. Unfortunately, social distancing and hygiene measures means that these small luxuries that customers enjoy are unlikely to be offered in the near future. This doesn't mean that there aren't other ways to make the service your customers receive more enjoyable though.
A great alternative to a selection of magazines could be to provide entertainment using digital displays. They can only be operated by staff, which reduces transmission of infections through touching. You could use these screens to show advertisements for your own business, in order to gain further customer interest in your services and it has the potential to help you up-sell your services and boost revenue in the long run.
After the treatment
Once the treatment has concluded, you should continue to maintain the safety measures until the customer has safely left the premises. Neither staff nor customers should remove their face coverings and gloves until this point. Make sure that each disposable mask and set of gloves is disposed of in a closed-top bin to prevent any potential airborne contamination.
Ideally, you would ask customers to pay the full amount when booking online or over the phone beforehand, but if this is not possible, the use of sneeze screens will also be required at the reception desk where customers are paying. Many hair and beauty salons offer customers a physical loyalty card or business card that they offer to customers as they leave to try and keep their business, but this is not a great idea while trying to minimise contact.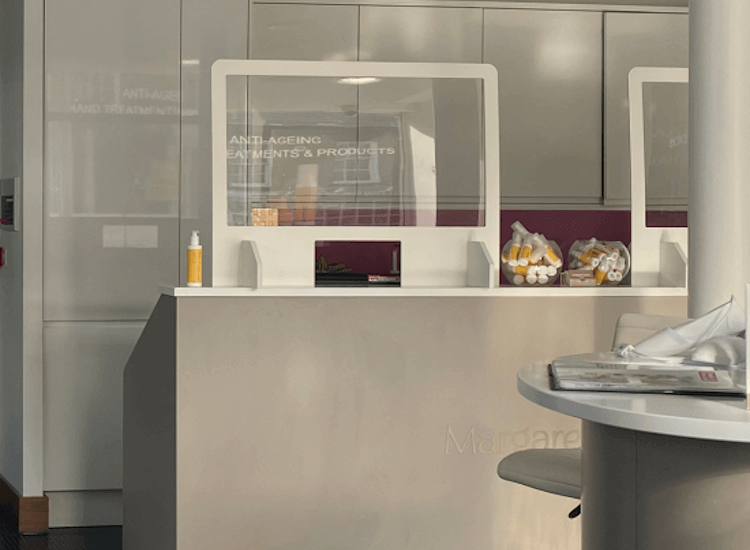 Current restrictions mean that handing customers a piece of card is not ideal in terms of hygiene, but you could work around this by asking customers if they wanted to provide their email address so you could send them promotional offers, or even be added to a virtual loyalty scheme to keep track of any rewards they may accumulate.
Although this has been a difficult time financially, especially for the service industry, offering customers discounts or rewards does help to drum up more business and keep existing customers coming back and spending more money. Studies show that 'an increase in customer retention of merely 5% can equate to an increase in profit of 25%' [4]. Not only that, but repeat customers are then more likely to spend up to 67% more in your business.
Please note that this information was correct at the time of publication. We recommend checking gov.uk to ensure the guidance you use is up to date.
From:

Was: £745.29

Special Price £315.00

ex. VAT

From:

Was: £15.00

Special Price £12.50

ex. VAT

From:

Was: £115.00

Special Price £65.00

ex. VAT

From:

Was: £15.90

Special Price £14.40

ex. VAT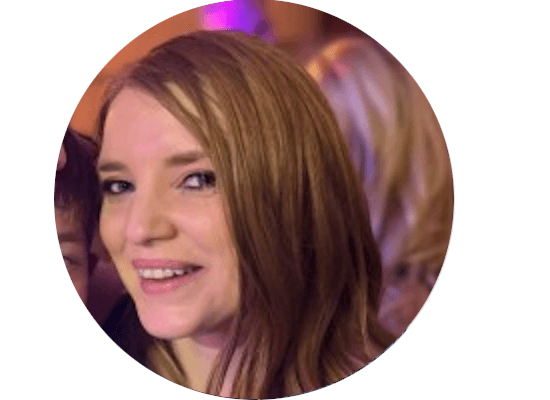 Alysha Bennett
Alysha is a copywriter at UK POS, with experience working in B2B and B2C companies, as well as with charities. She has been curating consumer and retail trends to assist retailers in implementing effective point of sale materials into their own businesses for over five years.
References
1. Cabinet Office, 'COVID-19 Response - Spring 2021' (22nd February 2021), https://www.gov.uk/government/publications/covid-19-response-spring-2021 [accessed 8 March 2021].
2. Department for Business, Energy & Industrial Strategy and Department for Digital, Culture, Media and Sport, 'Working safely during coronavirus (COVID-19): Close contact services' (Updated 10th February 2021), https://www.gov.uk/guidance/working-safely-during-coronavirus-covid-19/close-contact-services [accessed 8 March 2021].
3. Department for Business, Energy & Industrial Strategy and The Rt Hon Alok Sharma MP, 'Beauty salons set to reopen for some services next week under new government guidelines' [Press release] (July 2020), https://www.gov.uk/government/news/beauty-salons-set-to-reopen-for-some-services-next-week-under-new-government-guidelines [accessed July 2020].
3. Amaresan, Swetha, '10 Undeniable Reasons Customer Service Is Important to Your Business', Hubspot (December 2019), https://blog.hubspot.com/service/importance-customer-service [accessed July 2020].