How to increase customer footfall with outdoor advertising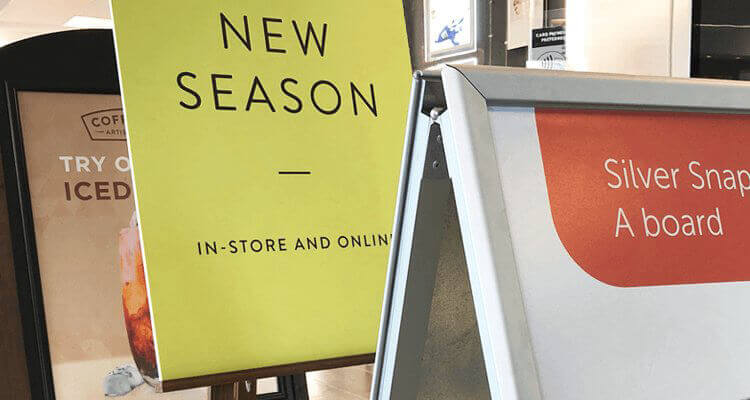 What is customer footfall?
Footfall simply refers to the amount of people setting foot in a shop or venue over a given period of time. Increasing customer footfall is a primary goal for retailers, and outdoor advertising is one of the best ways to draw in new visitors.
Our previous articles on how window advertising works and how to design window displays have demonstrated that window dressings are one of the very best ways to encourage approach behaviour from the store exterior. Unlike in-store visual merchandising, window merchandising is interpreted by customers more like advertisements, meaning they will use the storefront to both infer information and be motivated to explore the shop inside.
This article explains the various other aspects of shop exterior, such as outdoor signs, which can also be used to increase customer footfall, as well as answering some additional important questions such as what to display on outdoor signage and how to measure the success of your outdoor advertising efforts.
How to increase footfall with outdoor advertising and store exterior
Examples of outdoor advertising include pavement signs, outdoor poster holders, on-street promotions, event flags and outdoor literature holders. Pavement signs in particular can interrupt the path of the pedestrian and increase their likelihood of looking at your window displays. Bespoke printed event flags are perfect for being spotted by passing motorists at the roadside or in forecourts. If your business is set back from the high street or hard to find in some way, you must think carefully about where outdoor advertising could be placed in order to alert people to your presence. Consider carefully what message you want your signage and outdoor retail displays to convey in order to attract new customers.
What to display on outdoor advertising:
Use your outdoor signs to reinforce any promotions or sales you have been advertising on social media. Make your advertising comprehensive, with similar messages online, in-store and outdoors.
Make special offers, such as new promotions or discounts, particularly prominent, as these will attract bargain hunters and potentially "convince" others who may previously have been on the fence about whether to enter.
Humour always works well. Jokes, rhymes and funny images will cause passersby to smile and feel positively towards your business. This can result in approach behaviour and relaxed spending. Using humour also increases your odds of getting free advertising, as an interesting or funny message is more memorable and can prompt people to post photos of it on social media.
Social and seasonal factors affect what customers might feel a need for at any given moment. For example, if it is a rainy weekend and you sell a special type of umbrella, then it is the perfect weekend to advertise this on your outdoor advertising. The same can be said for warm clothes in winter and cool clothes or fans in summer. By doing this, you will connect with passing customers on a level which appeals to their basic needs and may even alert them to something they didn't realise they needed.
Choose your pavement signs carefully - if you are in an open area and are liable to extreme weather conditions, you may wish to select a heavy duty weather resistant pavement sign with a weighted base to prevent tipping.
Outdoor signs to increase customer footfall
FG2

Despatched in 5-7 days
Interactive displays: the storefronts of the future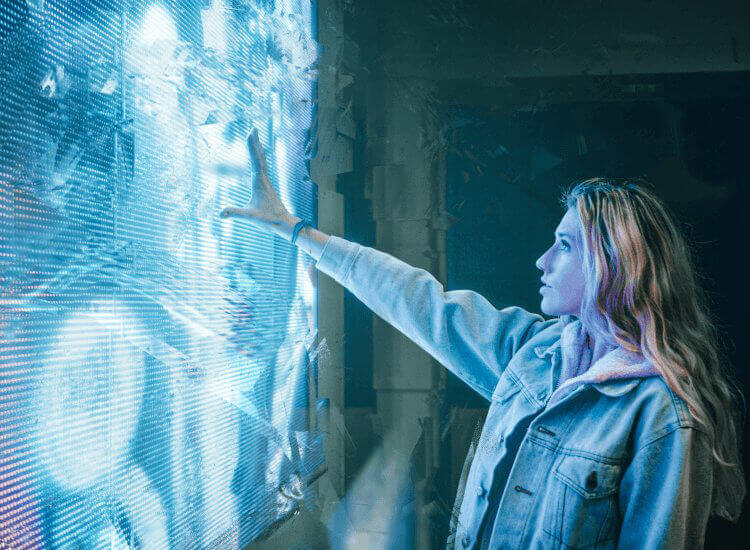 As the body of research on effective merchandising techniques grows and the popularity of e-commerce is booming, academics and businesses alike are starting to look to the future of outdoor advertising for brick-and-mortar retail companies. Recent research into the persuasive qualities of digital signage claims that using digital window displays correctly can result in increased impulse purchases and repeat visit intentions [2].
Looking forward, interactivity seems to be a key concern for those investigating how to increase footfall in retail, with many companies investigating the possibility for technology to help create interactive window displays and outdoor signage. Interactivity is strongly persuasive in merchandising, and digital technology is now reaching new heights of capability. One example that is gaining traction is the use of digital window displays and interactive outdoor kiosks that people can interact with from the street.
Examples of interactive window displays
Interactive elements could include projecting an image of the passerby into the window, so customers can make a stronger emotional connection by seeing themselves surrounded by the products or design elements. An example of this technology in action is Samsung's Virtual Fitting Rooms, which uses 3D cameras to map a floating image to a customer's body in their 'smart mirror'. This is a contemporary answer to the more traditional method of mannequin-based displays, and is similar to the technique of placing mirrors around a shop so that customers can literally see themselves surrounded by the product(s).
Another increasingly popular way of using interactive window displays is the use of gesture-controlled technology, which can track and respond to customer movements. This method was used to create an interactive window display at Macy's during Black Friday to advertise Jay Z's fragrance 'Gold'. The window display used Microsoft Kinect to capture images of passersby in 3D and turned them 'into liquid gold'.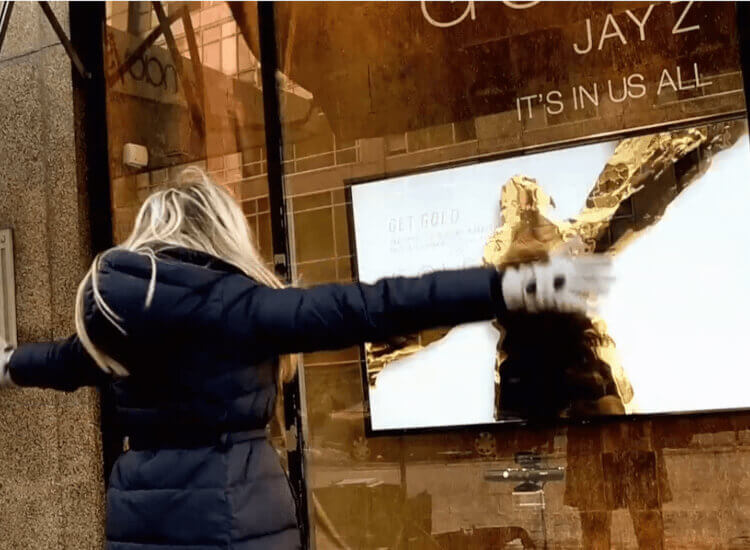 This caused people to stop and interact with the display, and move around to see their movements simulated on screen. This same method is being used by many companies to 'gameify' their interactive retail displays, encouraging maximum engagement.
Another possibility for larger shops, such as department stores with multiple windows, is the use of multiple, connected digital screens. These can be linked up to function as one long screen, with advertisements that can 'follow' pedestrians using sensors.
This approach gives marketers a longer amount of time to display their ads and the possibility of creating a 'story' (Bauer, p. 504). Storytelling is an integral part of branding, and any way to enhance this is likely to be beneficial for brand awareness.
It is also possible for window display technology to analyse demographic information about passersby, which could allow for more targeted advertising. For example, displays could interpret the age and gender of the passerby, and advertise accordingly (Bauer, p. 505). Similarly, this technology can also be used to collect data; however this raises ethical issues and requires further study.
Measuring the success of outdoor advertising and outdoor signs
One challenge that retailers are faced with is how to measure the success of window advertising and other outdoor promotions. There are various methods for inferring this information, including traffic counters for footfall monitoring (both manual and infra-red), can use video cameras, eye-tracking software & consumer feedback.
Edwards and Shackley's UK study on the impact of window displays in Boots the Chemists attempted to measure display success by both tracking sales figures and surveying pedestrians who viewed the window display [1]. They recorded both qualitative and quantitative data by both using a market research company and conducting 250 interviews, showing that there are multiple empirical methods to assess a display's effectiveness in retail. Incidentally, their research found that sales were positively increased in stores that utilised window displays.
How do you increase customer footfall? 6 key points to take away:
Window advertising is the primary way in which a store is able to communicate with potential customers outside. Therefore, window displays are a crucial factor when considering how to increase footfall in retail and hospitality. They are also a great way to promote a particular product line or new service and boost sales.
There are countless ways to dress a window, but that all must be done with a number of factors in mind. Ensure you consider various factors when planning your outdoor advertising strategy, including product and industry type, market trends, size of window, company budget, average patron demographic and both seasonal and economic factors.
While windows are a key priority, outdoor signs and outdoor advertising are a fantastic way to interrupt the customer path. Outdoor signs and promotions are a great opportunity to encourage higher footfall by offering something desirable, such as a free sample, a discount, or an informational brochure they can take away with them.
You should update your window displays fully at least once per key season, but revive them regularly by moving around props or adding new items
You can gauge the success of your window advertising, pavement signs and outdoor promotions with various methods for measuring footfall, including the use of traffic counters, customer feedback and visual observation.
Invest in digital displays for your window advertising. The use of digital screens for window displays and other outdoor advertising has drastically increased over the past decade, due to their superior ability to engage customers, and uses are quickly becoming increasingly innovative.
Outdoor advertising products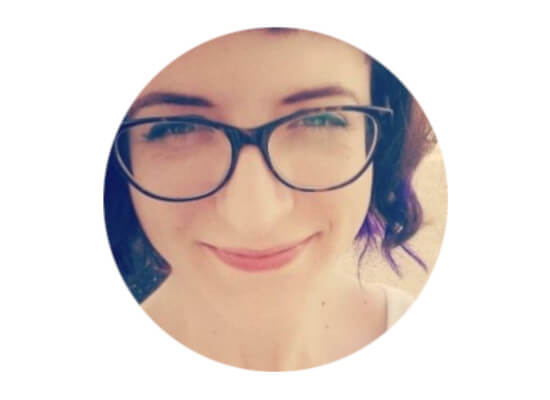 Kira Swales
Kira Swales is a copywriter for UK POS. With over six years' experience in e-commerce and copywriting, and many years in the retail sector, Kira loves to take a deep dive into topics in order to provide readers with the latest research in point of sale and merchandising. Read more of her in-depth guides on POS in our
Knowledge Hub
.
References
1. Edwards and Shackley, 'Measuring the Effectiveness of Retail Window Display as an Element of the Marketing Mix', International Journal of Advertising, Vol. 11 (1992), pp. 193-202.
2. Bauer et al., 'Research Directions for Digital Signage Systems in Retail', Procedia Computer Science, Vol 141 (2018), pp. 503-506.