Retailers' Guide to Christmas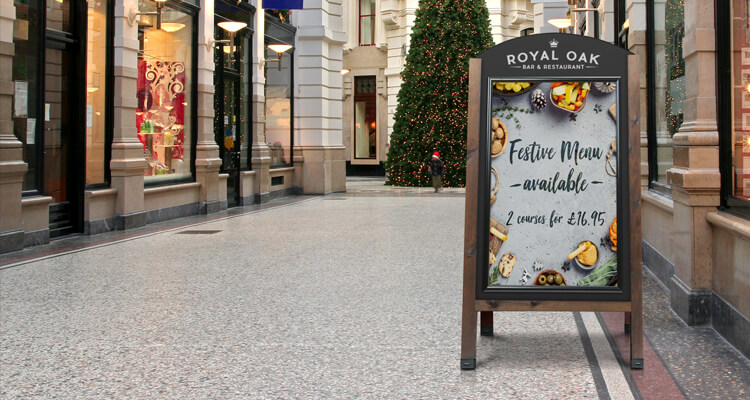 Drawing on our extensive experience of the previous challenges and successes faced by our customers (such as during the great recession and Covid-19 pandemic), we have produced this guide to help retailers maximise their selling potential and make the most of the 'golden quarter', even during the most difficult times.
An early start is key - you need to make customers aware that things may take longer than usual during the festive period (such as queues and delivery lead times). If you have a mailing list, keep your customers up to date with this, as well as with extra signage in and around your store.
How can I increase my Christmas sales?
Traditional POS displays have a timeless appeal. Using them liberally as part of your Christmas retail campaigns will help efforts to boost sales and recoup losses. Using poster stands indoors, and pavement signs outside, will help draw existing and new customers towards your premises, towards your promotions, and encourage them to make add-on purchases or choose upsell options.
Think carefully about your Christmas window display and what products you wish to feature. You might want to flex your creativity and draw a festive scene with some liquid chalk marker pens, or place some seasonal props onto display plinths and pedestals.
Indoors, use rustic chalkboard signage for some items, such as bread, wine, cheese and handmade goods, and glossy high-end signage for others, such as perfume, cashmere jumpers or shoes, to appeal to different customer needs and encourage impulse buys.
Create a good cross-channel marketing strategy to ensure you retain customers. Even if they get fed up waiting in store, make it easier for them to connect online. Utilising interactive electronic screens and printing QR codes on your printed posters are both great ways to engage instore customers with your online services.
Use portable FSDUs (free standing display units) and reconfigurable displays such as slatwall or gridwall. Not only do these allow you to keep your displays looking fresh for the new season, they also make it easy for you to rearrange the store layout as and when required. With portable or reconfigurable POS displays, if you find that an area of the store is getting too crowded, you can then simply change it as you see fit.
Food retail at Christmas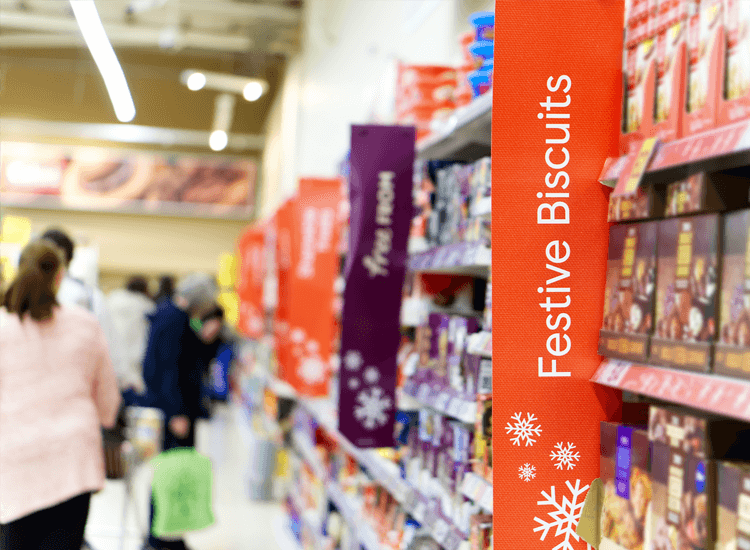 Traditional POS displays, such as end-of-aisle FSDU's, are always a great way to boost sales of particular lines, but these are particularly useful at Christmas, when shoppers may be more under pressure and in a rush to get things right, and quickly. Create product bundles to place in prominent locations. The convenience of being able to access everything in one place will make your products seem all the more appealing!
Additionally, overhead signage is an ideal choice as, even in a more crowded or rushed scenario, your customers can find out where they are and where they need to be with a quick glance. Most supermarkets and department stores tend to have standard overhead aisle signs to point customers in the right direction. Why not give them some extra help with their Christmas shopping, by adding temporary overhead signage to point out your Christmas promotions? This is not only extra in-store advertising for your shop, it actually provides value for your customers by making their lives easier.
Make signage and online food promotions all the more visually appealing, with rich and descriptive language and descriptions of flavour, particularly since tasting samples may be less likely this year.
Christmas promotion ideas for retail
Supermarkets ought to bear various types of family sizes in mind, and use the opportunity to push their ranges of smaller meal deals, half-size bottles of wine and champagne, and smaller packs of Christmas crackers and table settings. Retailers have both a responsibility and an opportunity to make this as appealing and enjoyable as possible during this holiday season.
On the approach to Christmas, supermarkets and other food retailers must consider what products their customers will likely want to buy together as part of their big Christmas shop. Clever cross-merchandising at Christmas can really boost sales and AOV.
5 product bundling ideas for cross-merchandising at Christmas:
Wine with boxes of Christmas crackers - these items tend to be used at around the same time on Christmas day.
Arrange board games and boxes of chocolates beside each other, for an indulgent dose of family fun.
Fruits and crackers with cheese selections - food from different aisles may go hand in hand, bundle these on aisle ends.
Place hats, scarves and gloves near slippers and hot water bottles. They are thematically linked, and all make great gifts.
Add convenient options for gift wrapping, ribbons and sticky tape near to common gift options, for the last-minute shopper.
'Bundling products together for one simple delivery gives retailers the chance both to sell more items and to create efficiencies.'

- George MacDonald, Retail Week (September 2020) [1].
Fashion and homeware retail at Christmas
Although customers may be less likely to be attending as many Xmas parties as usual, these sectors should still see a burst of sales on the run-up to Christmas, since clothing and accessories make such popular gifts. In order to adapt during this holiday season, provide extra assistance to your customers where possible to make purchase decisions easier for them.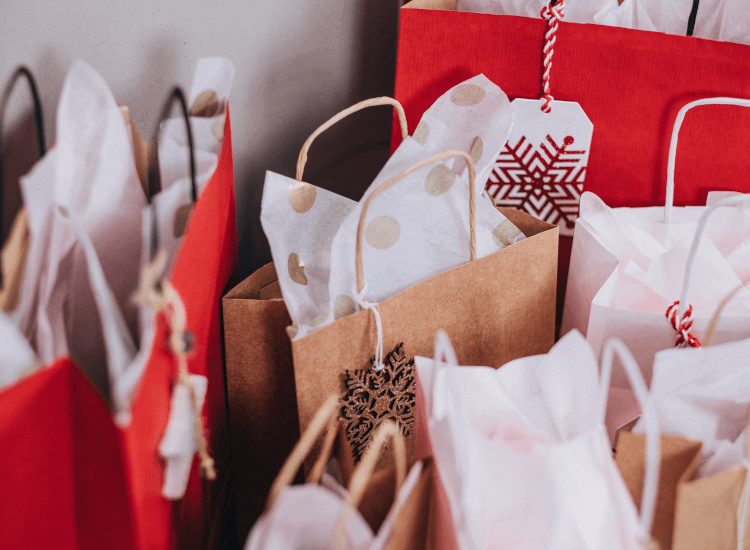 One way to do this is to offer gift wrapping. You could even offer an option to ship direct from your store to the gift recipient. Options like these are likely to be gratefully received by busy shoppers.
Having good queuing systems in all types of retail environments is an important concern, particularly at this time of year. Having an organised and spacious area for queuing is important, but you should still choose to use this area to display smaller items for add-on purchases. This is an easy way to boost your profits by increasing the average value of each purchase.
'The winners in this environment will be those who can quickly adapt [...] retailers need to be readier than ever to make quick, real-time adjustments.'

- Alexa Driansky, AlixPartners Senior Vice President (Sept 2020) [2].
Sonia Lapinsky, a managing director at AlixPartners, recommends that businesses must be flexible in order to achieve their sales goals in this year's holiday season, predicting that 'In addition to online sales likely breaking records this holiday season, so too will curbside and in-store pickups. This means that agility will be essential for retailers' [2].
Look after your staff!
The Christmas sales period is always a little more high-pressure for retail staff than other times of year. A 2020 survey showed that 55 percent of retail workers felt more stressed and 60 percent report having higher anxiety levels [3]. Your staff and customer service are among your greatest in-store assets; make sure they feel as safe and appreciated as you can during this season.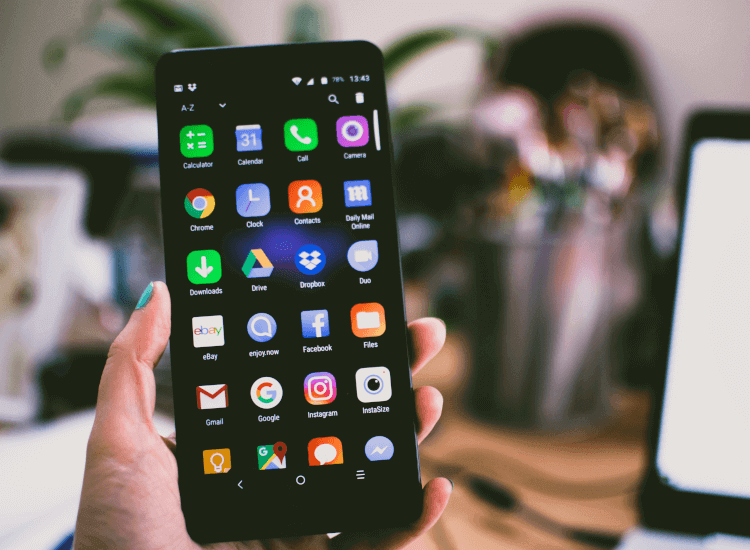 If you don't already have an online store, now is a great time to start. Giving customers new options for purchasing online means you are less likely to lose their business if they want or need to stay at home. There will be an increased demand for online services more than ever this year, and it is crucial to prepare for this so that your business is capitalising on every available opportunity.
In terms of in-store merchandising for your Christmas sales, however, improved queueing and increased signage will ultimately help customers to understand their environment better and to feel more at ease. Increasing consumer confidence is crucial in order to lift sales and recover losses, and so retailers need to consider how to organise and merchandise their point of sale and displays in order to help consumers have more trust and willingness to spend.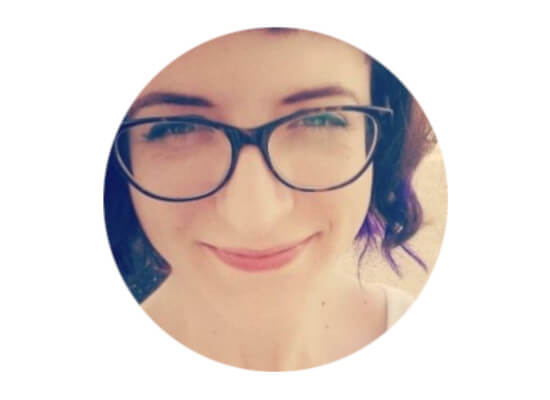 Kira Swales
Kira Swales is a copywriter for UK POS. With over six years' experience in e-commerce and copywriting, and many years in the retail sector, Kira loves to take a deep dive into topics in order to provide readers with the latest research in point of sale and merchandising. Read more of her in-depth guides on POS in our
Knowledge Hub
.
References
1. MacDonald, George, 'Christmas time, Covid tests and wine? Retailers must adapt for a taxing Golden Quarter', RetailWeek, 21 September 2020, https://www.retail-week.com/opinion/christmas-time-covid-tests-and-wine-retailers-must-adapt-for-a-taxing-golden-quarter/7035802.article?authent=1 [accessed 24 September 2020].
2. Lapinsky, Sonia and Driansky, Alexa, quoted in Abdulla, Hannah, 'Traditional holiday shopping season is "meaningless" this year', just-style.com (22 Sept 2020), Gale Academic OneFile, https://link.gale.com/apps/doc/A636172058/AONE?u=salcal2&sid=AONE&xid=5a80b73f [accessed 30 Sept. 2020].
3. Anderson, George, 'COVID-19, Christmas and working conditions are stressing retail workers out', RetailWire, 04 September 2020, https://retailwire.com/discussion/covid-19-christmas-and-working-conditions-are-stressing-retail-workers-out/ [accessed 24 September 2020].