Cable display components, fixings and accessories
What types of cable display components are there?
Here at UK POS we stock a wide range of fixings for cable poster display and wire hanging display systems, as well as for rod display kits. Cable display fittings are available for fixing your cables to ceilings, floors and walls, and there are different kinds of panel grips depending on how many panels you are using and whether they are being gripped at the edges or centre of your cable poster display.
Which cable display fittings I will need to build a cable poster display?
All cable display systems are made up of:
Your choice of cables and fixings
Cable grips
Display pockets
The cables and fixings form the base structure of a display kit, which can be customised by using cable grips to attach your choice of display pockets to complete your cable display system.
The cable display grips and supports required will depend on which area of your cable poster display needs fixing. When fixing an edge panel, a single sided vertical grip can be used. To grip two panels next to each other in the centre of a cable display, you will need to use double sided vertical grips.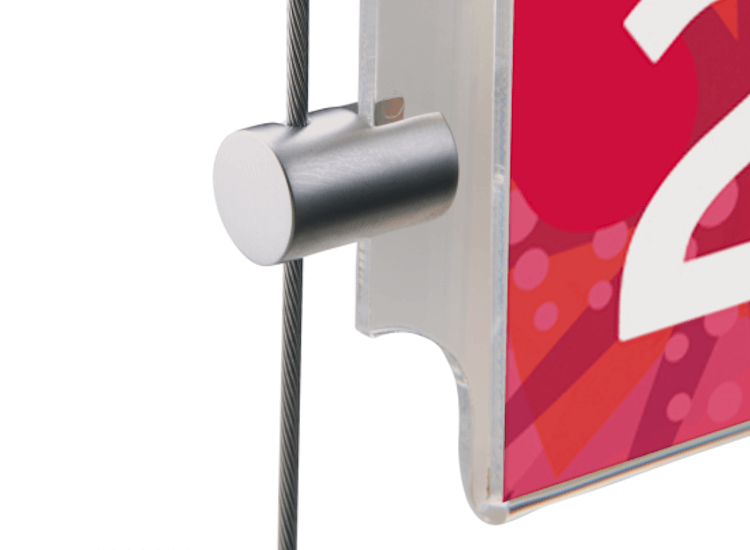 What is a cable display fixing channel for?
Use a cable display fixing channel to attach your cable poster display to a ceiling, wall or floor. Cable fixing tracks need to be used with a cable display toggle, and these allow you to move and reconfigure your cable poster display without having to repeatedly unscrew and rescrew your fixings from ceilings and walls.
Are cable display fittings available in other colours?
All of our cable display components are stocked in a sleek satin anodised aluminium finish. If you would like these in other colours or styles, however, just enquire with our sales team, as we may be able to manufacture these in custom options for you.