Cable and Rod Display Pockets
Cable and Rod Display Pockets
Is there a low cost way to display multiple graphics at once?
We supply individual poster pockets which you can attach together to make a cable or rod display system. For a more cost effective multi panel poster display, you could always buy a double or triple poster holder. The benefit of using these is that you do not need to invest in multiple poster pockets and multiple grips, as you can attach a double or triple holder in the same way that you would attach a single panel.
This makes for a fast, easy and low cost setup while still providing sleek and stylish poster pockets for cable and rod display.
Can I display anything other than posters in my cable or rod display system?
A convenient alternative to using cable and rod display pockets is a Cable Display Leaflet Holder. This allows you to distribute leaflets to interested visitors while they browse your rod or cable poster display. Place the leaflet holder alongside your acrylic window display pockets to create a well rounded and engaging display.
How do I swap out the posters in my multi panel poster display?
Our poster pockets for cable and rod display are made with an easy access open slot at the top where you can simply slide out your old posters and signs, and slide your new ones in to replace them.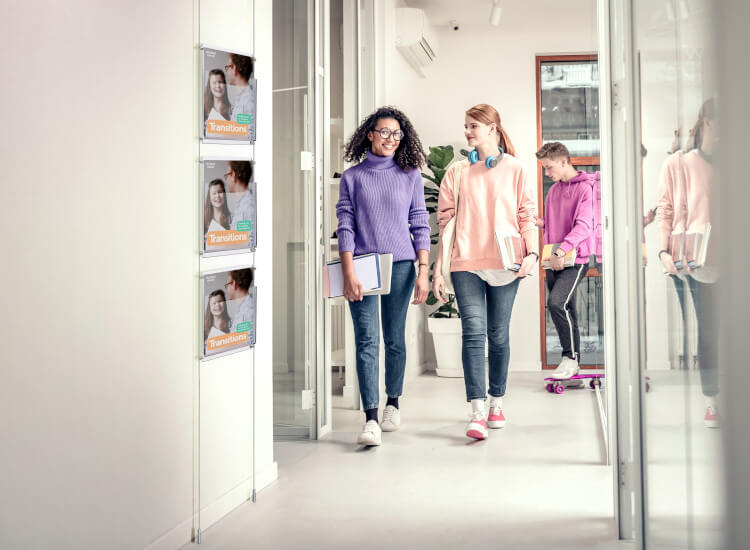 Will the acrylic window display pockets hold my poster securely?
The pockets will be held firmly in place by the fixing grips used by your cable or rod display system, however for larger posters we recommend that you attach one or more Poster Clips to the top of the pocket. These clips help to ensure that both sides of the acrylic poster holder are held firmly together without gaping, and they are made with a discreet transparent design so as not to provide a distraction from your graphics.
Can I use the poster pockets in both cable and rod display systems?
Yes, our poster pockets for cable and rod display are compatible with both rod grips and cable grips.