Card Holder Clips and Grips
Card holder clips and grips
What are card holder clips used for?
Card holders display promotional cards including sale signs, price labels and product information. Display clip holders are often used in the hospitality industry to show product information and prices, but are also common in retail environments to display discounts and other graphics.
What varieties of card holder clips are there?
We supply a large range of clip on sign holders, manufactured from various materials, including shatter-resistant PETG, stainless steel, polypropylene and styrene. All of these are considered to be food-safe, and they are therefore suitable for use as label holders for food display.
Some of the POS card holder grips hold your labels at an angle designed to be viewed from above, others are held rigid at 90°, whereas some options have an adjustable angle, which rotates and tilts to your preference.
Whether you wish to display your labels close to your products, or need them to stand out, we have options of card holder clips with short arms or longer, extendable arms to suit the requirements of your business or event.
Do you supply the card holder clips in different colours?
Our stock is available as standard in black, white, clear and metal varieties. However, as we manufacture a great deal of products onsite in Greater Manchester, we are capable of manufacturing to order. Simply contact a member of our sales team for a quote.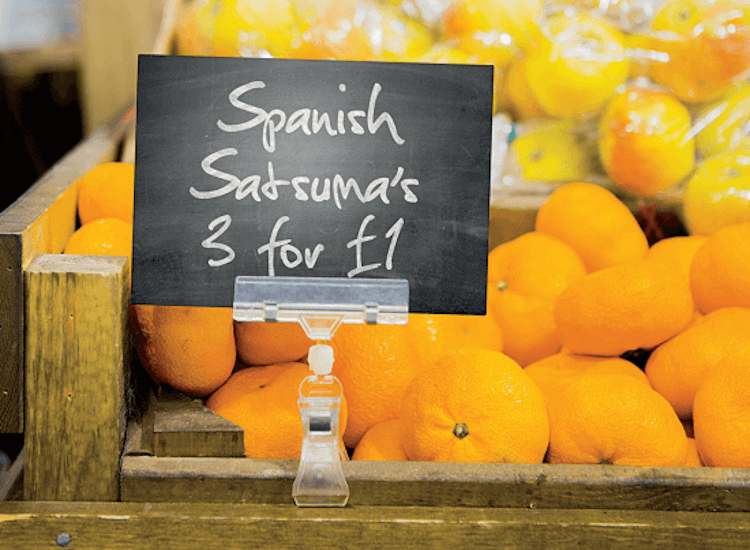 How are the clip on sign holders fixed in place?
We stock a number of different types of deli card holder, including ice stick card holders and provision pins, which stick directly into food. These deli ticket holders are ideal for use in cafes, restaurants, supermarkets, at buffets and more.
We also supply freestanding clip sign holders, as well as card holder clips which clamp directly onto your displays. These signage clips are designed to attach cards to various display types, including onto metal poles, plastic storage boxes, bowls and shelf edges.
Other clip sign holder fixing types include freestanding sign holders which use clips to grip your product labels, as do our magnetic card holder clips which are ideal for use on magnetic metal surfaces, as they discreetly stay in place using a built-in magnet.