Euro Hooks
What are Euro Hooks?
Euro Hooks slot directly onto your display panels and an be easily reconfigured when needed. They are designed to hold small to medium merchandise products that have euro slots within their packaging, such as accessories.
Are these display hooks held in stock?
With many varieties to choose from and discounts available on bulk orders, our euro hooks are a top choice for your retail displays - get your order in before 5pm for next day delivery.
How are the euro hooks made and used?
The merchandising hooks are available with either a polished chrome or zinc plated finish and a looped or hooked fitting in a variety of lengths. They all feature a standard prong width, meaning they will work with almost any product which features a euro slot for hanging. We supply euro hooks for slatwall, gridwall, and pegboard, and they slot in easily and manually.
Our QuickStick Retail Hooks have spikes instead of a backplate, meaning that they can be attached to softer surfaces such as corrugated cardboard. This provides retailers with maximum flexibility on how their products are displayed as they can be reused and repositioned as often as required.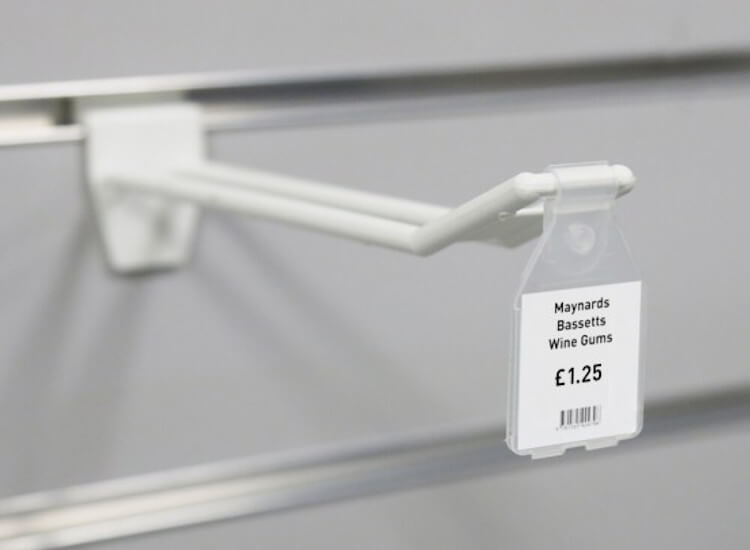 Why use euro hooks?
If you own a retail business or are a visual merchandiser, it's likely you'll be looking for opportunities to create unique and professional ways to display products on slatwall, gridwall or pegboard. That is why our range of metal display hooks are so popular with customers - they are cost effective, easy to use and perfect for presenting a large volume of products in a neat and tidy way.