Specialist Product Sign Holders
Specialist product sign holders
What can I use these specialist product shop sign holders for?
Our specialist product shop sign holders are designed for use in retail spaces with products that are occasionally difficult to attach signs to.
For example, our Supergrip Basket Price Holders are shop sign holders designed to attach product information to dump bin style baskets. Our push-in sign holders are designed for displays in ice or soil, for businesses such as fishmongers and plant sellers.
Can you explain how to display pallets in retail?
Using pallet signage is a great investment when you're deciding how to display pallets in retail. The plastic holder slots in between items, allowing you to display your pallet signage in a clear and attractive manner. This pallet signage is also suitable for displaying large shelf signs. These price label holders are supplied without a printed sign, but it couldn't be easier to insert new graphics, as they simply slide into the acrylic from the side.
Can I buy reusable wine bottle neck labels?
Yes, our plastic bottle neck labels are ideal for use in off-licenses and supermarkets to display deals on wines, spirits and other bottled goods.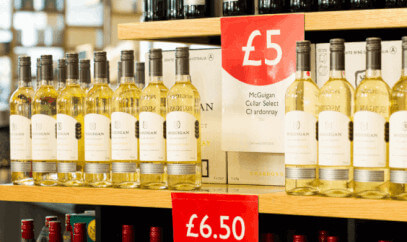 What are your shop sign holders made from?
At UK POS, our specialist product sign holders are made with a specific purpose in mind, and therefore each of these price label holders has a specific construction type. The shop sign holders are made in acrylic, PVC and PETG to suit their respective purposes.
Do you sell a mattress ticket holder?
Yes, if you are a homeware or mattress retailer, our Bed Poster Holder makes an ideal mattress ticket holder to display posters and product information on bedding displays.