Table talkers
What can I use table talkers for?
Table talkers (also known as table tents) are multi-faced displays that are designed to sit in the centre of tables and display your business's menus, promotions and other information that is important to customers. They are very popular within the food and drinks industry, as well as also being useful in welcome areas within hotels and other hospitality businesses. Our multi-faced menu and poster holders are very popular in the leisure and beauty industries, such as for displaying prices and promotions in hairdressers.
What can a table tent do for my business?
Table tents are a cost effective way to showcase smaller pieces of information, such as specials on your menu, drinks menus or simply promotional offers, such as 2-for-1 deals and happy hour times. The multi-faced display means that one of the sides of the talker will be facing your customers at all times, no matter where they are sitting.
Do you also stock menu folders to display alongside my table talker?
Yes, we stock a wide range of menu folders in many styles, ranging from wipe down plastic folders up to faux leather luxury menu covers. Display on your tables alongside your table talker in order to give your customers a full overview of your offers and menus.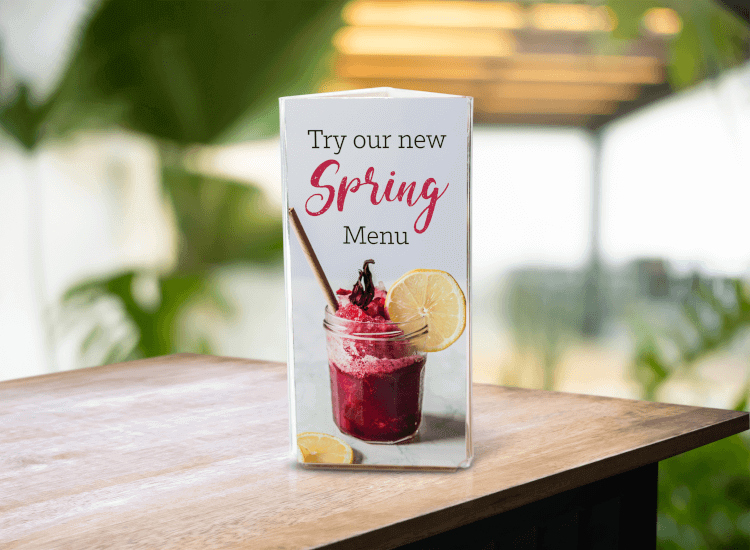 What are table talkers made out of?
Our Flat Pack Menu Holders are made using flexible PVC and are ideal for travelling businesses and pop up shops, as their lightweight PVC design is suitable to be flat packed. Our other sign holders are made using 2mm Supervue acrylic, which is impact resistant and sturdy, offering great protection for your displays. We even have an LED backlit table talker, which gives your menus a soft glow to attract attention.
How big are the table talkers?
We stock table talkers of many shapes and size, which are able to hold paper sizes of 1/3 A4 (a third of A4), A5 and A6.