Shelf edge sign fixings and shelf sign holders
Why use Shelf Edge Sign and Ticket Fixings?
Clearly displaying labels containing important pricing or product information on shop shelf signs is a consistently effective way of attracting customers to specific areas or promotions. Whether you require a ticket holder that can be fixed to a datastrip, a promotional sign holder or even a Supergrip wire basket sign holder, you will find them all here at UK POS within our selection of fixings for shop shelf signs.
How do I use the shelf edge sign fixings?
Our plastic shelf sign holders, clips, hooks and fixings are designed to easily slot into the data strip at your shelf edge. We also supply wire basket sign holders which slot easily over the top of the wire, to grip whichever sign you choose to hang.
Additionally, our SuperGrip Card Holders are shelf sign clips designed with an adhesive backing so you can securely attach an upright sign wherever you choose.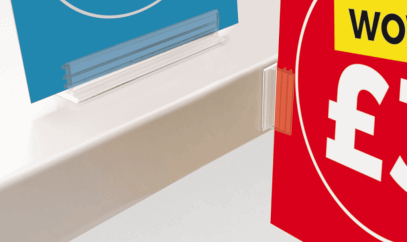 Retail shelf sign holders and shelf sign clips grip your shop shelf signs for an easy shelf promotion display.
Are the shelf sign clips supplied with signs?
The shelf sign clips available are supplied on their own, and designed for use with your existing pre-printed signs. They tend to be supplied in bulk packs of 100, providing maximum convenience and value for retailers.