Roller Banners
What are roller banners?
Roller banners are portable stands that are used to display vertical graphics at indoor exhibitions, conferences and events. They're lightweight and easy to assemble and can be set up in just a few seconds.
How do the roll up banners work?
Our roll up banners include aluminium frames, a stand and an optional flexible banner made from PVC which rolls into the housing. When you reach the venue, simply open up the legs, extend the supporting arm, pull up the banner and clip it in place.
Which roll up banner is right for me?
Whatever your budget, with a selection of both high quality and cheap stand up banner stands, UK POS has you covered. We stock budget banners for a quick and temporary banner display solution, and these are ideal for small budgets and one-off events. Alternatively, our premium banners and premium roller banner stands have a superior, high-quality construction that will represent your business in the best light.
What's the transparent roller banner for?
A transparent roller banner is a quick, easy and low-cost way to erect a hygiene barrier anywhere, at any time. This retractable hygiene screen is supplied with a convenient bag for transportation, and it's even available to be printed with your bespoke company branding.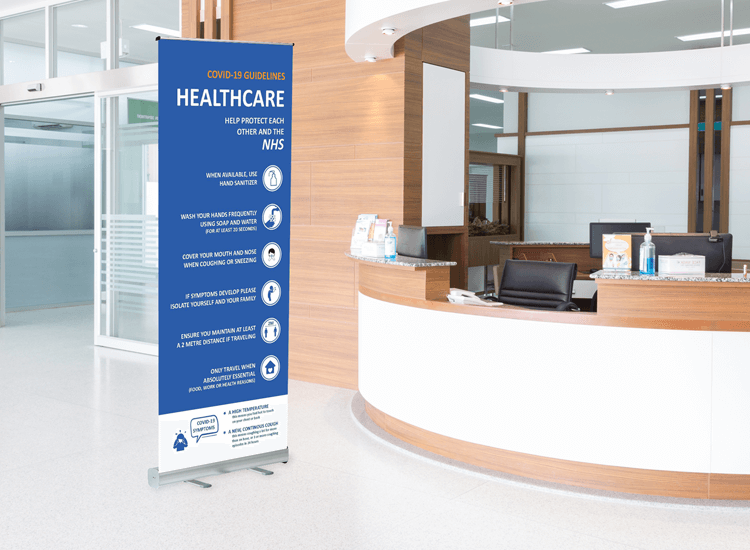 Roller banners are great for displays in entrances, to assist with both marketing and wayfinding.
Do you supply outdoor roller banners?
Most roll up banners are designed for indoor use as they may blow over in strong winds, however we do also supply outdoor banners. They're ideal for outdoor use due to their heavy duty frame with water base, and tear-resistant banner material. A high-quality pop up banner is sturdy, eye-catching, and available with bespoke outdoor banner printing service.