Menu holders and menu covers buying guide
Menu displays are an essential tool for keeping your establishment looking neat, tidy and professional. Restaurant menu holders make it easier for your customers to see all the information they need at a glance.
They are the perfect style for promoting offers next to your till, for holding directional signs or holding your choice of showcard.
There will are menu displays to suit your business style, whether it's an Acrylic Showcard Holder, a wooden menu base or a stainless steel holder base that you need.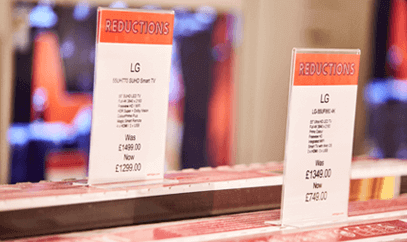 Menu covers are a versatile addition to your company.
Faux leather menu covers

LED menu holders and power bank menus
Floor standing menu holders
Freestanding menu bases for tables
How to buy menu holders
What are menu folders and holders?
Menu holders and menu covers are usually used by restaurants, bars or cafes to display their food, drinks or promotions. Placed on the customer table, bar top or by the till, they are a great way of letting your customers know what you have available and at what price. Find more information on POS for restaurants and bars in our handy guide. Menu holders can double up as promotional sign holders, making them a versatile addition to your business. Acrylic menu holders are often double sided, with some having up to six display faces, so you can really make the most of the advertising space on offer.
What menu displays are best for my business?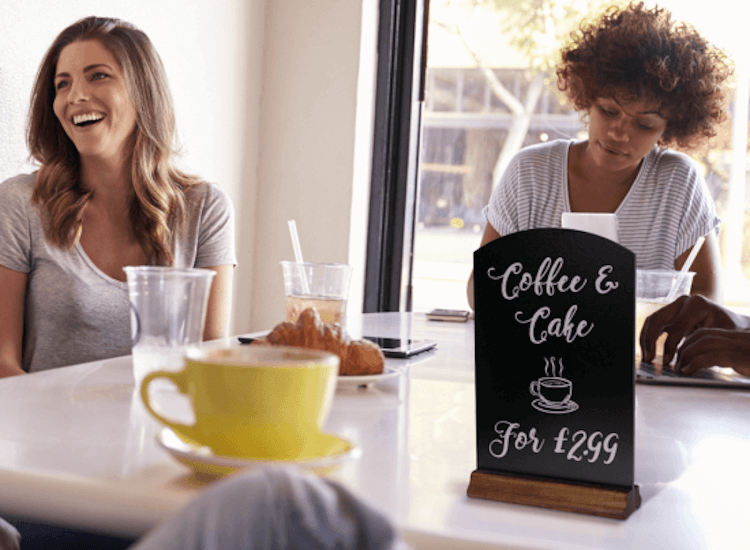 When choosing a display method, you may wish to consider whether or not you want your customer to be able to remove the menu from the holder or not. Holders from which the menu cannot be removed are often a good choice if you wish to keep everything neat, tidy and minimalist.
The majority of menu covers and holders are designed to be used on countertops, as this is where the customer is most likely to see them and can access them easily at all times. If you are looking for something a little different to display your specials or promotions, wall mounted chalkboards and menu cases are a great alternative to the traditional menu holder, as are menu stands.
Why use a menu stand?
We have many products which can be used for displaying your menu on a stand. A low cost option for this would be to use a showcard stand or freestanding snap frame. These are handy for when you have a queuing systems, as they allow customers to take note of offers and deals while they wait.
For a more robust and eye catching menu that can be used outdoors, restaurants can make use of a freestanding or wall mounted menu display, such as our LED menu display stands and our illuminated menu display case. With a stylish, high end appearance, these menu stands are ideal for use outside your business to showcase your menu and offers and attracting passing custom, even at night.
Does my business need a menu display?
If you are not in the hospitality industry, don't be put off by the name. Our holders have a great variety of uses and can be adapted to suit almost any business. For example, does your spa or café have a great offer on at the moment? If the answer is yes, you may wish to use a tabletop chalkboard or holder base to advertise this offer and let your customers know.
What types of holder do you supply?
They can be manufactured in Perspex acrylic, styrene, wood, faux leather or stainless steel, depending on what look you are going for.
Acrylic holders create a clear display that is easy to clean. Plastic holders are a really affordable and efficient way to tidy up your business, whether you are using it for a menu or not. Chalkboard and wooden sign holders are great for the more rustic business and can be used either countertop or wall mounted, depending on your needs.
Chalkboards are also ideal if you would need to update the menu often, as they can be cleaned and changed in minutes. Stainless steel sign holders are a more durable option that will help to protect your card or menu a little more than an acrylic option. These could also double up as table number holders, or used with stickers or engraving.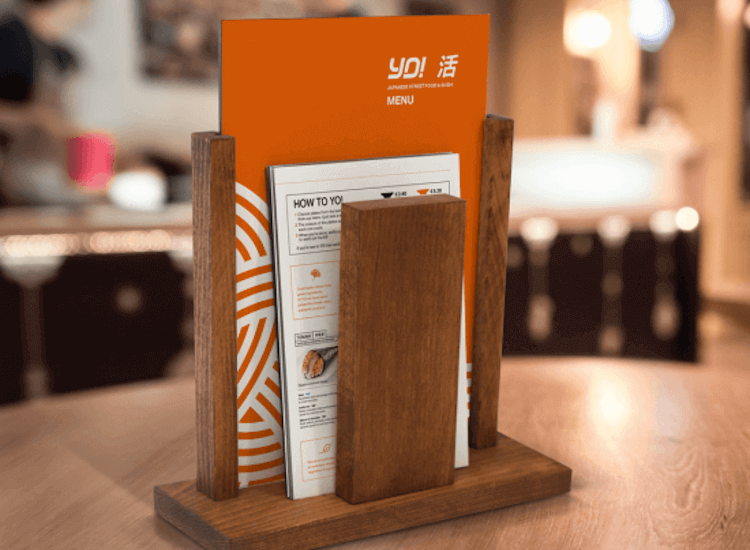 Luxury menu covers
As well as wooden and acrylic blocks, faux leather menu covers and menu lectern stands, we also have a great range of LED and power bank menu displays. You can even give customers the ability to charge their devices while they eat or drink, or create a soft glow around your menus using LED backlit menu covers. These products add a luxurious, premium feel to your cafe, bar or restaurant.
Can you supply bespoke menu displays?
Yes, you can request for our menu covers to be custom made with your company name or logo right here in the UK, simply contact us to discuss requirements.