Menu holders buying guide
Menu Holders are an essential tool for keeping your establishment looking neat, tidy and professional. They make it easier for your customer to see all the information they need at a glance.
They are the perfect style for promoting offers next to your till, for holding directional signs or holding your choice of showcard.
There will be a Menu Holder to suit your business style, whether it's an Acrylic Showcard Holder, a Wooden Menu Base or a Stainless Steel Menu Holder you need.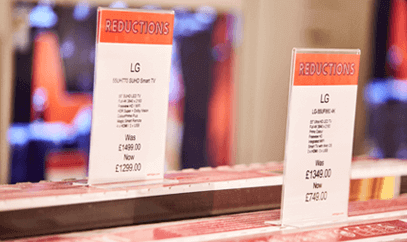 Menu Holders are a versatile addition to your company.
What are Menu Holders?
Menu Holders are stands usually used by restaurants, bars or cafes to display their food, drinks of promotions. Placed on the customer table, bar top or by the till, they are a great way of letting your customers know what you have available and at what price.
Menu Holders can double up as wine list holders, showcard stands or promotional stands, making them a versatile addition to your business. They are also usually double sided, with some having up to six display faces, meaning you can really make the most of the advertising display on offer.
Why do I need a Menu Stand?
If you are in the food or drink business, introducing a Menu Stand will help keep everything tidy. It is easy for your staff to put the menus or showcard back into place if the customer has moved them.
Likewise, having your literature displayed in a purpose built stand will encourage your customers to put the menu back where they got it from, keeping everywhere neat.
If you are not in the food industry, do not be put off by the name. A Menu Holder has a great variety of uses and can be adapted to suit almost any business. Menu Holders can hold a variety of materials from paper, card, wood or acrylic, so you can display almost anything in them.
For example, does your spa have a great offer on at the moment? Then place your double sided showcard into an Acrylic Menu Holder by the reception to let people know.
Are all Menu Holders for table tops?
The majority of Menu Holders are designed to be used on countertops, as this is where the customer is most likely to see them and can access them easily at all times.
However, if you are looking for something a little different to display your specials or promotions, wall mounted chalkboards and notice boards are a great alternative to the traditional Menu Holder.
If you have a queue system, their are also freestanding Poster Menu Boards, which are great for queuing customers to browse your menu or offers whilst they wait.
What style of Menu Holder is best for me?
Menu Holders can be manufactured in acrylic, perspex, wood or stainless steel, dependent on what look you are going for.
Acrylic or Perspex Menu Holders create a clear display that can usually be customised with your company name, brand or logo. Plastic Menu Holders are a really affordable and efficient way to tidy up your business, whether you are using it for a menu or not.
Chalkboard and Wooden Menu Holders are great for the more rustic business and can be both countertop or wall mounted, dependant on your needs. Chalkboards are also ideal if you would need to update the menu often as it can be cleaned and changed in minutes.
Stainless Steel Menu Holders are a more durable option that will help to protect your card or menu a little more than an acrylic option. These could also double up as table numbers with stickers or engraving.