Create Effective Summer POS Displays Using Outdoor Signage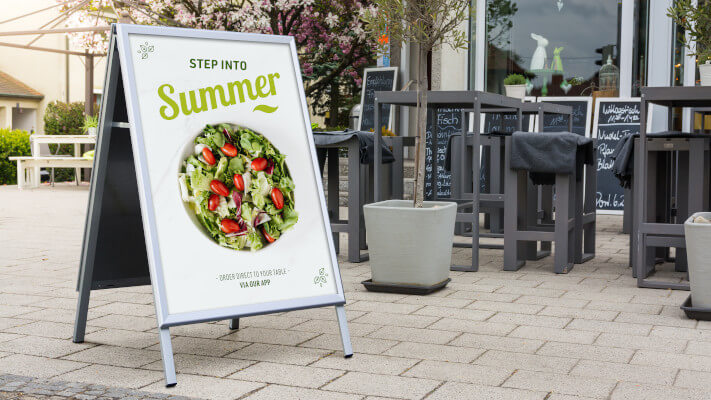 Summer means that more and more people will be spending time outdoors and enjoying any glimpse of sunshine that the UK climate grants them. Retailers and hospitality business owners should take advantage of this increased footfall by utilising outdoor signage to turn passersby into paying customers.
What are the most popular types of outdoor signage?
When you think of outdoor signage, your mind may instantly go to large-format billboards advertising big brands, but there are a multitude of other outdoor display types that are suitable for any type of business.
The type of signage you use will depend on the type of business you own. Restaurants, cafes and bars will obviously benefit more from using menu boards and cafe barriers than retailers will, for example. Even if you are already using outdoor signage, simply refreshing your signs and graphics has been proven to give businesses a boost.
A 2012 study carried out by the University of Cincinnati found that roughly 60% of businesses saw an average increase of about 10% on their sales, number of transactions and profits, after changing the design or enhancing the visibility of their signage [3].
Best outdoor signs for retailers
Pavement signs are perhaps the most cost-effective and important part of your outdoor advertising toolkit. Place them near your store entrance to catch the attention of passersby, and to display your most enticing offers. A large selection of our pavement signs can also be branded, so your company's logo is on show to boost your brand recognition.
Best outdoor signage for bars, restaurants and cafes
Pavement signs are also an absolutely key part of outdoor advertising for hospitality businesses, as they can clearly display highlights from your menu, special offers, and even simply to display friendly, welcoming messages to potential customers. Our range of chalkboards and swing signs are ideal for hospitality businesses. The chalkboard signs are able to be updated quickly and easily by hand, removing the need to print out new graphics each time you want to refresh your display.
We stock pavement signs and tabletop signs that feature chalkboards, so you can use them to attract passersby as well to display promotions on tables to your paying customers who are eating or drinking al fresco in the warm weather.
LED signs are great for hospitality businesses, which unlike most retail businesses, continue to operate after the sun goes down as that is when the majority of their transactions take place. Our LED pavement sign is perfect for bars and pubs to display their special offers, especially in areas with a lot of competition, as the soft glow of your displays will help you stand out on a busy street.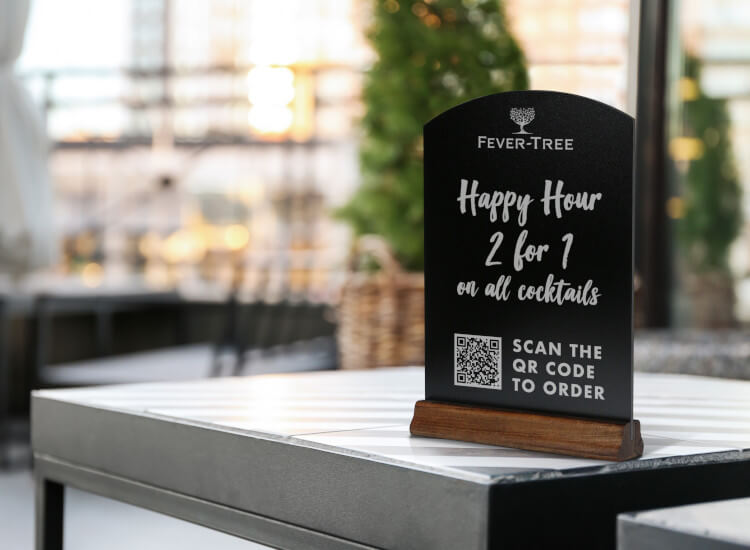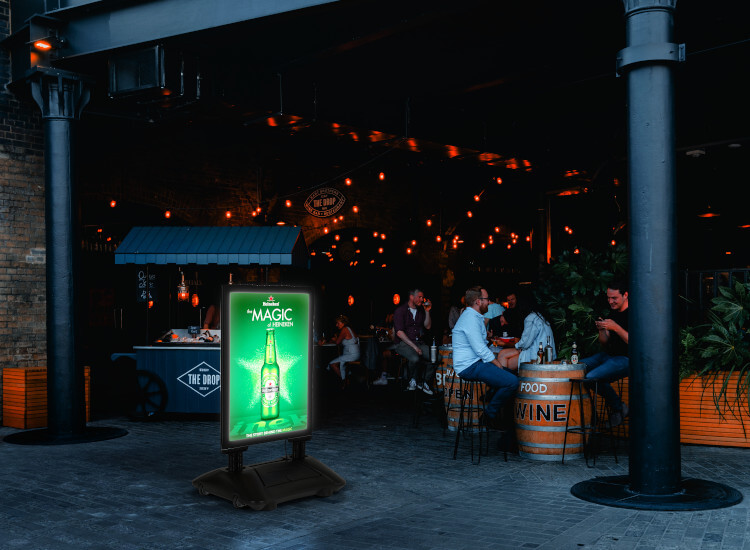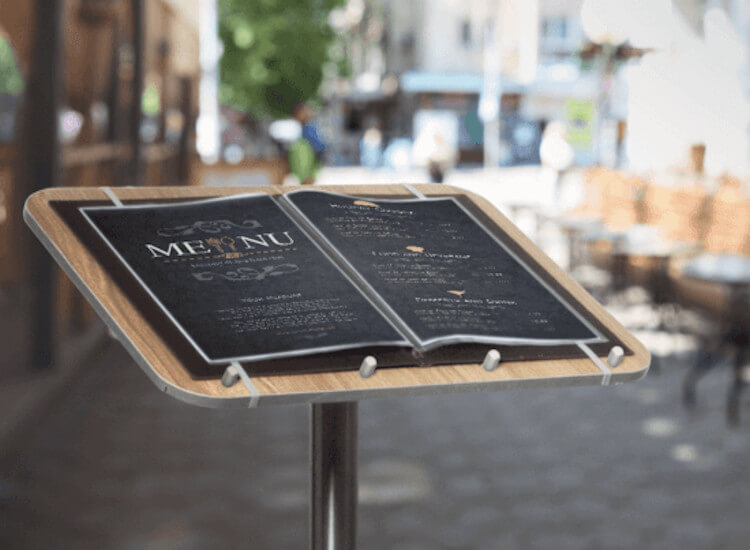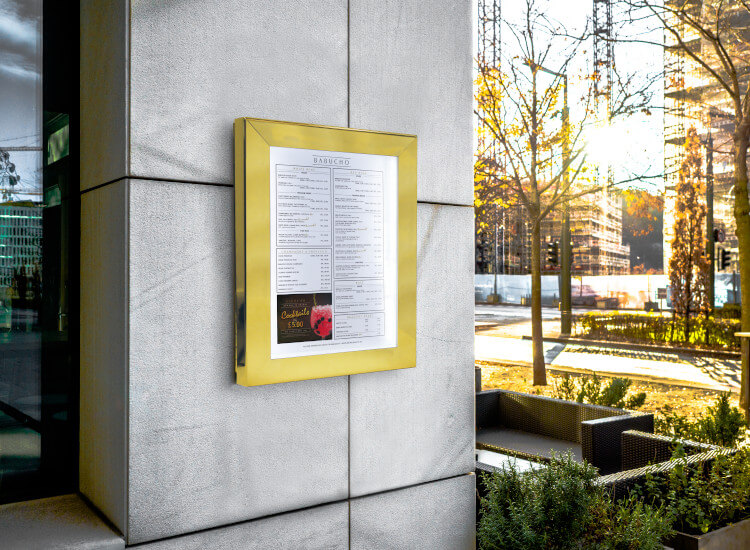 Many restaurants will want to display their full menu to passersby in order to create a desire for their food from potential customers. Menu stands are ideal for displaying menu books to customers as they queue outside for a table. Many of our stands have space to also store your tabletop menus, which you can give to the customer to take to their tables.
Alternatively, menu boards and poster cases are great for drawing attention to your menus from passersby as they decide where they want to eat, so place them on your walls in areas that have a lot of footfall. Our outdoor poster cases are lockable to prevent vandalism.
Finally, cafe banners are not only great for displaying promotions towards the street, they can also be used to manage queues outside your business.
View

PBB-SET

Despatched in 5-7 working days

View
Best outside signs for business and offices
Although offices and corporate business settings are not necessarily aiming to encourage passersby inside, they will still need signs outdoors for helping visitors find the right building, or to boost brand recognition.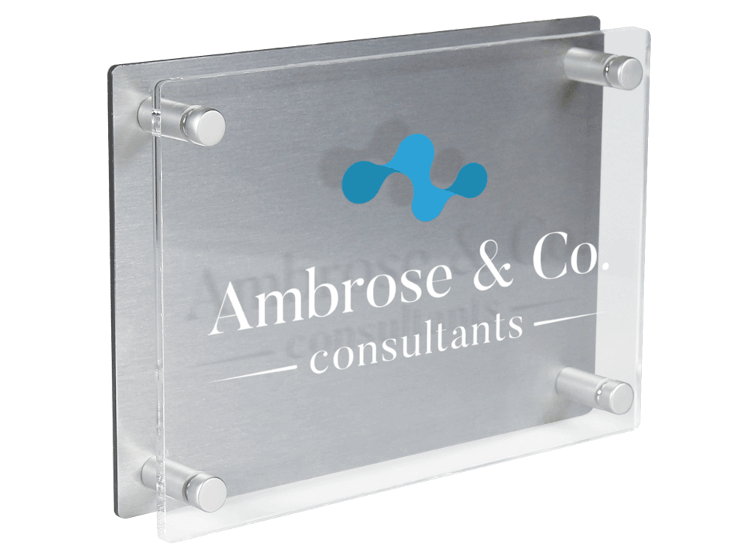 Standoff signs are often used by businesses to convey a professional style, as these acrylic panels can be branded with the logo or text of your choice. They are often used on doors and walls indoors to display room names and directions, but some signs are able to be used on outside walls in order to display the building's or company's name.
Tips for designing effective outdoor graphics
Now you know what types of outdoor signs are best for your business, you need to make sure that your graphics are maximising your chances of engagement, and increasing the likelihood that passersby will enter your establishment.
Legibility: Perhaps the most important thing is legibility, as customers must be able to clearly see and read your messages. Make sure your font is clear (ideally sans serif) and is large enough to be seen from a distance.
Use a simple colour scheme: Using too many colours can make it more difficult for customers to decipher your message. Stick to just three colours if you can, with two being even better!
Have a clear call-to-action: You must be clear about what you want your sign to achieve, and what message you want passersby to act upon. Choose a short, snappy sentence such as 'SHOP NOW', 'SIGN UP' or 'AVAILABLE IN STORE TODAY', to guide customers to achieve your goal.
Choose the right size: It is essential that your signs are big enough, especially ones that you want to be read from the roadside. Luckily, UK POS offers large format printing for banners and posters to complete your outdoor signage.
Lastly, you must consider where to place your signage. It must be at the correct height for the majority of the people passing by and be placed in areas where you are guaranteed consistent footfall.
"38% of large companies with multiple locations identified branding/image as the most important purpose of effective signage, while small firms and single establishments perceived signs to be most important for making their business stand out and for helping customers find their location. "- Signage Foundation [3].
What is the future of outdoor signage?
As with many industries, the future of outdoor signage looks to be going more and more digital. It is predicted that smart, intuitive displays are going to be rapidly adopted by marketers in upcoming years, in an aim to connect with customers better. Experts predict that these displays will become more intuitive to adapt to temperature, sunlight and even customers' moods.
However, you can never go wrong with continuing to use tried-and-tested outdoor POS materials which will always be available here at UK POS, alongside our innovative digital displays.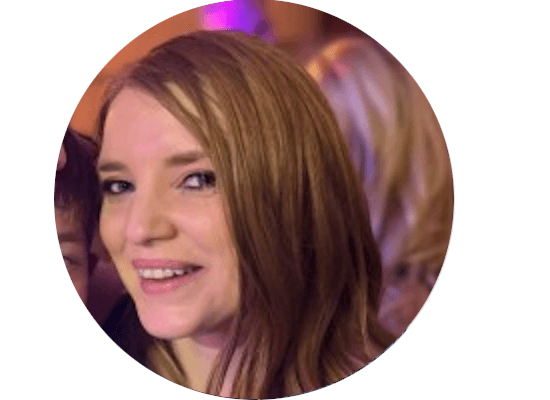 Alysha Bennett
Alysha is a copywriter at UK POS, with experience working in B2B and B2C companies, as well as with charities. She has been researching consumer and retail trends to assist retailers in implementing effective point of sale materials into their own businesses for eight years.
References
1. Diane Williams, 'The Arbitron National In-Car Study' (2009), Arbitron, p.14, https://www.arbitron.com/outdoor_companies/OAAA2011/ARB_In-car_Study_2009.pdf [accessed March 2022].
2. A. Guttmann, 'Out-of-home advertising spending growth in the United Kingdom (UK) from 2017 to 2022', (May 2021), Statista, https://www.statista.com/statistics/294079/outdoor-ad-spend-year-on-year-growth-uk/ [accessed March 2022].
3. Economics Center, University of Cincinnati, 'The Economic Value of On-Premise Signage', (August 2012), Signage Foundation, Inc, https://www.thesignagefoundation.org/Portals/0/EVOSFINALAugust2012.pdf [accessed March 2022].