Back to the office social distancing solutions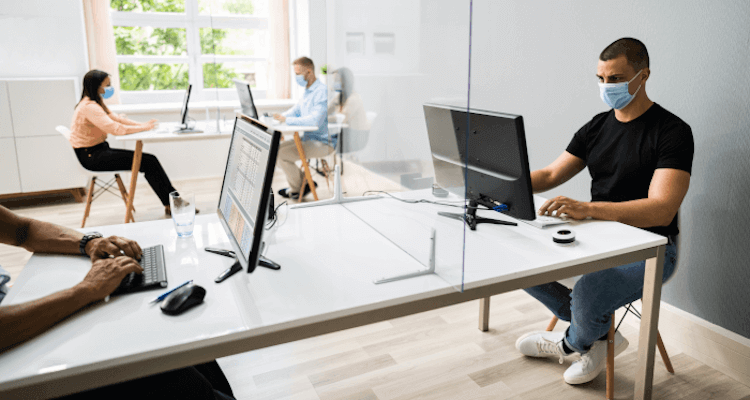 First published in September 2020 - some information may now be out of date
The retail and hospitality industries have had to adapt fairly quickly to the coronavirus pandemic in order to keep staff and customers safe, but now offices are having to get themselves back up to speed as workers slowly make the transition from furlough or working from home, back to the office environment.
How can you keep your employees safe as they begin to spend many hours a day indoors with more and more people? Although many companies may choose to keep staff working from home for longer, or create a rota system for the office to ensure that there is sufficient space inside to accommodate social distancing in the workplace, you still need to make sure that everybody who chooses to work from the office feels safe doing so.
Here we will present a number of measures you can implement in your COVID back to work plan to keep your employees and their families safe during the COVID-19 pandemic.
Social distancing screens for offices
Implement a clear wayfinding system using signs for offices
Your employees must be aware of your hygiene and social distancing measures as soon as they step back through the door of the building.
Use your reception area to display clear signage which provides all the information employees need to stay safe while at work. Roller banners are a great way to grab attention and provide plenty of space for your messages.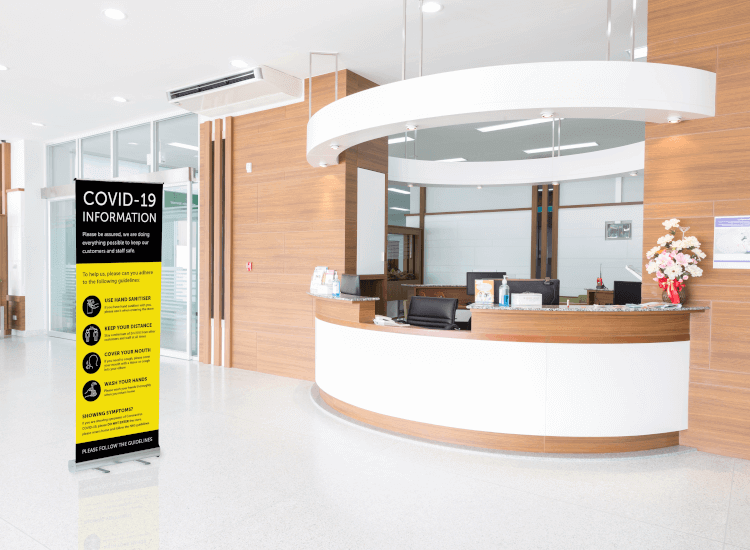 You can also use sign holders such as snap frames and pavement signs to ensure that everyone sees your messages before they enter the wider office and start interacting with colleagues. Wayfinding signage is essential to helping employees navigate around the office building in a way that avoids unnecessary contact with others. This type of signage comes in many forms, from floor stickers to queue barriers.
From:

Was: £3.78

Special Price £1.39

ex. VAT
Protective equipment and other social distancing solutions for offices
Once you have established your wayfinding strategy and put up the required signage for this, you need to focus on implementing hygiene measures. We have all become accustomed to wearing a mask or face shield when indoors, whether we're shopping or getting our hair cut. However, it might not be feasible to ask your employees to wear masks for around eight hours a day, so you will need to ensure that there are plenty of other mitigation strategies in place to keep everybody safe.
'[O]ther measures [hand washing and social distancing] remain the best ways of managing risk in the workplace and government would therefore not expect to see employers relying on face coverings as risk management for the purpose of their health and safety assessments.'- Department for Business, Energy & Industrial Strategy [1].
Hand hygiene is critical to preventing the spread of coronaviruses. Studies have shown that if we wash our hands at least six times a day, the risk of catching COVID-19 reduces by a third [2]. Place hand sanitising stations at key areas around the office to encourage your colleagues to maintain good hygiene. They should be placed in areas which are high risk from contamination, including entrance ways, toilets and kitchens.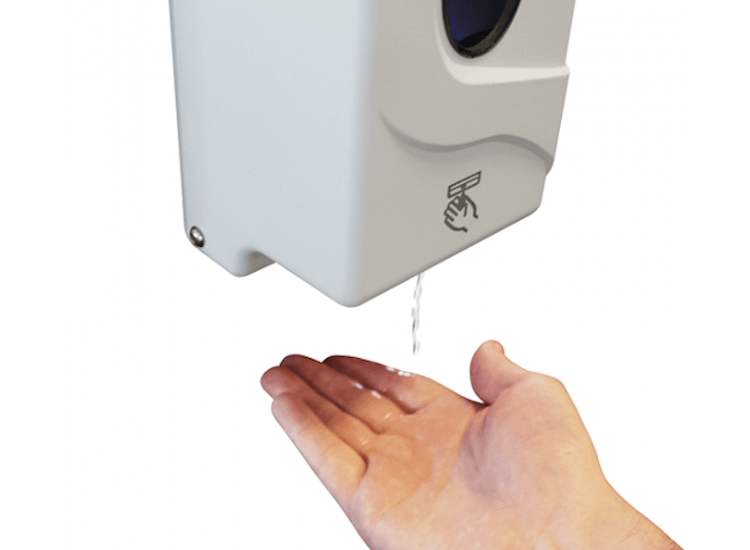 Office hygiene supplies
From:

Was: £26.00

Special Price £22.00

ex. VAT

From:

Was: £15.90

Special Price £14.40

ex. VAT

From:

Was: £348.00

Special Price £295.00

ex. VAT

From:

Was: £119.00

Special Price £92.76

ex. VAT
UK POS has a wide range of office hygiene supplies such as hand sanitiser units, with options for counter standing, freestanding and wall mounted fixings. Some of our dispensers are available with custom branding, so you can personalise messages to your staff and visitors.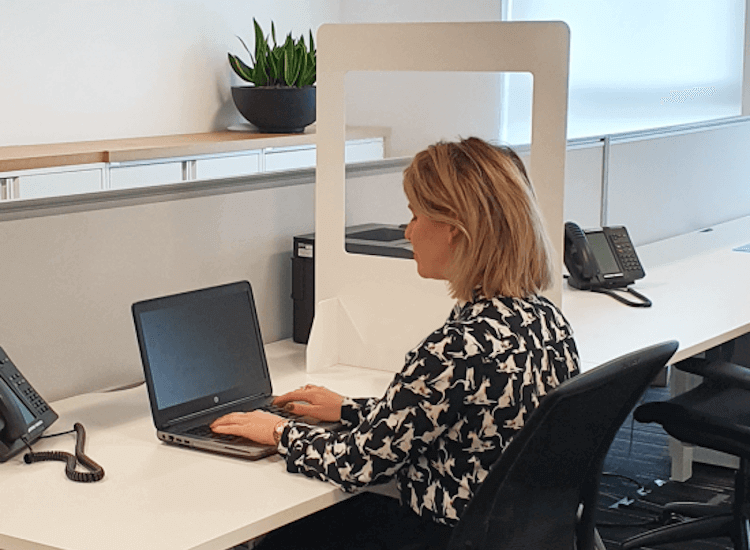 With face masks not always a viable long term option, social distancing screens for offices can provide a safe barrier between staff sat close to each other. These opaque or clear desk dividers form a physical barrier between colleagues at a desk to prevent the spread of a virus in aerosol droplets emitted in coughs, sneezes or simply breathing. They can be used when team members are sat opposite or next to each other.
When team members need to interact with each other at a closer proximity than 2 metres, you will need to ensure that they are wearing face masks or shields.
Please note that this information was correct at the time of publication. We recommend checking gov.uk to ensure the guidance you use is up to date.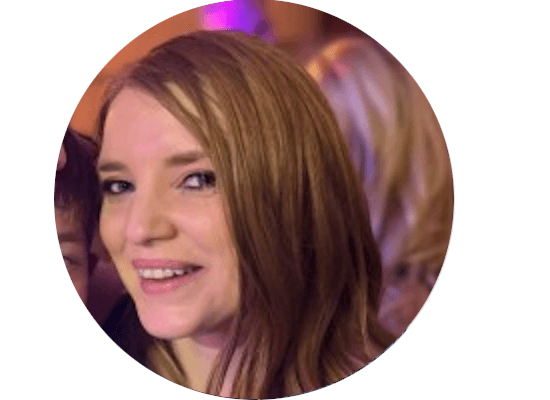 Alysha Bennett
Alysha is a copywriter at UK POS, with experience working in B2B and B2C companies, as well as with charities. She has been curating consumer and retail trends to assist retailers in implementing effective point of sale materials into their own businesses for over five years.
References
1. Department for Business, Energy & Industrial Strategy, 'Working safely during coronavirus (COVID 19)' (May 2020), https://www.gov.uk/guidance/working-safely-during-coronavirus-covid-19/offices-and-contact-centres#offices-3-1 [accessed September 2020].
2. Laura Donnelly, 'Washing your hands more than six times a day cuts coronavirus risk by a third, study finds',The Telegraph (May 2020), https://www.telegraph.co.uk/news/2020/05/19/washing-hands-six-times-day-cuts-coronavirus-risk-third-study/ [accessed September 2020].