How to reopen gyms and leisure centres safely when lockdown lifts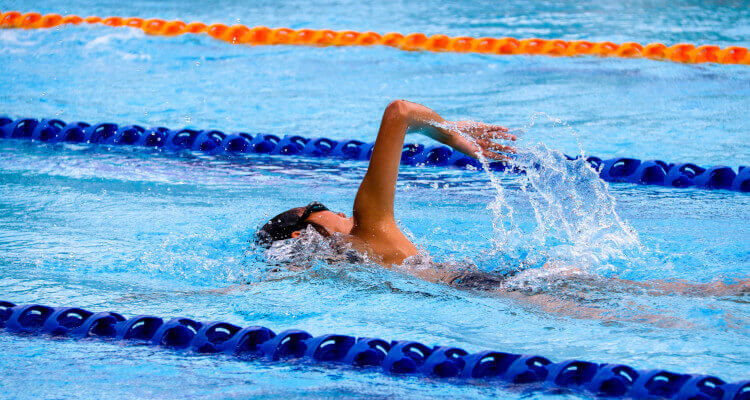 The announcement that indoor gyms, pools and leisure centres may be allowed to reopen again in April [1] has been met with relief from industry leaders and fitness fanatics alike. Indeed, many say that the safe reopening of these venues is essential to public health [2]. In an article arguing for the reopening of swimming pools in 2020, we were reminded of the research from Swim England which revealed that 'swimming saves the NHS around £357m per year by improving the health and wellbeing of the nation' [3].
Despite the obvious importance of this sector, many have expressed concerns that the sports and leisure industry in the UK might not bounce back following the impact of the coronavirus pandemic. Reasons cited for this range from the public feeling unsafe inside sports venues and around other people, to the rise in people finding new ways to exercise while gyms and swimming pools haven't been open [4].
Nevertheless, Sport England's weekly survey found that '84% of gym or leisure centre members say they're likely to resume their membership when facilities reopen', with 69% saying they're looking forward to resuming their previous sport, exercise or physical activities, with gym work and swimming being mentioned the most (Sport England, 2020).
This suggests that the nation's leisure centres could soon be fighting fit, as long as they follow health and safety guidelines.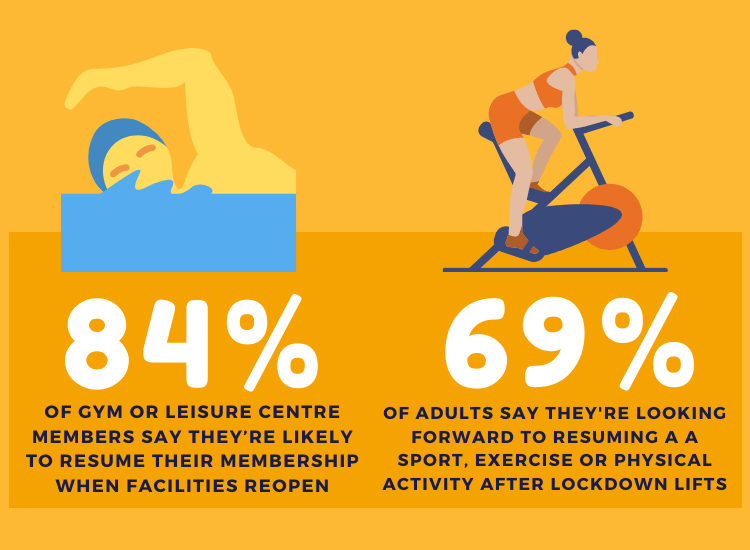 Sport England's weekly survey found that a majority are keen to return to facilities.
So how can the owners of gyms and leisure centres best prepare themselves for reopening after lockdown lifts? Here, we provide advice and resources on how you can plan and kit out your business to prepare for the new normal in leisure and sport.
Before you even think about opening your doors to the public, make sure you carry out a thorough risk assessment in line with the government guidance for your sector [5].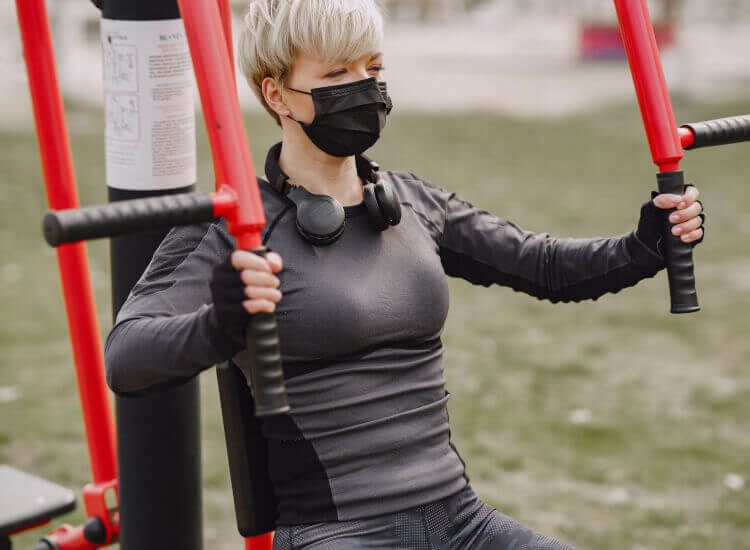 Important things to check include good ventilation, and clean water, particularly in areas that have been closed for long periods of time. Operate ventilation systems 24 hours a day and ensure they access only 100% clean air. Run your water systems thoroughly to ensure they are rid of any potential legionella bacteria.
If you are able, open outdoor areas to allow more members to work out safely.
'Providing floor markings and signage should remind both workers and customers to follow to social distancing wherever possible'

- Department for Business, Energy & Industrial Strategy and Department for Digital, Culture, Media & Sport (2020)
The government guidelines also recommend providing 'clear guidance on social distancing and hygiene to people both before arrival and on arrival, for example, through signage and visual aids'. Use pre-printed pavement signs and wall signs outdoors, and a COVID-19 information banner in foyers to provide information and advice to customers before and as they enter. Social distancing floor mats and one-way floor signs can help remind visitors to adhere to guidelines, including in dance studios and swimming pools.
Invest in PPE for staff, such as shields, masks and gloves - especially for cleaners, who should be conducting frequent disinfection of equipment between uses. Consider asking your customers via email to wear a face covering when entering or exiting the building, to minimise risk in entrances and exits.
Resuscitation masks provide an extra barrier for lifeguards and first aiders, who ought to consult the Resuscitation Council UK's advice in regards to conducting CPR during the time of coronavirus [6].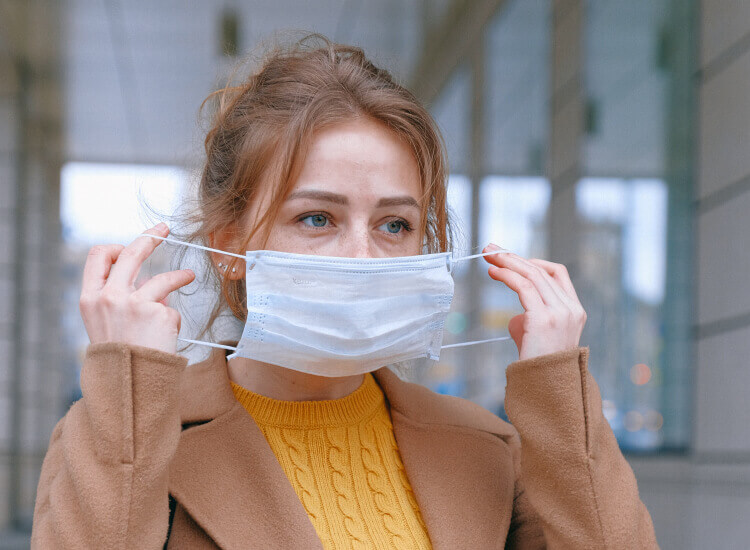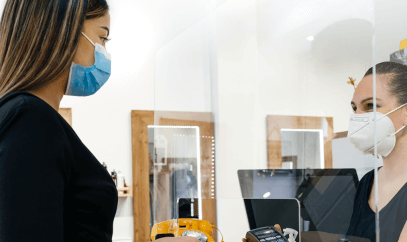 Venues with receptionists and greeting staff will benefit from using protective screens to provide a sneeze barrier for reception desks. This is also the case for leisure centres with retail outlets and food service areas.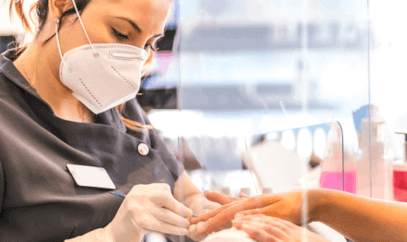 Sneeze screens for cashiers are also great for some beauty services, such as in nail bars or for hand massage, as they feature a cutout area at the bottom of the screen that staff can put their hands through to perform treatments.
Leisure facilities with food and retail areas should consult the government guidance for the retail and hospitality industries for more specific advice. Similarly, many gyms and leisure centres offer massage and physiotherapy, as well as salon grooming services. These are classed as 'close contact services' and there is specific guidance available for businesses who offer these services, as they are considered to carry a higher risk [7]. For all of these, however, the same guidance is true in terms of ensuring the maximum social distancing possible, with the use of signage and protective equipment wherever possible.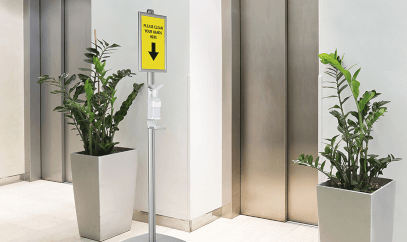 Install hygiene stations wherever possible, particularly near entrances and exits, to prevent the spread of infection between areas. Hand gel dispensers are available in freestanding and wallmounted versions, and our sanitiser bottles can be bought in bulk so that you don't run out. Use signage all around your hygiene stations to remind leisure centre members to clean their hands frequently, alongside your other health and safety reminders.
Additionally, you can use hazard tape on the floor around your gym equipment to mark out 'zones' for social distancing. Place floor standing clear screens or transparent banners between equipment to provide a hygienic barrier between visitors.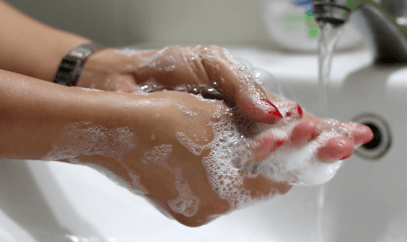 Consider hygiene precautions carefully around changing rooms, showers and toilets. These must always remain open and accessible, but encourage customers to change and shower at home where possible.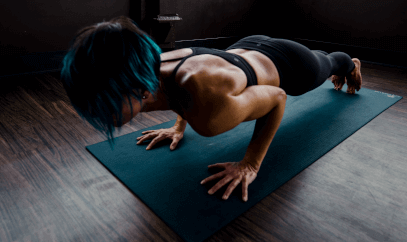 Once you have reopened, keep records of staff shift patterns for at least 21 days in case of future outbreaks, and share this data with the NHS Test and Trace Scheme where requested to protect your colleagues and customers [9].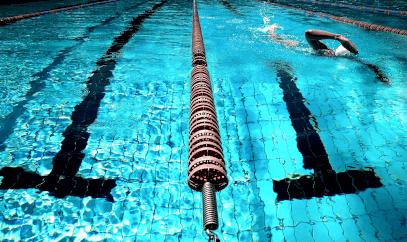 Due to the nature of sharing water with strangers, swimming pools are considered to carry an increased risk of transmission. Ensure all pools are regularly cleaned and adequately chlorinated, as well as limiting capacity.
As well as pavement signs, banners and floor signs, use snap frames to display information and reminder posters inside toilets and changing rooms, so that gym members are reminded of the guidelines when moving around your business.
Snap frames are a great choice for times like these, as they allow you to update any relevant information at a moments notice. As gyms and pools often feature glass windows, window stickers are also ideal as they can be used all around your business.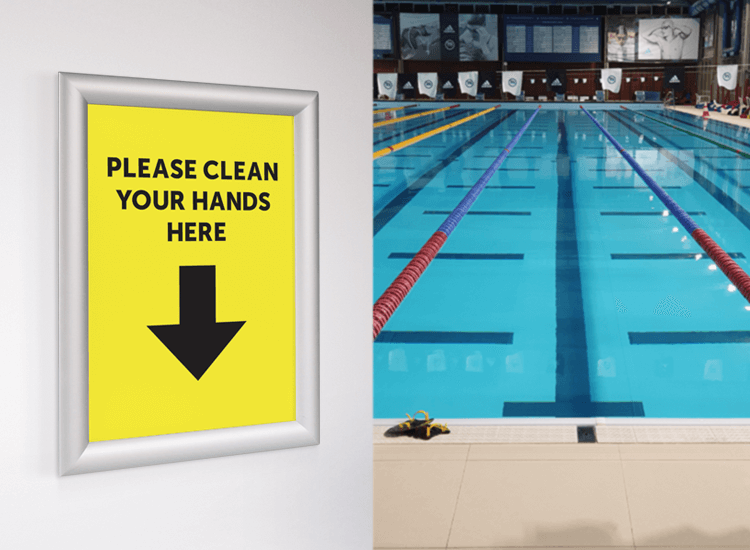 The nations' sport and leisure fans are ready to dive back in to swimming and exercise, under the provision that business owners keep the gyms and leisure centres clean and work out all current health and safety regulations.
As long as you remain up to date with government guidance, and communicate this clearly with your gym and leisure centre members and staff, your business should be able to continue running successfully. We hope that if we all continue to follow the social distancing guidelines as much as possible, the gym and leisure industry will soon be stronger than ever!
Please note that this information was correct at the time of publication. We recommend checking gov.uk to ensure the guidance you use is up to date.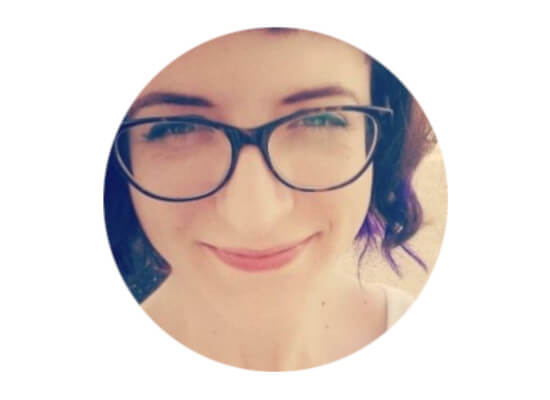 Kira Swales
Kira Swales is a copywriter for UK POS. With over six years' experience in e-commerce and copywriting, and many years in the retail sector, Kira loves to take a deep dive into topics in order to provide readers with the latest research in point of sale and merchandising. Read more of her in-depth guides on POS in our
Knowledge Hub
.
References
1. Cabinet Office, 'COVID-19 Response - Spring 2021' (22 Febrary 2021), https://www.gov.uk/government/publications/covid-19-response-spring-2021/covid-19-response-spring-2021 [accessed 4 March 2021].
2. 'Half of leisure centres could close, warns trade body', BBC News, 7 July 2020, https://www.bbc.co.uk/news/uk-politics-53323286 [accessed 15 July 2020].
3. Hope, Nick, 'Adam Peaty: Swimming pools should be reopened for mental and physical health', BBC News, 25 June 2020, https://www.bbc.co.uk/sport/swimming/53168531 [accessed 15 July 2020].
4. Sport England, 'Research into how the coronavirus crisis has affected people's activity levels and attitudes towards exercise' (2020), https://www.sportengland.org/know-your-audience/demographic-knowledge/coronavirus [last accessed 4 March 2021].
5. Department for Business, Energy & Industrial Strategy and Department for Digital, Culture, Media & Sport, 'Guidance for people who work in grassroots sport and gym/leisure facilities' (updated 10 February 2021), https://www.gov.uk/guidance/working-safely-during-coronavirus-covid-19/providers-of-grassroots-sport-and-gym-leisure-facilities [last accessed 4 March 2021].
6. Resuscitation Council UK, 'Resuscitation Council UK Statement on COVID-19 in relation to CPR and resuscitation in first aid and community settings' (updated 13 May 2020), https://www.resus.org.uk/covid-19-resources/covid-19-resources-general-public/resuscitation-council-uk-statement-covid-19 [accessed 15 July 2020].
7. Department for Business, Energy & Industrial Strategy and Department for Digital, Culture, Media & Sport, 'Guidance for people who provide close contact services' (Updated 10 July 2020), https://www.gov.uk/guidance/working-safely-during-coronavirus-covid-19/close-contact-services [accessed 15 July 2020].
8. Department of Health and Social Care, 'Maintaining records of staff, customers and visitors to support NHS Test and Trace' (2 July 2020), https://www.gov.uk/guidance/maintaining-records-of-staff-customers-and-visitors-to-support-nhs-test-and-trace [accessed 15 July 2020].