How to boost sales after the coronavirus lockdown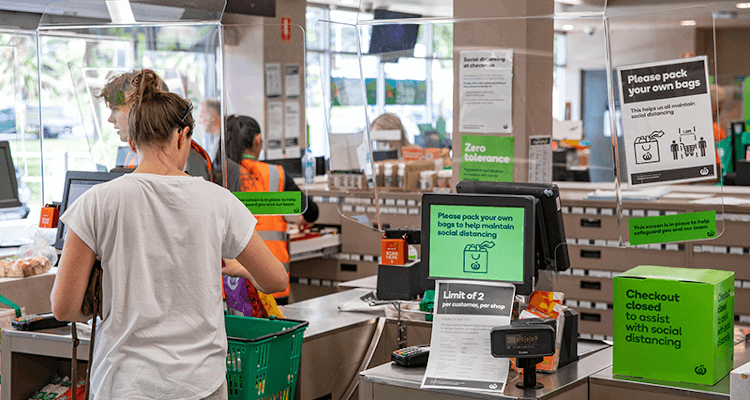 First published in July 2020 and updated in March 2021 - some information may now be out of date
Brick-and-mortar retailers are now slowly starting to reopen their doors as lockdown restrictions ease after a long period of government-enforced closures, which may have an impact on the footfall and revenue of stores as they reopen. Businesses have to continue to be mindful of social distancing and hygiene measures in order to increase customer confidence and encourage customers back onto the high street.
This will be a completely different retail environment to previous years, as bustling stores have been replaced with staggered entries, socially-distanced queuing systems, and the use of masks being mandatory. Consumer confidence in the high street has been shaken by the global COVID-19 pandemic. A survey in May 2020 showed that a large percentage of consumers were purchasing online at a higher rate during the health crisis [1]. In 2021, however, it has been predicted that retail footfall will rise by nearly 50% when lockdown ends [2].
As restrictions begin to lift and consumer demand inevitably grows, retailers have to ensure that both customers and staff are able to shop safely, and meet any apprehensions they may have with workable solutions. In this short guide, we will present suggestions on how you can boost sales in your retail store during these challenging times.
Make sure that your business is COVID-secure
Before starting to think about how to increase your sales after the period of lockdown, you need to make sure that your business is complying with current government guidelines.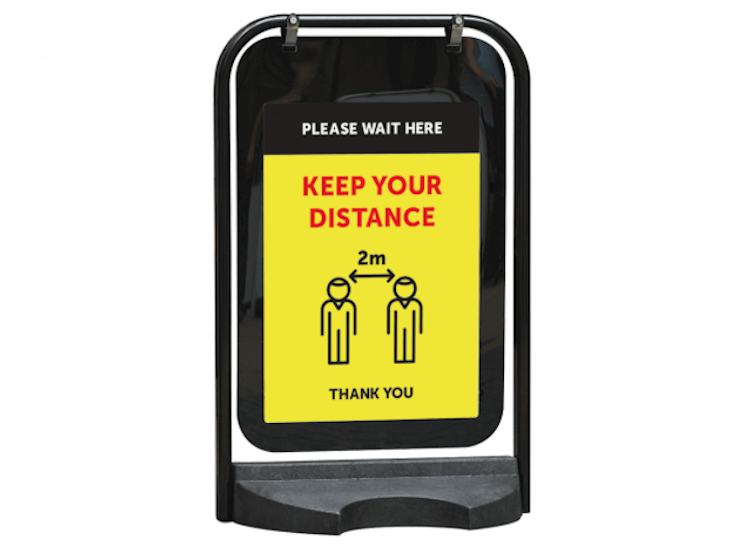 Use pavement signage to indicate to customers that you are open
Pavement signage is the easiest way to communicate to passers by that you are open for business. Outdoor signage is essential for letting the public know your opening hours and the guidelines that you are implementing in store. UK POS has a wide range of professionally designed posters with information surrounding the current government guidelines about COVID-19. These include hand washing instructions, social distancing signs, changing rooms closed signs, we are open signs and many more.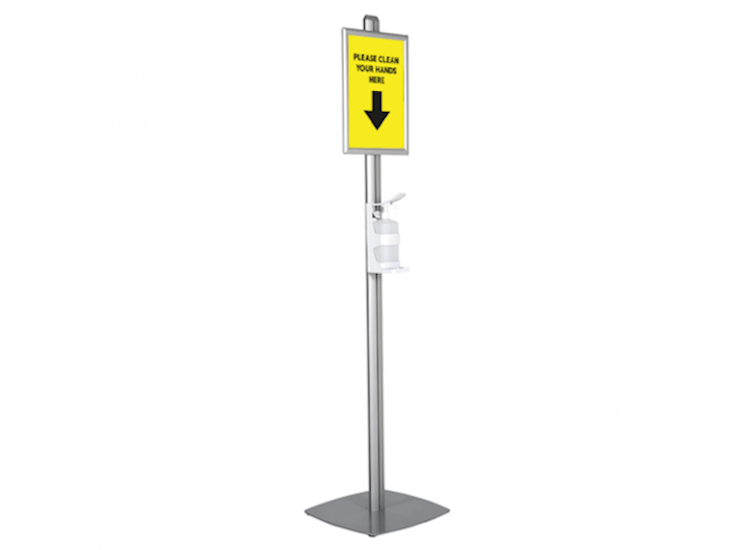 Encourage good hygiene practices from customers and staff
Once customers are in your store, you need to ensure that they are doing what they can to stop the spread of viruses in order to protect both other customers and your staff. The best way to do this is to place hand sanitiser stations situated at key points around the store, including the entrance and checkouts. Employees and customers need to wear protective masks by law (unless medically exempt), especially important if your store does not have enough room for keeping to the recommended two metre distance.
Use checkout sneeze screens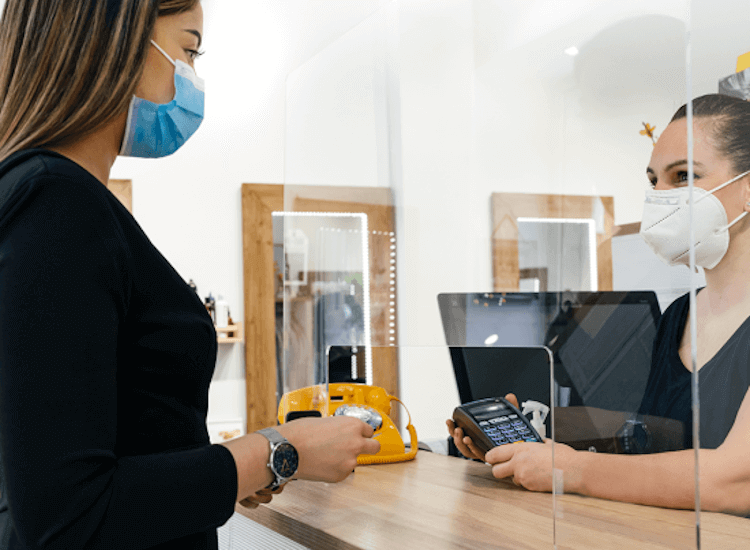 Using transparent sneeze screens at checkouts, and at any point where staff are interacting with customers at a help desk, puts both customers and staff at ease in the retail environment. When customers can see that your business is putting in the effort to keep them safe, they are put at ease and are likely to spend more time in your store. More time in store equals more time to make impulse purchases!
Take a look at our full in-depth guide to making your business COVID-secure.
From:

Was: £3.78

Special Price £1.39

ex. VAT

From:

Was: £67.86

Special Price £38.76

ex. VAT

From:

Was: £4.98

Special Price £1.95

ex. VAT
Creative ways to increase retail sales while operating under COVID-19 restrictions
While ensuring your business is COVID-secure is essential to the reopening of your retail stores, the shopping experience is now vastly different to how it used to be. This means that you need to rethink how you can use point of sale materials to increase sales and footfall, in a way which complements your store guidelines but also increases customer confidence.
Implement a one-in, one-out system to increase customer confidence
Every point of contact you and your staff have with the public needs to be set up to protect staff and customers alike. A one-in, one-out entry system is an easy way of making sure that customers are able to browse your store without the fear of getting too close to others. Bottlenecks forming at areas in your store can result in customers skipping past certain parts of your store, which in turn means that they are less likely to make an impulse purchase.
Ask your staff to make sure that there is adequate spacing between customers entering the store, even if that means that customers have to wait for a little longer outside.
This approach has the bonus of making customers feel relaxed enough to browse your shelves at their own pace once they are inside, without fear of ending up too close to other people.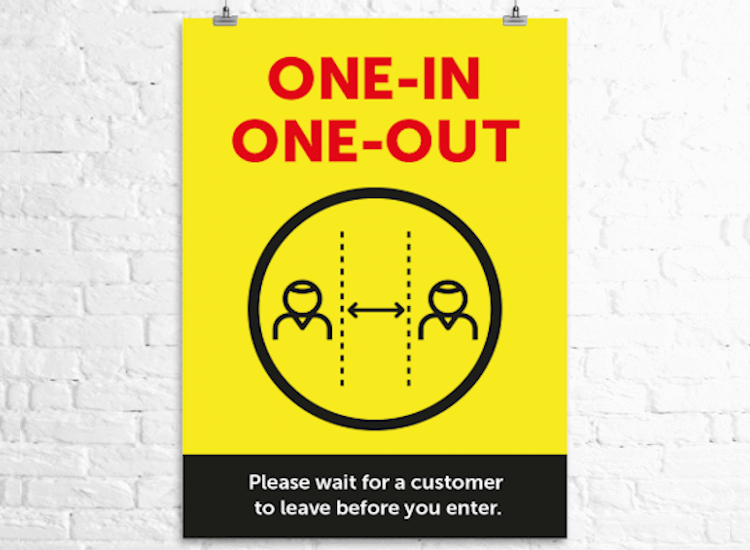 It may be a good idea to provide some entertainment to waiting customers in order to make the queue more enjoyable, such as playing music or providing signs along the queue for people to read where possible. For more information about how to make the queuing experience more enjoyable for customers, as well as more profitable for the business, take a look at our guide to the psychology of queueing.
Find new ways to encourage upsells and impulse buys
Impulse purchases are so important to retailers, as they can have a huge impact on the success of the business. Point of sale materials are almost entirely geared around trying to get browsing customers to make an unplanned purchase, whether that's through promotional offers or the way that the product itself is displayed in store. A study undertaken in July 2017 found that 22.9% of Brits made impulse purchases on a weekly basis, with an average of £31.46 being spent per in-store impulsive purchase [3].
Without point of sale materials, it is unlikely that the customer would have bought the extra items. However, socially-distanced shopping makes it harder for retailers to encourage impulse buys.
Many customers are now going to the shops with a specific purchase in mind, due to the added strain of having to queue for longer both inside and outside your shop. This presents a new challenge for retailers, who rely on impulse purchases for a large percentage of their takings. Now they must find new ways to grab interest, in both a hygienic and eye-catching way.
'The average Brit spends £144,000 on impulse purchases over their lifetime' [4].

- Astrid Hall, The Independent (2018).
So how can you effectively merchandise in the era of COVID-19?
The location of merchandising stands and point of sale materials have a huge impact on their overall effectiveness. Usually, you would place your sale items and promotional items in areas which have large footfalls. This however would now present a risk to your customers, as it would make it harder for them to socially distance from each other.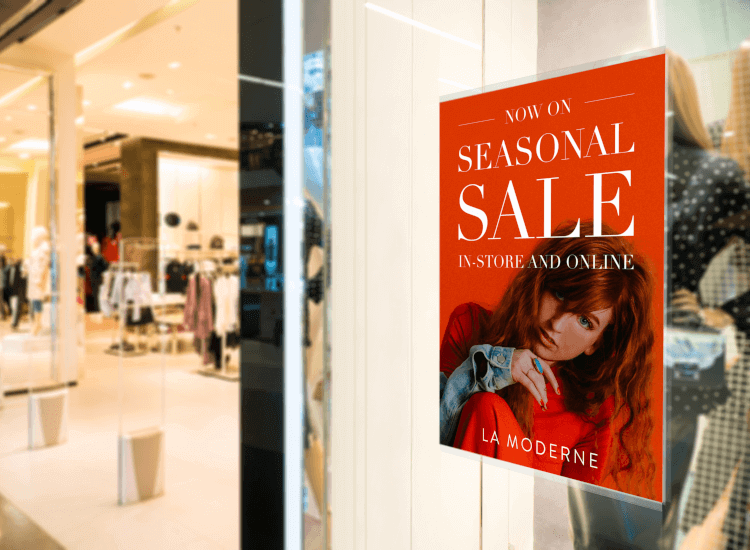 A solution to avoiding this type of situation is to use more cross-merchandising techniques within all areas of your store, in order to space out any customers hunting for a bargain. Aisle signs and end-caps have always proved to work well within larger stores, such as homeware and DIY stores. Smaller retailers, such as clothing stores and bookshops, may want to focus more on using the outside of their stores to advertise special offers.
This would allow customers to mentally add these promotional products to their shopping list before they even step into the shop, reducing the amount of time they may spend browsing, therefore preventing crowding inside the store. If you have window display space, consider using this to your full advantage to display offers instead of more creative product displays at this time.
In-store promotional signage
Promotions and special offers are crucial to kickstarting your business after the lockdown period, as they give customers a reason to enter your store and then make further purchases. There are many types of promotional signage that are perfect for use in shops while social distancing guidelines are in place.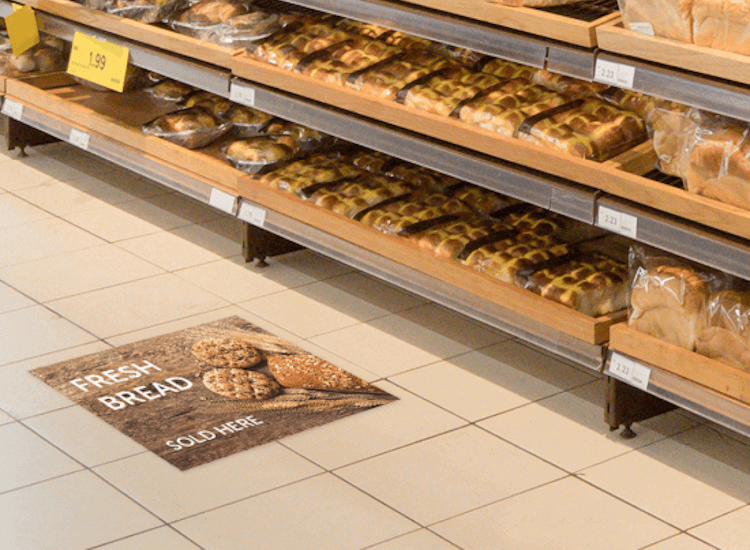 Large overhead banners are ideal for directing customers to each area of the store in a hygienic way. They can also be seen from almost every part of the store, meaning that customers can head directly to the products they require, which puts them in less contact with other customers and staff. As well as using overhead signage as a directional tool, these banners are ideal for advertising your special offers to many people at once.
Custom printed floor signs can be used to implement a one way system in your store, but are also useful for advertising promotions.
Outdoor signs
Customers will be spending more time outside your store than usual during the pandemic, as they will have to queue to come inside during busy periods. This gives your business a fantastic opportunity to make the most of your outdoor space and advertise to the waiting public.
Pavement signage is not only great for communicating your safety messaging to customers; it also offers a large canvas for you to display the promotional offers and discounts that await customers inside.
Outdoor signs have the added effect of being seen by not only your queuing customers, but by passersby, who may decide to enter your store on the basis of your advertisements.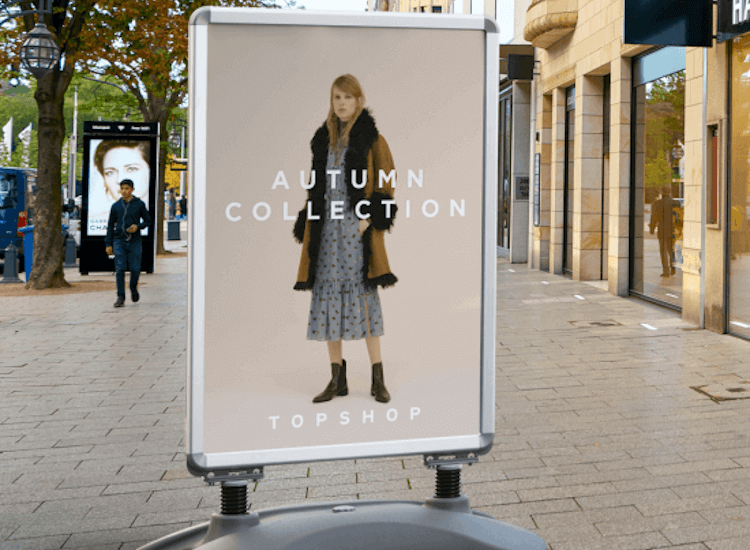 Indoor in-queue merchandising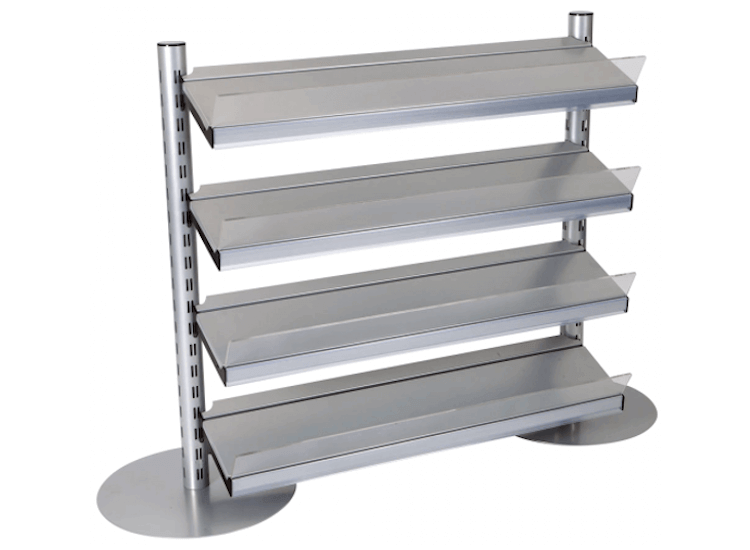 In-queue merchandising next to the checkouts in store is a popular way of increasing the amount of impulse buys that a customer makes. The use of dump bins to display smaller, low value products such as confectionery and accessories is often seen in many high street stores, however this may not be the best merchandising tool to use in order to stop the spread of infection, as many different hands will be dipping into the bins regularly.
Avoid relying on dump bins in favour of more hygienic shelf displays, which are available as part of in-queue merchandising systems. If dump bins are necessary, make sure to provide hand sanitiser next to them with an automated dispenser.
Please note that this information was correct at the time of publication. We recommend checking gov.uk to ensure the guidance you use is up to date.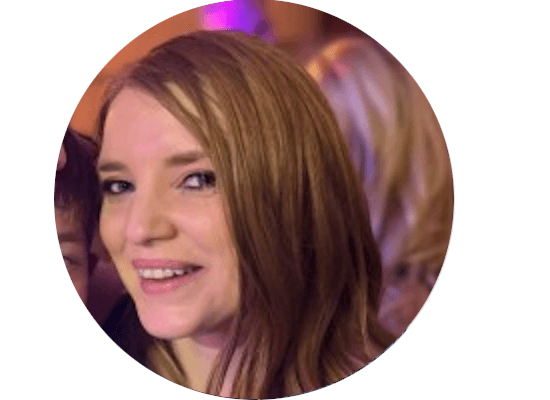 Alysha Bennett
Alysha is a copywriter at UK POS, with experience working in B2B and B2C companies, as well as with charities. She has been curating consumer and retail trends to assist retailers in implementing effective point of sale materials into their own businesses for over five years.
References
1. Coker, James, 'Covid-19: 42% intend to shop online more regularly post-crisis', Essential Retail (May 2020), https://www.essentialretail.com/news/covid-shop-online-post-crisis/ [accessed July 2020].
2. Jahshan, Elias, 'Footfall to jump by almost 50% when lockdown ends', Retail Gazette (February 2021), https://www.retailgazette.co.uk/blog/2021/02/footfall-to-jump-by-almost-50-when-lockdown-ends/ [accessed March 2021].
3. Johnson, Georgia-Rose, 'Impulse buying', Finder (April 2020), https://www.finder.com/uk/impulse-buying [accessed July 2020].
4. Hall, Astrid, 'Brits spend £144,000 on 'impulse buys' during lifetime, research finds', The Independent (January 2018), https://www.independent.co.uk/news/business/news/consumer-spending-impulse-buys-lifetime-average-sweets-clothes-takeaways-coffee-lunch-a8159651.html [accessed July 2020].