How to encourage improved personal hygiene for kids upon reopening schools and play centres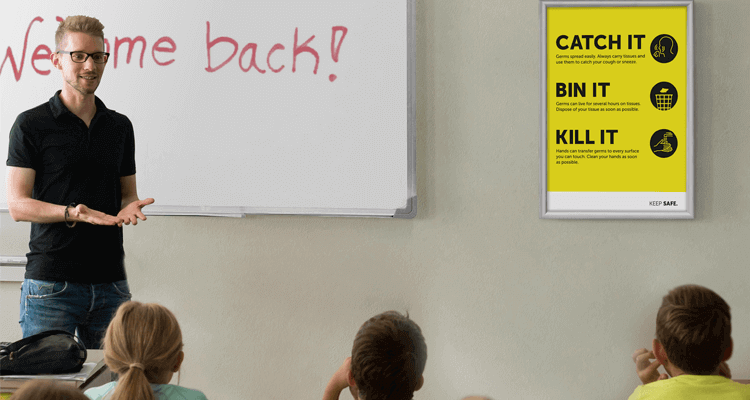 Stressed-out parents can now breathe a sigh of relief, as schools in the UK are now all due to reopen with some sense of normality by the 8th of March [1]. For the schools and teachers, however, this means that all education facilities need to be on top of their personal hygiene and social distancing measures to ensure the safety of all students and staff. As well as schools, many businesses that have a high number of young people as customers will now allowed to reopen within a couple of months, such as bowling alleys, skating rinks and soft play centres. These businesses also need to be prepared for the extra challenges that children present as coronavirus continues to circulate in our society.
Younger children are thought to present a lower risk to adults in terms of spreading COVID-19, but schools and businesses still need to adapt to make sure that teachers, staff, parents and the children themselves are aware of your new procedures through the use of clear signage, hygiene stations and other safety measures.
"Schools must ensure that pupils clean their hands regularly, including when they arrive at school, when they return from breaks, when they change rooms and before and after eating."

- Department for Education (2020) .
Upon entry to the school building, play centre or other family establishment, it is essential that you provide hand sanitiser for teachers, staff, customers and students to use before entering. This is very important to preventing the spread of viruses, especially in education facilities where the use of masks is unlikely to be implemented among students.
Encouraging good hand hygiene from younger children
Younger children, especially those in nurseries and preschools, are unlikely to fully understand why they have to keep their hands clean or stand slightly further away from people who are not in their bubble. This means that you need to get creative! When thinking about how to teach hand washing in a fun way, you should take inspiration from how you teach other aspects of life to them, such as potty training. The use of fun songs, bright posters, and positive reinforcement are all great ways to encourage toddlers and younger children to comply with your coronavirus measures.
If hand washing and social distancing feels like a scary or strict thing that children have to do, they are less likely to engage with it.
Young children, or those with special needs, will need to be supervised when using hand sanitiser so it is a great idea to place an instructional poster alongside your dispensers that gives them further information they can understand.
You could opt to get your sanitiser stations branded with bright designs to encourage hand cleaning in nurseries, play centres and schools, or simply invest in a range of table mounted sanitiser dispensers for desks.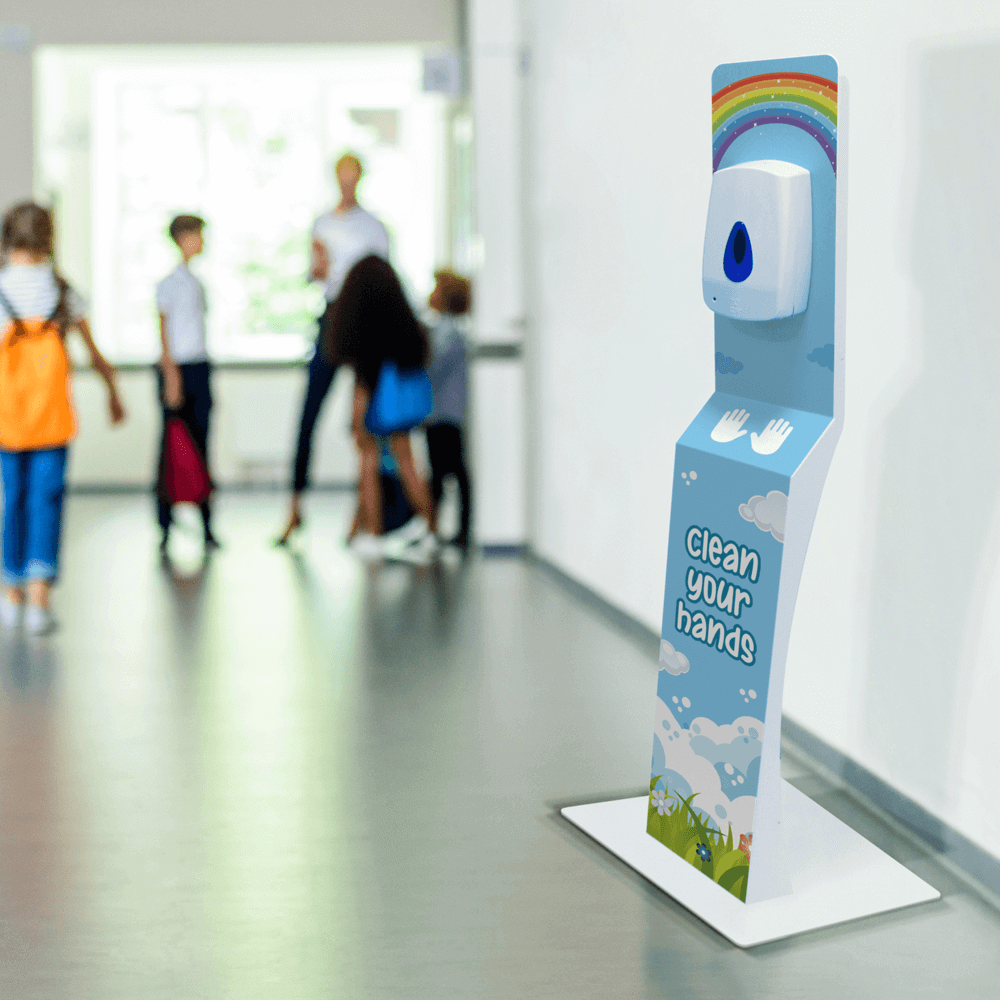 Obviously it's impossible to make toddlers and preschoolers wear masks all day, which makes it even more important for staff and teachers to follow social distancing from each other and to make sure that their classes or teaching groups stay within their bubbles during the day.
Coronavirus can also be an opportunity to teach primary children about topics like hygiene, germs and media literacy [2]. There are some fantastic resources online from many different organisations that can help you answer difficult questions from children, as well as providing educational materials such as songs and posters. 'Catch it, bin it, kill it' is a fantastic example of a phrase that is easy for kids to remember.
Personal hygiene for school children in secondary education
Older school children, such as those coming to the end of primary school and those in secondary school are far more likely to have a good understanding of COVID-19 and why social distancing and hygiene measures have been introduced. This means that you can be a little more descriptive with your messaging and provide more information to students as you trust them to move safely around the school.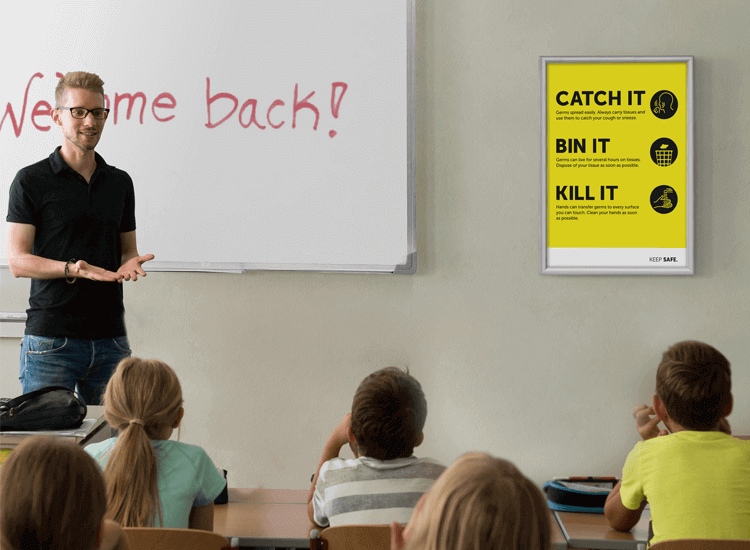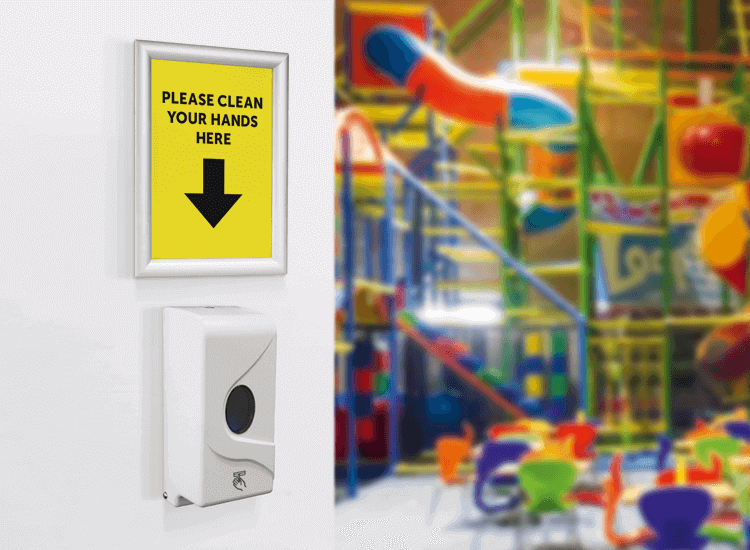 There are six preventative actions that all schools must take when reopening:
Minimise contact with individuals who are unwell by ensuring that those who have coronavirus (COVID-19) symptoms, or who have someone in their household who does, do not attend school.
Clean hands thoroughly more often than usual.
Ensure good respiratory hygiene by promoting 'catch it, bin it, kill it'.
Introduce enhanced cleaning, including cleaning frequently touched surfaces often, using standard products such as detergents and bleach.
Minimise contact between individuals and maintain social distancing.
Where necessary, wear appropriate personal protective equipment (Department for Education 2020).
Place hand sanitising stations outside every classroom and at points of entry and exit to each building, alongside signage that indicates where it is and how to wash your hands effectively.
Wayfinding
The most problematic aspect of reopening schools to all pupils again is planning how they will navigate around the site between lessons and at break times without getting too close to other students who are not in their bubble. A great way to achieve this is to implement a one way system around your school or business premises.
A one way system is a great way to stop flows of traffic from opposite directions merging with each other, therefore reducing the risk of viruses spreading. UK Government advice states that "[w]hile passing briefly in the corridor or playground is low risk, schools should avoid creating busy corridors, entrances and exits. Schools should also consider staggered break times and lunch times (and time for cleaning surfaces in the dining hall between groups)" (Department for Education 2020). One way floor stickers and showcard stand posters offer a simple way to signpost this change.
Use custom-printed posters, noticeboards or whiteboards to display your staggered timetable information around the school. Our Lockable Noticeboard in particular is both more secure and easier to keep clean than the uncovered options.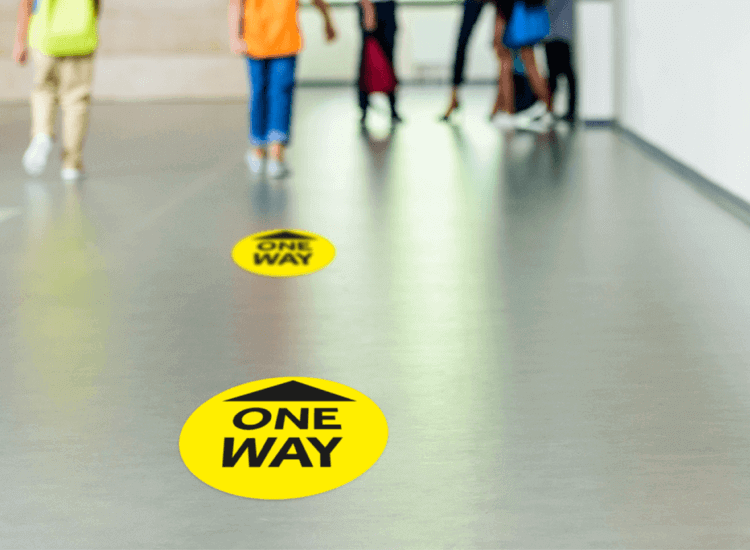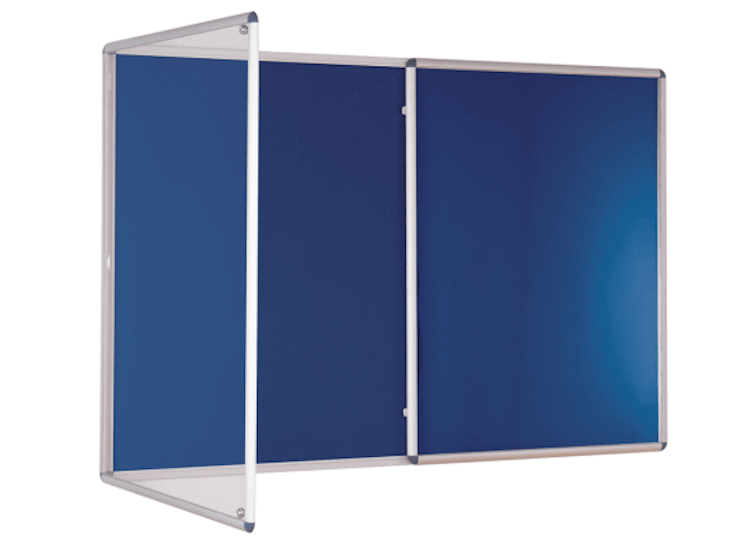 Hazard warning tape also offers you a way to easily show people where they should be standing in lunch queues to avoid the flow of traffic from others in the hall, or to give a visual indication of how far apart 2 metres is from the person in front.

Social distancing measures
As well as hand washing and wayfinding, there are further ways that you can ensure the safety of staff and students during the school day. You may have implemented a 'bubble system' within your student population, which involves keeping students within the same teaching groups all day to reduce the amount of mixing between many different households and therefore reducing the risk of spreading infections. It is important that these bubbles are also kept separate from each other as much as possible during break times and lunchtimes, which means that you may need to implement staggered lunch times and staggered class times.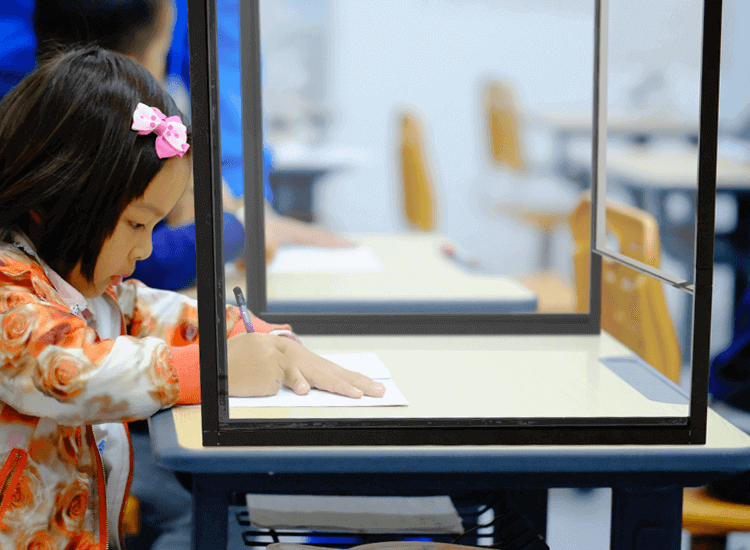 Within these bubbles, which will often consist of around 30 pupils, you can reduce the risk further by using desk dividers within classrooms. As each class will likely be interacting with around 5 or more teachers per day (if they are in secondary school), these dividers are perfect for protecting teachers and staff as much as the students, who are likely to be at lower risk of serious health issues from COVID-19 compared to older staff members.
Desk dividers mean that students and teachers can still see and interact with each other, but the protective screens stop any virus spreading from droplets in people's breath. If you decide to use these in classrooms, it is important that they are wiped clean before each new person sits down.
"Classroom based resources [...] can be used and shared within the bubble; these should be cleaned regularly, along with all frequently touched surfaces. Resources that are shared between classes or bubbles [...] should be cleaned frequently [...] or rotated to allow them to be left unused and out of reach for a period of 48 hours (72 hours for plastics) between use by different bubbles."

- Department for Education (2020).
Coronavirus guidelines also state that masks and face shields should be worn by teachers and staff if any child requires routine intimate care needs or if they show symptoms while at school, so it is important that PPE equipment is on hand to be used if required.
Lunchtime and cafe procedures
Finally, your school, nursery or play centre will need to examine areas where food is served or prepared to ensure it meets government guidelines before reopening. For more information and suggestions regarding the food and restaurant industry, please take a look at our detailed guide. In schools and cafes within child-friendly businesses, there is going to be a high turnover rate of customers each day, so it is essential that all social distancing and hygiene measures are strict and implemented correctly.
Place sneeze screens along countertops and in front of checkouts to form a transparent barrier between the staff, customers and students.
Remove any self-service food stations to prevent cross-contamination of serving cutlery, and ensure that all staff are wearing face masks or shields, and gloves while preparing and serving food.
When it comes to seating, you will need to maintain high cleaning standards and operate a rota system to ensure that there is sufficient time between sittings to allow the tables and chairs to be wiped down.
Cafes and food courts within soft play centres, bowling alleys and skating rinks could benefit from using Acrylic 'Table Cleaned' Signs to let customers know whether a free table has been cleaned yet.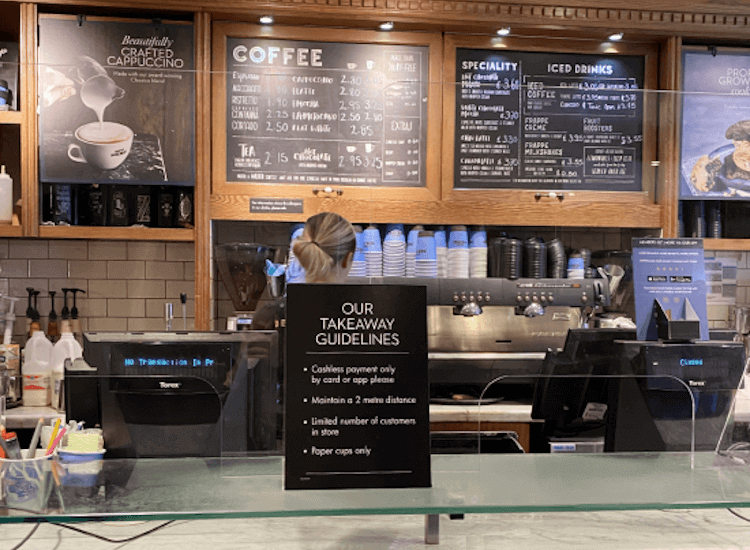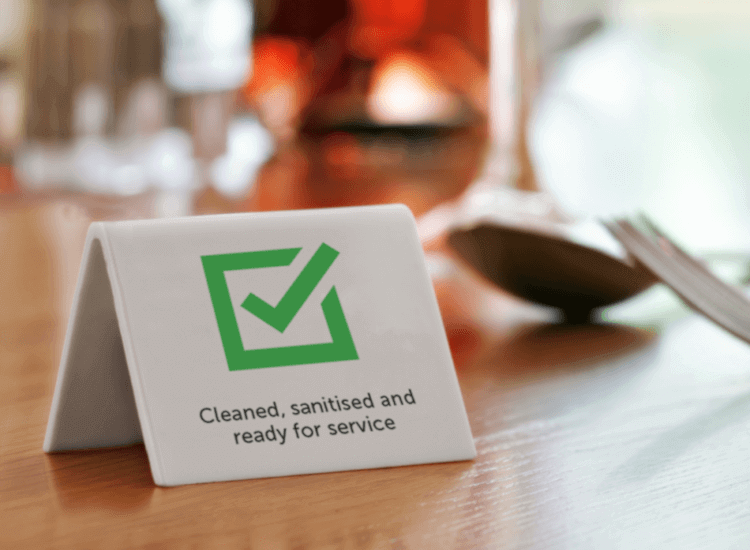 Please note that this information was correct at the time of publication. We recommend checking gov.uk to ensure the guidance you use is up to date.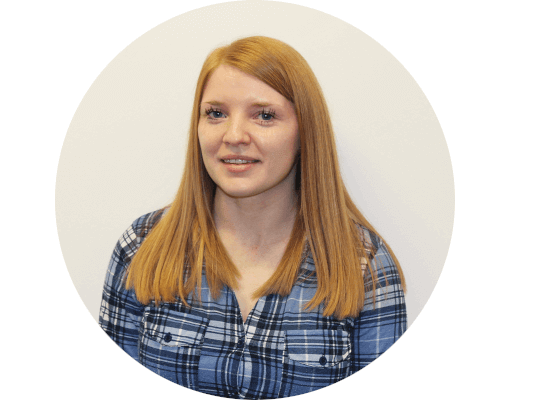 Alysha Bennett
Alysha is a copywriter at UK POS, with experience working in B2B and B2C companies, as well as with charities. For over three years she has been curating consumer and retail trends, to assist retailers in implementing effective point of sale materials into their own businesses.
References
1. Department for Education, 'Guidance for full opening: schools' (Updated 22 February 2021), https://www.gov.uk/government/publications/actions-for-schools-during-the-coronavirus-outbreak [accessed March 2021].
2. Cabinet Office, 'Reopening businesses and venues in England' (24 February 2021), https://www.gov.uk/government/publications/reopening-businesses-and-venues-in-england [accessed March 2021].
2. 'How to Teach Children about Coronavirus', Twinkl UK (March 2020), https://www.twinkl.co.uk/blog/how-to-teach-children-about-coronavirus [accessed August 2020].