Custom Printed and Branded Products
Custom Printed and Branded Products
How can I get custom signs made?
Getting custom signs from UK Point of Sale couldn't be easier. You simply select the bespoke signage you want and, after checkout, we send you an email with a link which allows you to either upload your graphics for business poster printing.
What if I don't have any designs for my custom printed displays yet? Can I design a sign online?
Yes, you can design a custom printed sign online using our simple custom sign creation tool. Whether you have artwork already, or you want to design your own bespoke signage, you can get your custom retail signs and branded display stands all in one place with UK POS.
What type of custom printed displays are available?
We supply custom made signs, posters, banners and more in a wide range of sizes and styles. We even make branded display stands, and can print your company logo onto almost any product.
We also supply all of our snap frames and our A frames and pavement signs complete with custom-printed posters too, in a range of sizes. This makes your job easier, as you can get everything you need for an attractive display in one convenient transaction.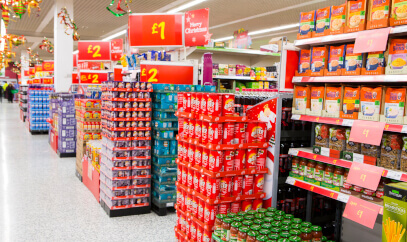 Bespoke signage for businesses from UK POS
Do you manufacture bespoke retail display stands?
Yes, most of our display items can have branding added in-house, so that you have comprehensive branding at your point of sale. Plus, if you don't see a display in the size or colour you require, we can create a quote for the creation of completely bespoke retail display stands.
How much do custom signs cost?
The cost of custom signage will depend on the size of the sign you require, the type of material being printed, and whether or not you need to get items such as posters alongside holders. Many of our products come with a discount for bulk buys.