Use Customer Personas To Target Your Point Of Purchase Advertising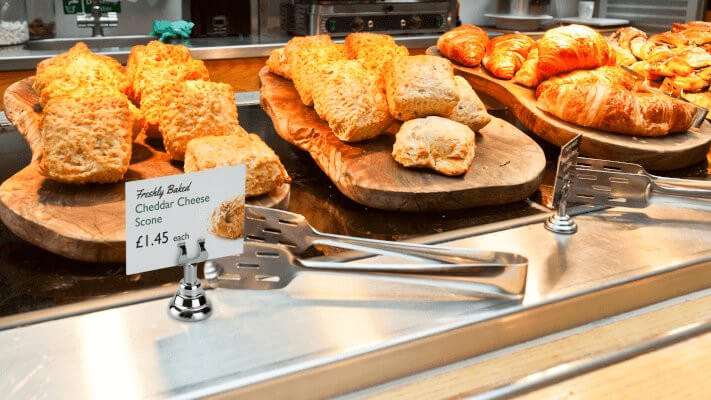 What is point of purchase advertising?
Point of purchase advertising refers to the effective marketing materials that are placed at key points around retail store in order to catch customers' attention and encourage them to buy. Point of sale displays can include floor stickers, overhead banners and even pavement signage.
The best point of sale displays are ones that incite a reaction in your browsing customers either to enter your store, to make a purchase, or to ask further questions about your product or service. There are many different types of POS displays, with some being more likely than others to trigger reactions in your different customer personas. Make sure to take a look at our market targeting research in part one of this guide for more detailed information about customer personas.
Digital displays
Digital signage is an ever-popular way for businesses to present information to consumers in store in an eye-catching manner - but does it work? Neuroscientific studies have shown that displaying moving images on digital signage is 2.5 times more effective at creating an emotional response in people compared to static images [1].
This impact is comparable to television advertising and is a fantastic display method to choose if you wish to attract impulsive buyers into your stores. 8/10 customers have entered a store because of a digital sign catching their interest [2].
Studies by Arbitron in 2010 also showed that digital media displays in public venues, such as retail stores, reach more customers than videos on the Internet [3]. Social shoppers will be drawn in store by colourful motion displays displayed in shop windows.
Digital displays can also be interactive if you choose to use touchscreens, which plays into the 'experience-based' shopping that modern consumers now want.
Use the screens to allow customers to purchase their items without the help of an assistant, or to allow your comparison expert customers to browse your ranges to gather specifications of your products.
Over 40% of shoppers have said that a digital display can change what they buy, due to the product information that is being displayed close to the point of purchase [4]. 30% of customers spend 30% more time in a store if there are digital signs at the point of sale [5].
Aisle displays
The end of the aisle is typically where retailers place special offers or promotional products. Bargain hunters will actively seek out signage that indicates its presence. Impulsive buyers are easily persuaded by discount signs and sections in all stores, so it's a good idea to make sure that your discount aisles are clearly signposted upon entering your store.
Impactful aisle signage is key to convincing organised shoppers to stray off their shopping list and make an unexpected purchase. A study conducted by Mumsnet [7] found that nearly half of mums (49%) write a list when they go supermarket shopping, but 61% of these mums remain flexible to what they buy.
In this case, you could display promotional and discount aisle signs near everyday household items, such as milk and bread, in order to catch the attention of organised shoppers passing by.
"We have now become so habituated to expect [discounts] that when US chain CVS started filling end caps with undiscounted products under signs made to look like promotions, sales duly increased." Simeon Scamell-Katz, a leading global consumer analyst [6]
Photographic images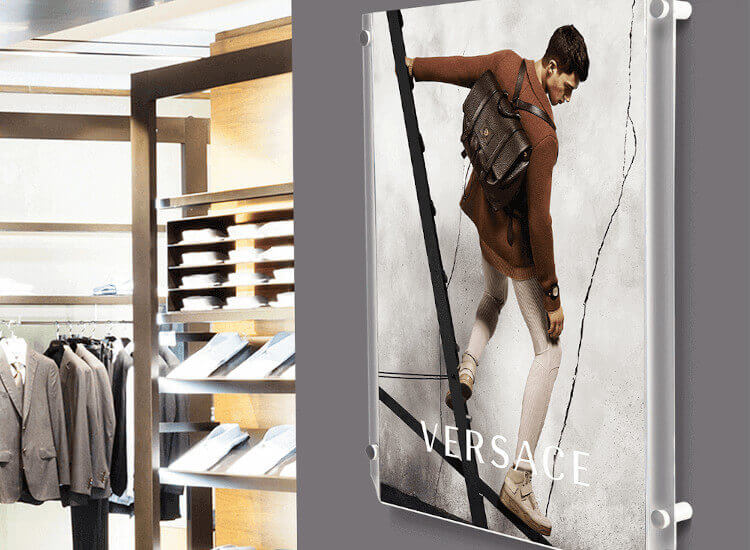 Photographic images are used commonly to promote high end, luxury items such as perfumes, designer fashion wear and expensive watches. Typically these images are large and usually not focused on a specific product, choosing instead to present models against stunning backdrops or taking part in an activity. They also only feature a small amount of text, or even just the brand's name or logo. You might think that these types of posters would have little effect upon consumers at the point of sale, as they are not promoting anything in particular. However they do have the effect of imparting a feeling to your browsing customers and helping them to recall your brand.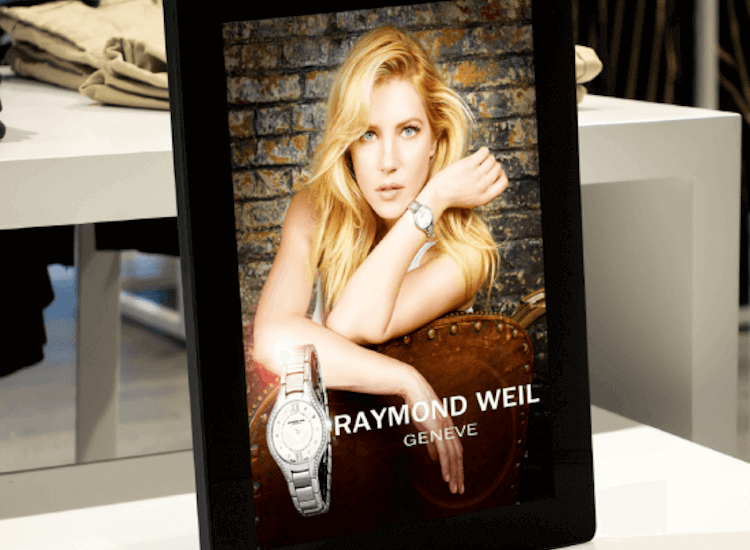 Numerous studies have shown that pictures are more easily recalled or recognised than words [8]. Further studies have also indicated that consumers are more likely to be able to recall text when images and text are presented together, compared to if a poster is presenting only text. This type of poster is attractive to brand loyalists as it creates aspiration that if they buy this brand's products, they will also be buying into this glamorous lifestyle, helping to reinforce the reason why they choose to buy from this brand. Photographic posters also are attractive to social shoppers, as they can entice browsing customers to buy into this lifestyle as well.
The UK Consumer Trends Report [9] states: "In this incredibly competitive marketplace, successful brands will be those that sell a lifestyle - not just an item."

If you are a restaurateur, hotelier or cafe owner, then you'll want to focus heavily on pavement signage in order to draw potential customers onto your premises.
Pavement signs
Pavement signs are key to the food and drink industry in particular, as they can easily convert passers by into paying diners. 33% of restaurant-goers would not eat at a restaurant with an average of 3 stars on review sites, so if you've got a better rating than this online, you need to make sure that people can see this on your signage [10].
Displaying star ratings on your pavement menu signs gives customers an extra boost of confidence about your service quality, therefore persuading impulsive buyers and bargain hunters to step inside.
Social shoppers in particular would be persuaded to go into your bar, cafe or restaurant if you display a more personal message onto your boards, such as a 'quote of the day' or a funny hand drawn image.
This type of pavement sign is also likely to be uploaded to social media, giving your brand a bit of free publicity. Chalkboards have an added bonus of looking homely.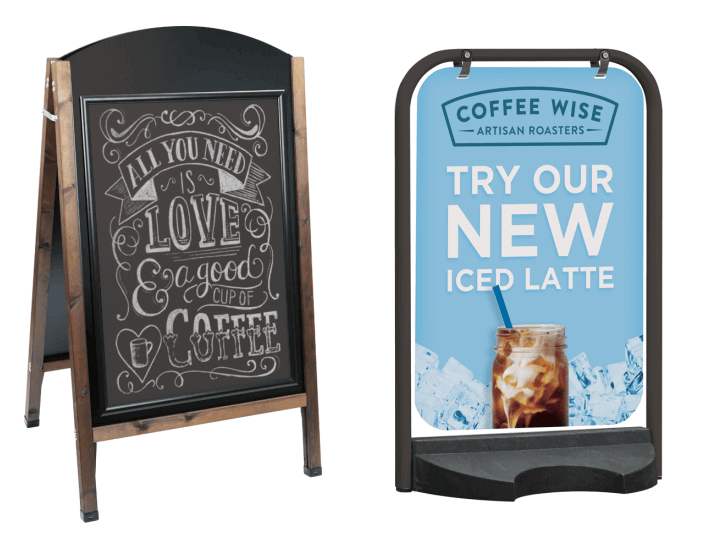 Did you know that 46% of first time customers entered a store because of the signs displayed outside [11]?
Flyers and leaflets
As digital media has emerged, traditional forms of printed media advertising such as leafleting has declined. However, information leaflets still have a place in retail and can improve sales. Comparison experts coming into your store are on the hunt for information that can persuade them to buy a product from your business over your competitors and leaflets are a great way of getting this information across.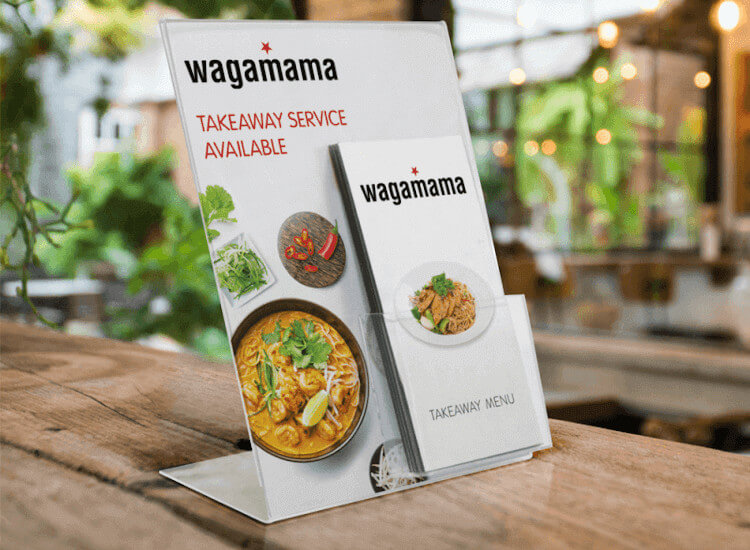 This type of point of sale display is perfectly suited for retailers specialising in more expensive items in the technology or furniture industries, where there are a lot of specifications for your customers to remember. List product information such as size, colour and price variations, alongside an image of the product itself.
Comparison experts are always looking for extra guarantees on products that add value, such as insurance policies and protective cases.
Informational flyers are a great way to give customers something physical to take away with them to remind them of your business' competitive offerings, making it more likely that they will come back to make a purchase.
In store flyers are also used regularly in supermarkets and food stores to allow customers to take away printed recipes with them.
These recipe flyers are usually displayed alongside the ingredients that you'll need to make the meal, creating a hard-to-resist situation for impulsive buyers.
Giving your customers something useful to take away from your shop, other than the products you sell, leaves them with a positive feeling of your brand - maybe even converting your impulsive buyers into brand loyalists! You can also use leaflets and flyers to promote upcoming special events to attract social shoppers and bargain hunters.
Window displays
Franck Banchet, the Creative Director of Au Printemps, says that "window displays act like an advert in the media: they are the branding signature of the store and, as such, the most direct advertising message. The product is part of a whole scenography, but the windows help enforce the store's overall creativity, the key element that encourages the public to step into the store and spend" [13].
With this in mind, it is essential that your window displays are tailored to entice your specific target market or customer segment into your store.
Banchet also states that "good lighting is essential. It's the base for a good window display and it's totally part of the whole design… Techniques such as the use of neon can illustrate a theme and illustrate the concept behind the window display."
The most obvious benefit of using neon LED signs is that they are bright and eye-catching, especially when it is dark outside, which is ideal for catching the attention of passing trade on the street.
Fashion retailers pride themselves on creativity and boldness in their windows, but you can still create a more simple, yet effective window display for other industries. Butchers and bakers have been displaying fresh produce in their shop windows for centuries, alongside price tags and offers to entice hungry customers in store. Impulsive buyers will find them difficult to refuse!
Many brands choose to use their window displays to make a statement on the business's view on hot topics which are discussed regularly, such as LGBTQ+ rights and animal welfare issues. If social shoppers feel that your brand has the same values as they do, they are more likely to step into your store to browse.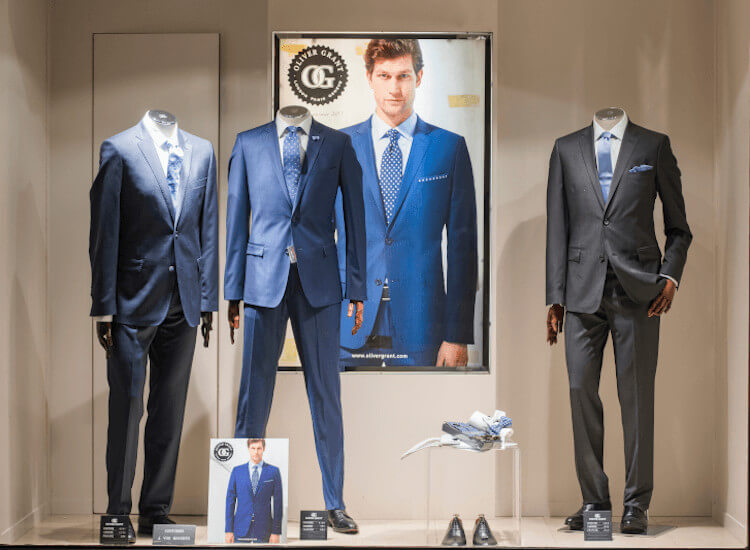 "An effective window display can increase sales by 42%." The Retail Mutual, 2017 [12]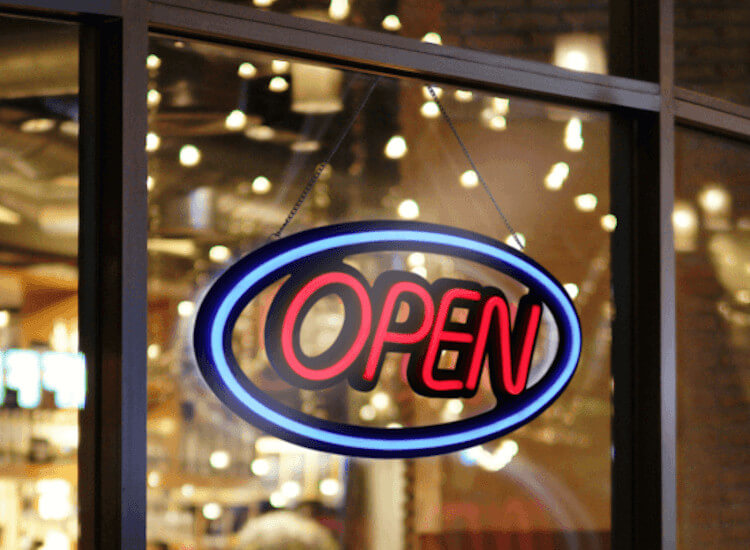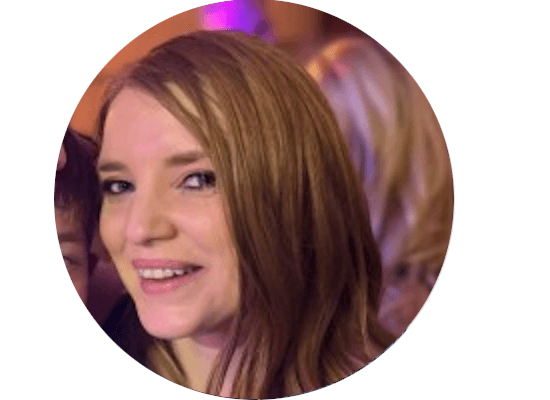 Alysha Bennett
Alysha is a copywriter at UK POS, with experience working in B2B and B2C companies, as well as with charities. She has been researching consumer and retail trends to assist retailers in implementing effective point of sale materials into their own businesses for eight years.
References
1.
'New Ocean Outdoor Study Reveals the Brand Building Power of Full Motion Digital Out of Home',
Ocean Outdoor
, 2017, retrieved from https://oceanoutdoor.com/ocean-news/news/new-ocean-outdoor-study-reveals-the-brand-building-power-of-full-motion-digital-out-of-home/
2.
'Four Reasons You Should Be Using Signs For Your Retail Business',
Small Business Bonfire
, 2012, retrieved from: https://www.smallbusinessbonfire.com/why-use-retail-signs/.
3.
'Arbitron Digital Place-Based Video Study',
Arbitron Research
, 2010, retrieved from: http://www.arbitron.com/downloads/2010_digital_video_display_study.pdf.
4.
'Digital Signage For Retail: Attract And Keep Your Customers',
Cisco
, 2012, retrieved from: http://tiny.cc/j4jthz.
5.
'A Sign of the Times: Exploring the Rapid Growth in Digital Signage Deployments',
Datatrend Technologies Inc.
, retrieved from: https://datatrend.com/library/DigitalSignage-SignoftheTimes-0610.pdf.
6.
'The secrets of our supermarkets',
The Independent
, 2012, retrieved from: https://www.independent.co.uk/news/business/news/the-secrets-of-our-supermarkets-8228864.html.
7.
'Mums' supermarket loyalty is being eroded, Mumsnet and Starcom MediaVest study shows',
Retail Times
, 2014, retrieved from: http://www.retailtimes.co.uk/mums-supermarket-loyalty-eroded-mumsnet-starcom-mediavest-study-shows/.
8.
Childers and Houston, 'Conditions For A Picture-Superiority Effect On Consumer Memory',
Journal of Consumer Research
, Volume 11, Issue 2, September 1984, Pages 643–654, retrieved from: http://citeseerx.ist.psu.edu/viewdoc/download?doi=10.1.1.486.9741&rep=rep1&type=pdf.
9.
UK Consumer Trends Report',
Crimson Hexagon
, 2016, retrieved from https://wholettheyankindotcom.files.wordpress.com/2016/11/uk-consumer-trends-report.pdf.
10.
'The Impact of Restaurant Star Ratings on Customers',
Review Trackers
, 2016, retrieved from: https://www.reviewtrackers.com/restaurant-star-rating/.
11.
Ebster & Garaus,
Store Design and Visual Merchandising: Creating Store Space That Encourages Buying
, (New York: Business Expert Press, First Edition, 2011) p. 56.
12.
'Five fun retail facts you need to know!',
The Retail Mutual
, 2017, retrieved from: https://theretailmutual.com/five-fun-retail-facts-need-know/.
13.
Frank Banchet, Tony Morgan,
Visual Merchandising: Window and in-store displays for retail
, (London: Laurence King Publishing, Third Edition, 2016) p. 82.