Essential point of sale displays for supermarkets
Using the correct point of sale display in a supermarket is crucial. Shoppers tend to know what they are looking for when entering a food store, so products must be marked and highlighted clearly for the customer to see.
Supermarkets are also rife with opportunities to upsell, cross sell and increase overall basket value, so again it is imperative that your BOGOF, sale or daily deal promotions are clearly marked. While the shelving area is a key point for prices and promotions, people need to be made aware of offers before you even enter your store, using supermarket signage.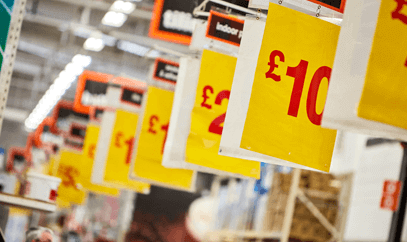 Boost your supermarket sales with POS.
Supermarket Signage POS
How do you display products effectively and use effectual signage within a supermarket?
Product placement and effective signage are both absolutely crucial to boosting sales within a supermarket environment. Unlike smaller retailers, supermarkets have a vast amount of prime retail space that can be organised in many different ways to encourage a shopper to make a purchase decision. Here are UK POS' top tips for making the most of signage and product displays in supermarkets.
Self cling or adhesive poster holders are great for smaller supermarkets to showcase offers, events and open hours.
2. Encourage last minute impulse purchases at the checkout
Having a neat and tidy store will leave a good impression with your customers and encourage them to return, increasing your brand loyalty. Don't let yourself down by the time they get to your till with a messy basket area.
The large footprint of supermarkets usually means that overhead signs are visible in most areas of the store, making them a useful display tool for reaching many people.