Noticeboards, Flip Charts and Whiteboards

Noticeboards and Flip Charts
Where should notice boards, flip charts and whiteboards be used?
Notice boards, flip charts and whiteboards are a useful tool to have across many industries, including offices, schools, workshops and for use as a general point of sale display in retail. We stock a large range of noticeboards and accessories, from traditional cork and felt noticeboards, to modern framed and frameless felt notice boards. The whiteboards that we stock are naturally multipurpose as they are also magnetic, allowing you to display notices or fix your markers and erasers in place.
All of our notice boards are wallmounted, however the flipcharts and white boards are available as either freestanding on a tripod, on castors for portability, or wall mountable to safe valuable floor space.
How can my business use noticeboards and flipcharts?
All industries can benefit from the use of noticeboards, flip charts and whiteboards. They are ideal for displaying useful information, promotions, idea sharing during meetings and workshops, and in any classroom situation.
Our magnetic flipchart easel is the ultimate multipurpose display tool which is ideal for use in offices and educational facilities, as well as a display method for point of sale. With adjustable height and angle, the easel allows for use as both a flipchart holder, a whiteboard, and a magnetic display, making it the most versatile product of its category.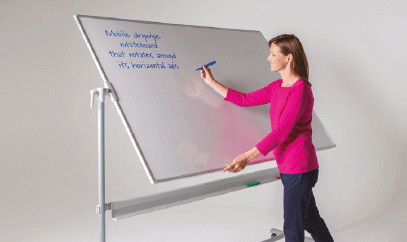 Noticeboards, Flip Charts and Whiteboards buying guide
Information boards, flip charts and noticeboards are a great accessory for many industries, from hospitals and schools to offices and events.
Do you stock high security notice boards for high risk areas?
In areas frequented by the public, residents, staff or students, safety and security is an important consideration. We now supply fire resistant noticeboards which are ideal for use in busy or sensitive areas such as foyers and corridors in offices and apartment buildings.
Additionally, our lockable noticeboard is the ideal solution for displaying information in vulnerable areas or areas with vulnerable users, such as in schools, hospitals and care homes. They feature two key locks on the door, helping to protect both your notices and passersby.