Slatwall panels, shelves and accessories
Does my store need slat wall displays?
You can create stunning retail displays with our slatwall panels. Slatted wall panels are an easy, cost-effective, and versatile way to merchandise products in any industry.
Use any selection of panels and insert colours with any hooks, rails or shelves. This will make an eye catching, organised and instantly reconfigurable display that will complement your products and complete your store.
What type of slat boards do you supply?
We offer a great range of sturdy slatboards for slat wall merchandising displays, constructed from melamine faced furniture grade MDF.
Available in a choice of 5 colours to suit your business aesthetic and branding, they can also be used in conjunction with colour-coordinated inserts.
How do I install slat wall panels and accessories?
Slat boards couldn't be easier to install. Simply drill and screw the slatted wall panels into Rawl plugs mounted in your walls. The slatwall fittings and shelves will then slot smoothly into the grooves.
Are wooden slat panels strictly for shopfittings?
Not at all, slat boards are also highly popular for domestic use, such as for garage wall organisation.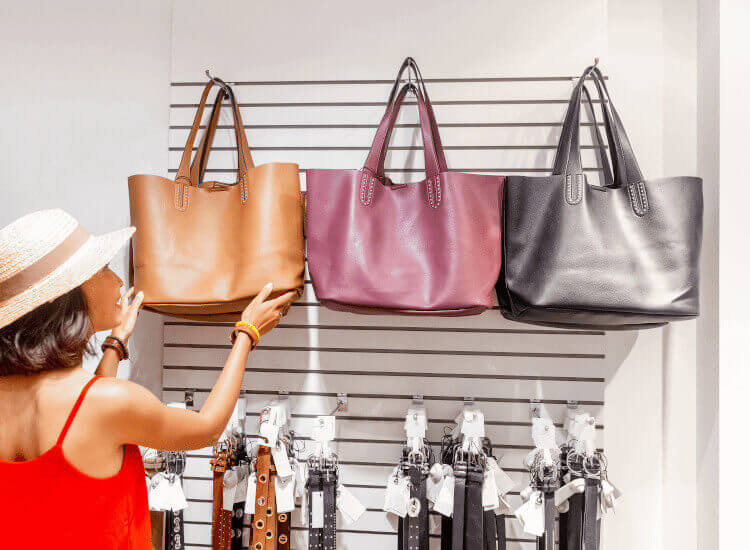 Slatted panels and fixings create an organised wall display
What can I display with slatwall accessories?
Slatwall shelving and hooks are made to display a wide range of products, from lightweight to heavy items, including cosmetics and clothes. Slatwall panels also make it easy to present appropriate information next to your goods, using accessories such as PVC ticket holders or multipurpose leaflet dispensers.
What type of slatwall fittings do I need?
With our range of slatwall accessories, constructing your wall merchandising display couldn't be easier. We have euro hooks and prongs that you can use to hang smaller items that have a hole or hang tab. We also supply arm rails which are ideal for hanging garments from for a stylish clothing display.