Slatwall hooks
How are hooks for slatwall used?
These slatwall hooks are for use with slatboard panels, and are used for clipping on or sticking into your display boards. They allow you to hang up multiple products at once, saving space and creating an attractive hanging product display.
What are the differences between plastic slatwall hooks and metal slatwall hooks?
Single prong plastic hooks and plastic eurohooks are more lightweight than their metal counterparts and therefore a great choice for displays which need to be transported, such as for events and exhibitions.
They are perfect for use with smaller more lightweight products, however; for products that are a little on the heavy side you may wish to use a metal slatwall hook.
What if my products don't have tabs for hanging?
We supply various self-adhesive hang tabs which simply adhere to your products making them suitable to be hung from hooks for slatwall. These hang tabs are available in a range of quantities and designs.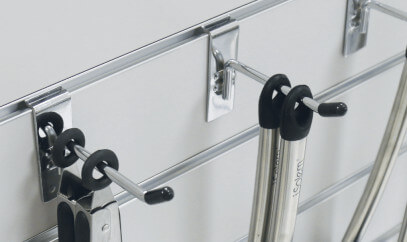 Metal slatwall accessories are ideal for heavier goods
What length slatwall hooks do I need?
The length of slatwall hooks you will need depends on how many products you wish to display, the size of the products, and how much space you have in your store. You don't want your merchandise protruding out so far that it causes a health and safety risk, so do ensure that you check the dimensions of your space. The hook length provided refers to the available hanging space rather than the entire length of the hook.
If you need other slatwall extras such as shelves, leaflet holders and rails, you can find them all at UK POS.