Essential point of sale for estate agent window displays
Window displays for estate agents need to be clear and visible in order to catch the eyes of the passing public and achieve maximum results.
UK POS has a wide range of cable and rod poster kits and poster hangers, along with LED window displays for estate agents to help you create the very best window displays for estate agents.
Here, we take a deeper look into how you can maximise your estate agent window display in order to boost footfall all year round.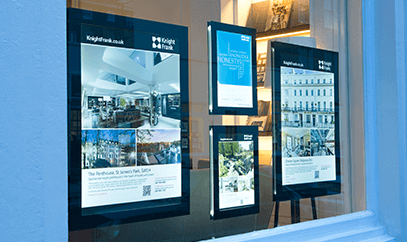 Make a great first impression with your estate agent window displays.
Estate agent window displays
How do I make the most out of my estate agent window displays?
Estate agents window displays are the first impression people will get of the business, so it is crucial that you are making the most out of yours.
Your display should be clear, professional and up to date. The housing market is moving quicker than ever, so maintaining your window adverts may be something you have to do multiple times a day, but it will be worth it. As a house hunter their is nothing more disappointing than seeing a house advertised to later found out it is already sold or let. Create a good first impression by having the most up to date window in the business.
Estate agents should attract attention, which can sometimes mean showcasing your most amazing houses. Passing trade won't be interested in what they need, show them what they want. This way, even people who may not be looking to move home will stop and look, making them likely to come back when the time for them to move arises.
What information should I have in my window?
You should have a good selection of your current portfolio available in your window. This way, if people aren't ready to come in and discuss their options or are passing by out of hours, your window display is doing the work for you. You should have high end, low end, rentals, sales, STC and non-residential properties in your window where possible. A broad selection shows you are the first choice for many.
On each individual advertisement you should have at least one image of the property along with the price and a small synopsis. Make the advert intriguing, prompting people to come inside and learn more.
Estate agents should also clearly show opening hours and contact details in the window. A passing pedestrian might fall in love with their dream house, but unfortunately it's 7pm on a Tuesday. Make sure they have your number and opening times right in front of them to help you build that relationship and secure the sale.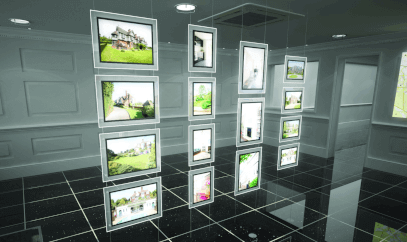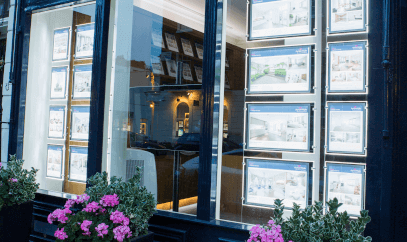 What products are best for estate agent window displays?
Utilising your space is key. Many estate agents are based on high street corners where they have a great window display that can be seen from two or more roads. Whether your window is straight, curved or spread round a bend, an estate agent cable display system is perfect for estate agent window displays.
Available in many different styles and configurations, our window displays for estate agents can be suspended from your ceiling or wall to display property adverts. They create a clean and professional display for your window to be viewed by passing trade and customers inside. The clear acrylic construction of each unit means you can have a double sided display which is easy to update whenever required, without needing to disassemble the whole unit.
Our estate agent window displays are also available with built-in LEDs. LED window displays for estate agents are the ultimate POS solution for round-the-clock advertising or the darker winter evenings. Not only will your window display cable systems make your housing adverts stand out more, but your whole premises will shine bright along the high street, making you the focal point of everyone attention.
Once your properties are perfectly displayed, it's time to focus on using any leftover space. For your opening hours, contact details or local events notices, window cling poster holders are great. They are simple, easy to update and affordable. If all of your window space is full, you can place these on any glass panels of your front door.
Perhaps you have an offer on for low fees or a first time buyers advice clinic. For events like this, we recommend using a suspended poster hanger. This allows you to suspend large scale posters from your ceiling directly into your window. This is a great alternative to property displays to help make you stand out from the competition.
For more help kitting out your indoor and outdoor POS displays alike, read our complete essential POS for estate agents guide.